Proper removal and disposal of waste in SE1 Southwark
Waste removal and disposal has become a challenge to the municipalities around London including the SE1
Southwark, Bermondsey, Borough, Waterloo area. Increasing and diversifying waste along with increasing population, urbanisation and influx of migrants has become a nightmare for municipal authorities since landfills are filling up fast and new landfills are hard to come by. Moreover, landfills are harmful for the environment since the toxic waste in them can contaminate soil and underground water. Thus the need has arisen for reducing the generation of waste as well as for proper removal and disposal of waste. We are engaged in waste removal in SE1 Southwark, Bermondsey, Borough, Waterloo.
Sphere of activity
Our sphere of activity in the field of garbage management touches almost all the elements in it including commercial waste removal service. We do general waste collection and disposal, hotel and office rubbish removal, house and garden garbage removal, removal of hardcore material resulting from renovation work, basement dig outs etc.
Cost of service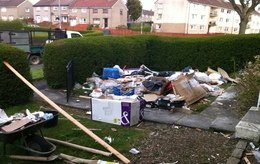 Garbage removal used to be one cheap affair until landfills filled up fast and the harmful effects of garbage on the environment became known. Dumping your residential waste in the landfills used to be the most cost effective solution for garbage removal, but not anymore. With landfills becoming scarce as well as harmful to the environment government has been steadily discouraging the use of landfills for the purpose of commercial or residential waste removal. This is the primary reason behind an increase in the cost of garbage disposal. However, we try to minimise the cost of removal service while adhering to the laid down guidelines in this respect.
Various methods of disposal
There are a number of ways you can dispose your garbage though some of them have either been banned or are being discouraged by the government owing to their harmful effects on the environment.
Land filling
Land filling is cheap, but it eats up land and contaminates soil and underground water. It also spreads stench and makes life difficult for those living nearby.
Recycling
Recycling is the best method since it saves natural resources, energy, and produces less pollution. Various plastic, glass, tin and paper containers are recyclable. It should be your endeavour to collect all such material and dump them in the bin designated for recyclable material. There are various recycling centres which recycle such material. So you can carry these items to the recycling centres or leave it on us.
Ocean dumping
This is another very cost effective way of getting rid of all the discarded material from your household. However, the spectre of pollution and environmental damage looms large if such options are resorted to. The government is steadily discouraging ocean dumping because of the large scale damage to aquatic flora and fauna with repercussions on the environment at large.
Incineration
Incineration is a must for toxic and hazardous waste like those coming out of hospitals and nursing homes. Though this method destroys the material and removes threat to human kind in general it does cause some pollution. Moreover, it is very costly since it needs high temperature to incinerate any material. It also consumes huge amount of energy.