If you are looking for rubbish collection in Euston, you've come to the right place!
If you're in need of a first-class, affordable waste removal service in Euston, look no further than Clear It Waste. You can trust our experienced team of waste removal experts to dispose of rubbish from your commercial or domestic premises in no time at all.
We will come to your property with the appropriate vehicle (either a small, medium or large van, or a 7.5-ton lorry) and clear your waste quickly and efficiently. Rest assured, you won't need to lift a single finger!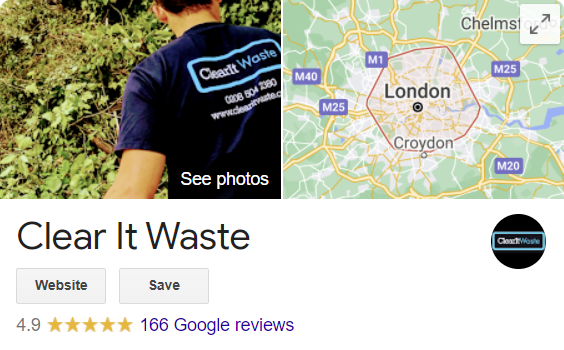 Who We Are
Clear It Waste is Euston's leading waste collection and disposal service. With unmatched flexibility and a highly trained team of waste professionals, we can visit your property and tend to your waste within hours, leaving your commercial or domestic space pristine in no time. No job is too big or too small for us!
We offer a whole host of waste management services, from general waste collection, WEEE management, house and garden clearances, to shop waste removal, hardcore junk disposal, and basement dig outs, to name a few. Our wide range of services and dedication to customer service makes us one of the leading waste collection companies in London.
What to expect from us?
Flexible services
Free quotes
Fully insured and licenced
Comprehensive rubbish clearance
Professional, reliable, and efficient two-person teams
More than 80% of our waste collected is recycled or reused
Some Recent Projects We Helped Clear: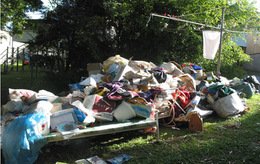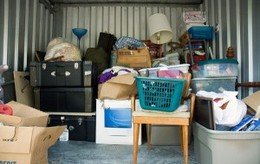 Why Choose Us?
We are Euston's number one waste collection company.
Below we have listed just some of the reasons why you need to choose us for your next waste management project!
First-class reviews
Clear It Waste is one of Euston's best-rated waste removal companies, with five-star reviews from commercial and domestic clients alike. Every client we visit is 100% satisfied with the service they receive and return again and again.
But you don't need to take our word for it. Take a look at our Google reviews to see for yourself!
Fantastic price guarantee
Affordability is important to us. We are proud to be one of the most affordable waste removal companies in Euston, offering the best services at the best prices.
Once you enquire with us, we will price up a quote for you. This quote will come with a price guarantee, which means that the quote will not change. What's more, we guarantee there will be no surcharges or hidden costs when you hire our services, just a great price for our hard work and expertise.
Flexible booking
We know that finding a company that can get the job done in between your commitments can be tough, which is why our team are always on hand to help you around the clock, with the same-day waste collection available.
Our team works around your schedule to get your waste disposed of quickly and safely, with services bookable between 7.30 am and 6.30 pm Monday to Friday, and between 7.30 am and 2 pm at the weekend.
The best waste removal team in Euston
Safety is paramount. This is why, before joining the team, every single team member goes through thorough training – no matter what their skill level. You can rest assured that the Clear It Waste team are reliable, trustworthy and know their stuff, inside and out.
Our recycling pledge
Keeping the environment safe is important to us here at Clear It Waste. When disposing of your rubbish, we guarantee that at least 80% of the waste collected will be recycled and reused, ethically and responsibly. This prevents 90% of all the waste that we collect ending up in landfill sites, with no expense spared.
For more information on our recycling pledge, visit this page.
How we can help you remove your waste in Euston
As one of the leading waste removal companies in London, we have been clearing waste from domestic and commercial properties located in the WC1 Euston area for many years.
Our team of experts have a thorough knowledge of waste, knowing what can and can't be thrown away, and which items must be disposed of carefully, to ensure the environment is kept safe and sound during the removal process.
We are available to collect all kinds of rubbish from your premises including, but not limited to, the following:
Recyclable waste (e.g. paper, cardboard, plastic etc)
WEEE waste (e.g. old laptops, computers etc)
Hazardous material (e.g. batteries, chemical containers, used tyres etc)
Compostable waste (e.g. leaves, vegetable scraps etc)
Debris from household construction and renovation projects
We are on hand to remove all rubbish from your property, all you need to do is give us a call.
Frequently Asked Questions (FAQs)
How does your waste removal service work?
Our services works in three simple steps:
Contact us to make an enquiry and receive a free, no-obligation quote.
Tell us which day and time works for you (please note, we also do same-day collections).
We'll remove and recycle all your domestic and commercial waste.
Is there anything you do not collect?
We have yet to meet a client that we couldn't help. If the waste in your property is particularly difficult to get to or hazardous, please let us know in advance so we can offer further details and ensure we have the best team available to help fulfil the job.
How can I book?
Booking with us is simple. All you have to do is give us a call on 0208 504 2380 or email us ([email protected]) with all the information regarding the service you would like to hire. We also have an online booking portal you can use too. From this, we will be able to provide you with a fixed quote.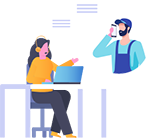 1.
Get in touch for your free, no-obligation quote.

2.
Book your collection online or with our friendly team.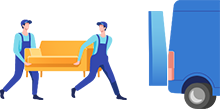 3.
We collect your waste and leave your area clean and tidy.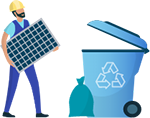 4.
Over 90% of the waste we collect is kept out of landfill.