Looking for 'WEEE Disposal in London'?
We are leaders when it comes to WEEE collection and disposal, delivering exceptional services throughout London. From large office clearances to domestic declutter jobs, we offer reliable and affordable waste management solutions.
Flexible appointments to fit your schedule
Booking available 24/7
Free call outs and quotes
Insured and accredited waste management
Reputable, experienced and reliable team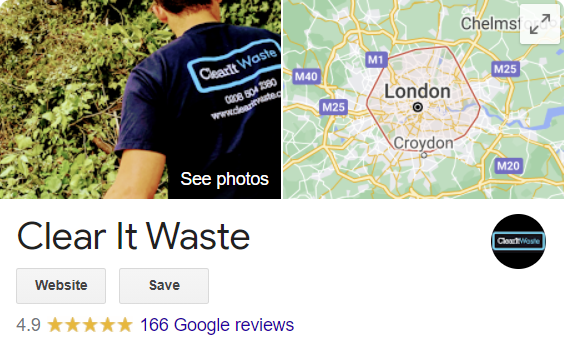 Who We Are
When you're looking to dispose of your WEEE waste, you want to find a company that you can trust.
We are London's leading provider of WEEE collection, clearance and disposal.
We have an experienced and reliable team who can quickly attend any premise and get rid of your WEEE materials in the most responsible manner.
A Reputable WEEE Waste Removal Company
As one of the best-reviewed waste collection providers online, we have received positive feedback and high praise for our work from all of our clients.
At Clear It Waste, we have already removed masses of WEEE throughout London, and maintained excellent standards of work each and every time. So, if you're looking for a reputable company to remove your WEEE ethically and efficiently, contact our team today!
Our WEEE Clearance Services
It takes specialists to properly manage WEEE. At Clear It Waste, we have a highly trained team that can collect, clear, store and dispose of all WEEE in an experienced and professional manner.
From the moment we collect your WEEE waste, we follow a specialist process for separating the components in your WEEE to ensure as much of it can be either reused or recycled as possible!
Appointments to suit you
We understand that both our domestic and commercial clients live busy lives. That's why our hardworking team works flexibly around your schedule and routine.
We offer WEEE clearance appointments every day of the week – including weekends and evenings!
So, whether you need to shift an old fridge before your new one arrives or you need your office cleared before your staff return, our friendly team are on hand with appointments that suit you.
Why Choose Us?
There are plenty of WEEE clearance services available throughout London, but here is what makes us special:
You are ALWAYS our main priority!
Our customers are our main priority, without exception. From 24 hour booking to free quotations and flexible appointments, our team works tirelessly to deliver the best service possible.
We understand that you have places to be and things to do. So, our flexible booking means we can be with you as soon as you need us, with punctual and exceptional services.
Rest assured that your next WEEE disposal will be stress-free when you book with us.
Fixed and Competitive Prices
WEEE waste can quickly become expensive to collect and dispose of due to its bulky nature. That is why we offer fixed, competitive and affordable prices on all WEEE clearances.
Unlike other waste management companies, we will only ever charge you for the work we do, so you can say goodbye to hidden charges and surcharges when you book with us.
To get your fixed and free quote today, contact us!
Experienced and Reliable Team
Before they reach your premises, each and every member of the team has been fully trained, vetted and experienced in all of services we provide.
WEEE can be challenging to safely collect and dispose of, so for your safety and comfort, you can be sure that the best people are managing the waste on your behalf.
Our Pledge to Ethical Disposal
We have an exceptional record when it comes to eco-friendly waste disposal. WEEE requires a very specific and detailed process in order to be recycled, and we have all of the necessary processes and knowledge to do so as ethically as possible.
Our team considers all routes for your waste from re-use to donation and recycling to ensure the most environmentally conscious course. We pledge to ethical dispose of your materials with no expense spared.
Our Recycling Record
We can guarantee that any waste we collect from your home or business premise will be donated, reused or recycled before we consider taking it to landfill.
Our recycling record so far means that we have prevented at least 90% of all the waste that we collect from ending up in landfill to pollute and destroy the planet and that is always improving.
Frequently Asked Questions
What Is WEEE Waste?
Most WEEE is regarded to be too dangerous to dispose of in landfills alongside other general waste since it typically contains harmful chemicals and materials such as arsenic, cadmium, lead and mercury. When these chemicals leak from the waste, they contaminate the soil and pollute nearby nature, all of which contributes to the deterioration of the planet. In a bid to avoid this, it is best to contact a professional WEEE management service to collect and dispose of your waste.
Am I Responsible For Disposing Of WEEE Waste?
Yes. Even in a domestic environment you are responsible for responsible and proper disposal of WEEE. Failing to do so can have a detrimental effect on the planet.
In practice, this means that you should look to take old microwaves, ovens and computers to the local tip or recycling centre to be disposed of appropriately and ethically, rather than just putting them into a general waste bin.
However, it is worth noting that under a government scheme and WEEE waste directive, businesses that sell electrical and electronic equipment must give customers the option to return their old WEEE before selling the new one to them.
The best way to ensure that you are disposing of WEEE properly whilst protecting the environment is to hire a trustworthy waste management firm like Clear It Waste to collect and dispose of your old electricals and other WEEE materials.
We can leave waste transfer notes after all collections which show that you have disposed of your waste legally, ethically and responsibly.
Can I take WEEE waste to charity shops?
Some charity shops are willing to accept WEEE items as long as it has been cleaned, works properly and has all relevant labels to prove it is safe.
In fact, many charities such as Cancer Research, The British Heart Foundation and Age UK operate nationwide and are known to accept some forms of WEEE. Although, charity stores like these are obliged to carry out certain checks before they can resell these, so items without the correct instructions, labels and checks may not be accepted.
Fortunately, we are on hand to collect any WEEE, including those which charity shops do not!
Can I put my WEEE in a skip?
Put simply, no.
More often than not, you cannot dump electrical waste into skips since there are strict regulations that prohibit this. Rather, you are expected to arrange appropriate collection by a professional waste collection company like ourselves, or take these to a recycling site near you where they can be disposed of appropriately.
The main reason for this is that WEEE is especially dangerous to the environment so needs to be separated and disposed of properly.
We separate and organise all of your WEEE for you to ensure the most environmentally friendly means of recycling.
Do you collect WEEE waste from offices?
Yes!
WEEE waste is more common in office and commercial properties. As such, we have specific processes in place that allow us to collect such materials from commercial locations without disturbing your business.
What happens to the collected WEEE Waste?
Following collection, we take all of your waste to a specialist plant where it can be processed. This includes separating certain metals and non-metallic elements ready to be recycled.
This process is a very technical process that involves shredding the metal and using strong magnets and electronic currents. It also allows us to offer the most extensive and eco-friendly service possible.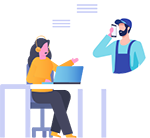 1.
Get in touch for your free, no-obligation quote.

2.
Book your collection online or with our friendly team.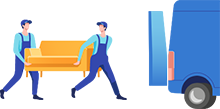 3.
We collect your waste and leave your area clean and tidy.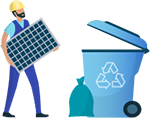 4.
Over 90% of the waste we collect is kept out of landfill.