Here you can see how we work. This is a typical example of the quality of our work.
Hiring specialized services for domestic and commercial clear-out has its own benefits. Such services have experienced and trained personnel to do the clearing themselves and thus you can rest assured that things will be properly taken care of while removing waste from your house, office or hotel.
So if you are still undecided about hiring specialized services for house clearing, office clearing or hotel clearing then you should have a look at its benefits.
Benefits of hiring professionals
No hassle:
Your office may have several junk that need to be disposed, but there may be some necessary items among the waste too that need to be picked up and kept. An experienced office clearing service employee is knowledgeable about such items and will be able to do the evacuation with minimal instructions. Thus you will get a hassle free removal and rest assured that no necessary item is disposed off or destroyed. Our experienced personnel have good knowledge about the importance of each and every item in use in offices.
All items are disposed properly
You don't have to worry about what happens to your waste after it is collected when you use Clear It Waste. We are aware of the disposal modes of each and every kind of junk from your office. Being a licensed company, we have separate arrangement for disposing toxic junk. We can take care of all the broken furniture and other items in your office and dispose or recycle them according to the prevailing law of the land. This will minimize your worry about disposing toxic and hazardous waste. You will not have to dig your head over how to recycle the reusable junk and how to dispose of the other items. We segregate your junk into different categories and dispose them off accordingly.
Clear-out of toxic junk
You may have quite a few computer and related junk in your office. These items are toxic for the environment and needs to be disposed off according to the WEEE directives. We remove all such items according to WEEE directive to bring down the load on the environment. We will remove your faulty computer monitors, printer, keyboard, laptops, scanner and other electronic and electrical tools.
Erase sensitive data permanently
Some amount of sensitive, but useless data is always likely to reside in the hard disk of computers and even in USB drives and other removable drives of the computer. To prevent theft of data theft you should ensure that these are deleted permanently so that not even the most efficient data recovery software can recover such data. Experienced clearing services come prepared for such data destruction services. We will erase your sensitive document beyond recovery and ensure that confidentiality of your documents is maintained.
Handling hazardous material
Apart from IT peripherals your office, house or hotel may have other environmentally unfriendly junk too; some of these may even be hazardous. These need to be disposed off in a safe and environmentally friendly ways. Our experienced and certified personnel will segregate toxic and hazardous material and dispose or recycle them according to prevailing rules.
Services offered by
We also offer general junk collection, garden clear-out, basement dig outs, daily junk collection and hardcore waste removal in London.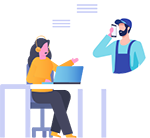 1.
Get in touch for your free, no-obligation quote.

2.
Book your collection online or with our friendly team.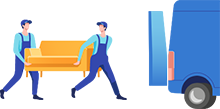 3.
We collect your waste and leave your area clean and tidy.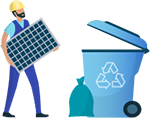 4.
Over 90% of the waste we collect is kept out of landfill.