White Goods Removal Services in London
Almost every property in the country will be home to at least one white good, since they are essential to performing certain household functions, such as cooking, cleaning and keeping food fresh. However, as they are subject to such frequent use, it is common for them to break down, in which case they need to be recycled and disposed of in a legal and considerate manner.
Luckily, the waste removal experts at Clear It Waste offer reliable, professional and efficient clearance services for white goods throughout London, ensuring that your bulky electrical waste is removed, transported and recycled as responsibly as possible.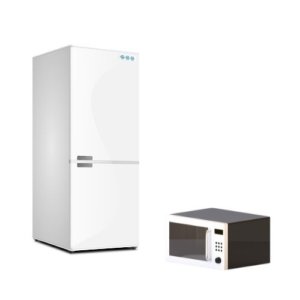 White goods are a form of large electrical appliances that can be typically found in the home, and they coined their name 'white goods' since these kinds of large electrical goods could traditionally only be found and bought in the colour white, or coated in white enamel.
Today you can find them in a wide range of colours to suit your home's interior and the term is broadly used to cover any large electrical home appliances, regardless of colour.
White Goods We Dispose Of
Thanks to our highly skilled and experienced team of furniture disposal experts and our wide range of vehicles, Clear It Waste can tackle any electrical waste, including all types of white goods.
Our expertise and licenses means that, in line with the UK law, we can dispose of all white goods, even if they are slightly more complex and may release toxic elements into the environment. This is something that you simply can't do without the help of a professional. In particular, we collect and dispose of:
Refrigerators

Cookers

Washing Machines 

Tumble Dryers

Dishwashers

Microwave

Freezers

Radiators
However, we also collect all other forms of electrical waste as part of our WEEE disposal service, including those that are too small to constitute 'white goods'. To find out more about whether your waste can be classified as a 'white good', get in touch with our friendly team today who will be happy to advise you!