Hardcore Waste Removal
Home renovations are an inevitable part of life. Whether they are caused by a growing family, wear or tear, or just a need to spruce up the home, they will always result in a large mess of rubble, chunks of concrete, bricks, timber, metal, tiles, ceramics or paving slabs.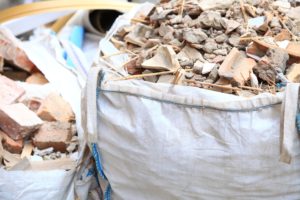 Now, you can always shovel the rubble into a wheelbarrow, fill them in difficult to get hardcore waste bags, put them in the car's boot, and make twenty trips to the local tip, which has daily limits on building waste (usually just three bags full!). Once the cuts and bruises on your hands heal and provided your car's shock absorbers and springs (and your back) survive the trip, you can then start on the huge chunks of concrete and bricks. You're bound to finish with the rubble disposal in a few weeks or months – unless you're asthmatic, in which case, never. Either way, it's not a very tempting prospect, right?
Wouldn't it be much easier to hire a local company like Clear It Waste, an old hand at disposing of bricks and rubble? We have experienced workmen and a fleet of lorries of various sizes (including skips and tippers) that will cater to your every need.
Rubble Concrete Disposal
Concrete rubble disposal is our business, and we're good at it. Just point to the spot, and we'll be there bright and early in the morning. We will usually start with the large concrete blocks and bricks first before clearing away rubbles. Depending on the spread and loading efficiency, we may decide between using a large lorry and two smaller ones.
A word of caution – always insists on hiring companies with a valid waste transfer licence. Otherwise, any infringements made by them could come back to customers like you – and you won't like the fines!
Clear It Waste is also available for hardcore waste removal from construction sites. Ring us up today to discuss how we can help clear your rubble.