An office clearance requires careful planning, consideration and management from the outset. Once you know what office items you wish to keep and what you want to get rid of, you can start putting into place an action plan for getting them removed.
Here at Clear It Waste, we are a professional waste removal company with years of experience and hundreds of satisfied customers to verify that our work is always carried out meticulously and efficiently. We are on hand to perform your office clearance and remove the waste, however big the task.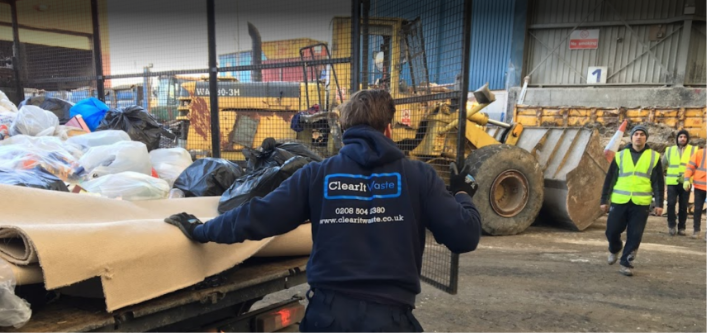 Get Your Free Quote or Book Online!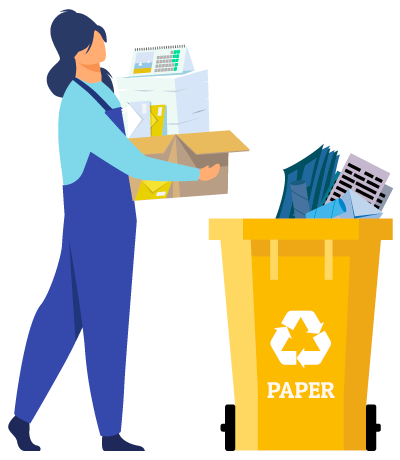 What is an office clearance?
An office clearance usually takes place when you have a large-scale clearout of your office and its equipment. There are lots of different reasons why a commercial office clearance might take place, including:
• You are relocating to new premises and cannot take everything with you so need to get rid of office waste items.
• You are downsizing to a smaller office and therefore need to minimise your possessions.
• You are having an office revamp to breathe some new life into the premises, so need to get rid of your old furniture (including chairs, desks and cabinets).
• The office is becoming too cluttered and untidy, and it is time to throw out some of the things you no longer need or want.
Whatever the reason, the end goal is still the same; you have items from your office that you no longer have use for and want to get rid of them. That is where we come in and can certainly help you out.
What office clearance services do we offer?
We understand that a commercial office clearance can be quite stressful, particularly if you are trying to do it by yourself.
Fortunately, at Clear It Waste, we have experience in a range of waste collection services, including office waste removal. We know how to tackle and handle different types of office waste, including e-waste or hazardous materials. We are also able to remove your office furniture with care, whilst recycling as much of it as possible.
Our team is highly professional, which means we can handle sensitive documents and perform confidential waste disposal with no worries at all. We can ensure that your data is protected and is not damaged in the removal process. Our workers are certified to handle your IT equipment to prevent damage or dispose of them in accordance with the law.
How does a commercial office clearance work?
Hiring our commercial office clearance service could not be simpler. Once you know what needs clearing and when, all you have to do is contact us and speak to one of our friendly members of staff, who will guide you through the process.
Alternatively, you can use our simple, straightforward online booking system. Whether you require a one-off collection or regular office waste collection, we are on hand to meet your needs.
Tell us when you would like us to come and collect your waste and then leave the rest to us. We will turn up on the agreed date and time, take your rubbish away and leave the area looking clean and tidy.
After the work has been completed, we will provide you with a 'Junk Audit Report' outlining what we have taken and disposed of. This is to ensure 100% transparency and means you do not need to worry about the hassle of the appropriate paperwork and waste transfer notes.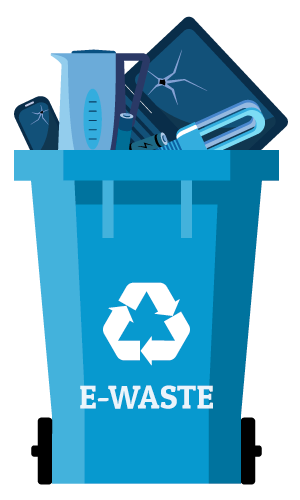 Is it better to use a professional waste collection company or try an office rubbish removal yourself?
Of course, it is possible for you to try and dispose of your office waste yourself.
You could load all of your waste into a vehicle and take it to your local waste collection facility or hire a skip for your office, fill it with waste and then have the skip collected. Or indeed you could try and sell your office furniture in the hope of it going to someone who needs it.
However, compared to hiring a professional waste collection company, these are more expensive options and time-consuming. There is a lot of responsibility for you to move the waste, and by hiring us, we can do all of that for you.
You only have to lift a finger to make the call or fill out the online booking form, and then we organise the rest.
Our services are also in compliance with the law and regulations set out by the UK government for disposing of waste.
For example, there are strict WEEE regulations for businesses around the disposal of WEEE. If you are thinking of getting rid of it simply by taking old computers to the tip, unfortunately, it is not that easy.
All companies have a legal obligation to ensure waste is disposed of in accordance with the law. Choosing a company who can dispose of WEEE, for example, removes that unnecessary headache.
We will take care of all the paperwork for you, such as waste transfer notes, so you do not have to worry about not complying with the law and risk facing prosecution or a fine.
Is it possible to keep the cost down with office clearance?
If you are looking for cheap office waste removal, our commercial office clearance services are exactly what you need; cost-effective and simple. But by taking some simple steps, there are ways in which you can keep the cost down with an office clearance.
Keep your rubbish accessible
We are happy to collect your office waste wherever it is located on the premises. The more accessible the waste, the quicker and easier it is for our team to come in and collect it. This means less time is spent collecting the waste, reducing disturbances to your office, and lowering labour charges.
Keep your rubbish separated
We will always aim to recycle as much of your waste as possible. If your waste is separated before we collect it, we can load it onto our vehicles quicker and get it off to the specialist recycling facilities sooner. We can do this ourselves if it is not possible, but this will mean the job takes longer, and you could incur additional charges.
Donate items in good condition
If some of your office waste is in good condition and could be used again, it would be worth donating to a charity or another local business. This is better for the environment as it reduces the pressure on recycling facilities and landfill sites. Plus, it reduces the amount you need us to collect, which will reduce your overall costs.
Use a reputable company that offers value for money
Not only are we one of the best waste clearance companies in London, we also offer cheap office clearance. We guarantee to beat our competitors by as much as 25%. This proves it is possible to save money with office waste removal services yet still receive the same high-quality you would come to expect from any company.
Unlike many other companies, our services will not set you back a lot of money. Our rubbish removal prices start from as low as £50, and we do not sneak in any hidden charges. When you get a quote from us, that is how much you will pay.
There are many different ways to save money on office rubbish removals, and one of them is by making sure you pick the right company for the job for that cheap office clearance service you desire.
Also, as a business, you are required by law to dispose of your waste correctly. Using a licensed waste removal company like us guarantees that your waste will be disposed of legally, and you will not incur any fines or penalties.
Why choose Clear It Waste for your office rubbish removal?
There are many advantages to using a professional waste removal service. If you are unsure about using an office clearance service in London, such as Clear It Waste, then consider some of the following benefits:
We have vast amounts of experience:

We are one of the best waste removal companies in London. Our team knows everything there is to know about office rubbish removal, so you would be in the safest of hands.
We have experience dealing with office clearance of all sizes; no job is too big or too small for us. We can even help with relocating your office from one premises to another.
We work flexible collection hours:

One of our other major strengths is the level of flexibility we offer our customers. We work at times that are convenient to you and offer flexible, out-of-hours services should you require them to help minimise disruption to your business and your day-to-day working life.
We provide verifiable references:
It is easy to validate our company's claim of integrity and work ethic by checking with our past clients. Let us know if you wish to speak with the companies we have serviced before to get an idea about our professionalism and the high quality of service that we promise to offer.
Be sure to take a look at our work page to see the type of work we have completed in the past.
We adopt environmentally friendly practices:
Most companies also want to work with an office clearance company that genuinely cares about the environment. We currently recycle at least 80% of the waste we collect, and our target is to reach 92%. We also donate to Plant a Tree to do our part for the planet.
Regardless of whether it is getting rid of office paper waste or dealing with WEEE, we are committed to recycling office waste as efficiently and effectively as possible.
Tension-free office clearance:
Our team will arrive on the day with all the tools and equipment needed to complete the job and eliminate your office junk as efficiently and effectively as possible.
We clear all kinds of office refuse:
As a company experienced in handling office garbage, we know exactly how to tackle both the IT and non-IT materials that you will need collected. We are able to remove your office furniture or WEEE waste with care, (whilst recycling all waste where possible in the process). We are also highly professional meaning we can even help dispose of sensitive documents and materials without worry.
Protect your data from getting damaged:
Your important files and data, including the confidential information related to your business, are most likely stored on your computers and electronic devices. Our team is certified to handle your IT equipment in order to prevent any kind of damage to your important files.
We will dispose of them carefully without the risk of leaking your data, regardless of whether this confidential data is stored digitally or as hard copies.
If you want more details, then just ask our dedicated team. They will be glad to provide information on how we are qualified to carry out such work. If needed, we will gladly send you our Waste Carriers Licence and provide you with any other details you require.
If you're after first-class office clearance for your London-based business, simply contact us for a free, no-obligation quote. Or feel free to use our online booking system to make an appointment.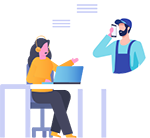 1.
Get in touch for your free, no-obligation quote.

2.
Book your collection online or with our friendly team.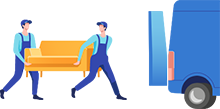 3.
We collect your waste and leave your area clean and tidy.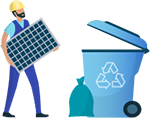 4.
Over 90% of the waste we collect is kept out of landfill.