Shop Rubbish Clearance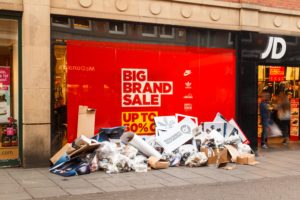 As any shop owners can attest to, rubbishes and wastes from shops can spike at any given moment. Without a professional shop rubbish clearance partner, they can rely on, shops can quickly get flooded with cartons, boxes and packaging. There is nothing more off-putting than storefronts which are overflowing with rubbishes – wheelie bins have obvious limits. Additionally, our service extends to shops undergoing renovation, expansion or relocation. We are capable of handling any debris and waste from construction works.
Rubbish Removal Companies London
At Clear It Waste, we make it a point to work on our customers' time. Our trained team, aided by our in-house fleet of lorries, minimise any potential disruptions to the sales floor by making scheduled collections at the most convenient time for our customers. We can pick up used packaging, damaged products (including furniture, electronics and computers) and miscellaneous waste at a predetermined time daily. Beyond that, we also provide same day response service to meet any unexpected surges in wastes which normally occur during a promotion, Bank Holidays and festive periods. In particularly busy parts of the city, we provide wait and load services for quick and efficient waste and rubbish retrieval.
Shop Clearance London
Clear It Waste offers exceptionally competitive rates for shop clearance rubbish collection, and as a WEEE-compliant company, your waste will always be handled responsibly. Where possible, we will send your waste to recycle centres.
If you are uncertain about the kind of services your shop requires, please speak to one of our highly-trained customer service representatives. We will be able to provide the precise service your business will need. In addition, after every on-site visit, we will provide you with a definite quote for our services – without any hidden charges. We continuously strive to ensure our clients receive the highest level of service at the most competitive price.