Searching for 'Shop Rubbish Clearance Near Me'?
Clear It Waste are one of the leading retail and store waste clearance and collection companies in London, offering clients reliable and exceptional services at affordable prices.
Flexible services to suit your business.
24/7 booking Call outs and quotes.
Free of charge Fully insured and accredited.
Vetted, reliable and experienced team.
Perfect for a store clearance and disposal of any size.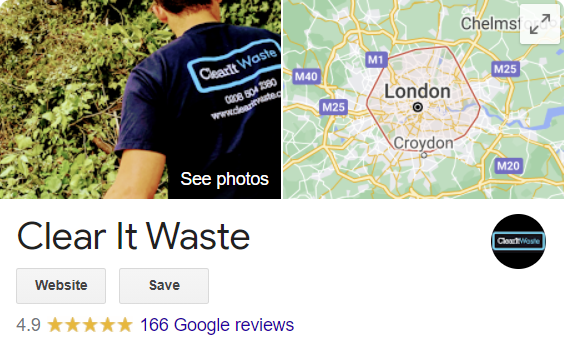 Who We Are
We are one of the leading providers of shop rubbish collection, clearance and disposal. With a reliable, vetted and professional team, we are able to attend your store promptly and get rid of your waste.
Whether you are renovating your store entirely or just looking to clear some excess waste, Clear It Waste are on hand to support your business with any job.
We are known for offering a reputable, swift and flexible service. Finally, shop rubbish clearances will be stress free with the help of our expert team!
Highly Reviewed Waste Removal Company
We are also one of the most highly reviewed London waste removal companies on Google.
We are proud of our reputation, having received high praise from all of our clients, from shop owners to domestic customers. With feedback like ours, you can rest assured that your store waste is in the right hands.
Our professional team has cleared hundreds of stores, served thousands of clients and achieved fantastic standards of work every single time.
From the minute you get in touch to the moment we finish disposing of your waste, you can relax knowing that your premises' waste has been handled responsibly, ethically and efficiently.
Our Shop Rubbish Clearance Services
The process of our shop clearance service
We know that waste from your shop can spike at any time, with masses of rubbish mounting up during busier periods.
From cardboard boxes to polystyrene or even old fittings, Clear It Waste are on hand to quickly and easily remove and dispose of your store waste, leaving your shop premises clear, safe and refreshed in no time!
Call our friendly team today to find out how promptly we can reach you or about the packages we offer to business and retail owners.
Flexible Appointments
Clear It Waste's hardworking team are ready to work around your routine, with flexible appointment times that span weekdays and weekends!
Our friendly team of professionals are available from 7:30am until 6:30pm every day, every week, so you'll never be left waiting!
Whether it's a small van or a 7.5 tonne lorry you need, we are on hand as and when you need us.
In Our Shop Rubbish Clearance Services We Collect:
Cardboard boxes
Paper
Polystyrene waste
Packaging materials
Unsaleable stock
Shelving
Racking
Display mannequins
Decor
POS terminals
Digital Advertisements
Signage
And more
Our store clearance services are comprehensive, meaning we can take virtually all waste accumulated in your store and dispose, re-use, recycle or repurpose it accordingly.
For more information on what our team can and cannot take (or for a free quote), give us a call. We will be happy to provide you with a more detailed list of our services and information on how we can help with your next shop refurbishment, stock clear out, or general waste removal.
Why Choose Us?
With plenty of waste management services on the market, what is it that sets us apart?
You Are Our Main Priority!
It goes without saying that our clients are our utmost priority.
From free quotations to same day clearances, our friendly team work flexibly around your needs and your routine to clear your store waste.
We understand that busy spells and excess waste can be unpredictable, which is why we are on hand for bookings 24 hours a day, 7 days a week and even offer same-day shop clearances.
With waste quickly spilling onto the outside pavement or cluttering the shop floor, it is important to keep business moving, avoid fines and keep your workplace safe.
We are experts in the field of waste management, and are here to make clearances stress-free when you need us.
Fixed and Affordable Prices
Getting rid of waste on a business budget can be a challenge. That's why we vow to clear your premises for an affordable price, providing transparent and fixed quotes across all of our services (including shop waste clearances).
We quote you only for the work we do, never any more.
To give our clients peace of mind, we can guarantee that once we have quoted you for the job, we will stick to that. This means that you can forget about sneaky surcharges and added fees at the end of the clearance.
For your fixed and free quote, contact us today!
Our Vetted and Reliable Team
Every member of the Clear It Waste team is fully vetted, trained and experienced in the work we do, because we value your safety and satisfaction.
Our teams are highly reliable, with plenty of experience working in domestic, commercial and industrial clearances.
We believe that behind exceptional services are exceptional people, and Clear It Waste boasts both.
Ethical Waste Disposal Policy
Furthermore, we have a strong record when it comes to ethical waste disposal.
When we collect your waste, we look to find the most ethical and environmental path for all of your store's rubbish.
From metal fixtures to unsaleable stock, we consider all avenues of recycling, reuse and donation before disposing of your waste.
Our Approach To Waste Collection
Clear It Waste is an eco-conscious business, supporting your business to make ethical and responsible decisions when it comes to waste management.
Our approach to waste collection involves ambitious recycling goals, extensive research and exceptional customer service.
Our Recycling Pledge
Research shows that we are at a critical point in protecting our environment. That is why we can guarantee that all waste cleared and collected from your store will be either reused, rehomed or recycled before we even consider disposal.
We pledge to seek the most eco-friendly route possible for your waste, so you can know that you are doing the most for the environment. Thus far, we have prevented 90% of all waste collected from ending up in a landfill through our recycling pledge.
Frequently Asked Questions
Where do you operate?
If your premises are based in London, we are on hand to help you at any time. To find out when we can reach your store, give us a call.
What is your shop clearance process?
Call us to enquire and receive a free quote.
Together, we will schedule a visit at a time that suits you and your business needs.
Promptly and professionally, we send our team out to your store to collect your waste in a stress-free manner.
Relax and let us do the heavy lifting and labour!
Before leaving the premise, we provide you with all necessary documentation, including waste transfer notes.
Disposal – we recycle 92% of all waste we collect in some way or another, plus we plant a whole tree for every job we complete!
Will we need to deconstruct fixtures and separate our waste ourselves?
Not at all. We know you're busy running a business, so we will not expect you to have deconstructed and separated your waste. Once we know what we are collecting, you can sit back and let Clear It Waste do all of the heavy lifting! It's what we are good at.
Do you offer regular waste collection services for businesses?
We do indeed.
Whether you want a one-off shop rubbish removal following a renovation or a regular waste collection service, Clear It Waste can help.
For long-term and one-off arrangements, get in touch with our team.
Are you available for weekend and evening clearances?
Definitely.
We understand that clearances during business hours are not the most convenient, so we offer flexible appointments in the evenings and over the course of the weekend too!
Do you offer shop waste clearance services for all size stores?
Yes.
Clear It Waste are specialists in waste management operations of all sizes.
Our friendly and reliable team are on hand to clear and dispose of any waste from your premises, no matter how big or small.
For further detail regarding timescales and quotes, get in touch with our team.
Is there any waste that you cannot collect?
We collect and clear the vast majority of waste typically found on store premises.
However, there are a few exceptions and items that we cannot collect due to the health and safety risk they pose. These include flammables, asbestos, bio-hazards and certain chemicals.
If (as part of your collection) you have these materials, we can advise you towards the best course of action and specialists to handle them.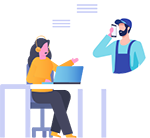 1.
Get in touch for your free, no-obligation quote.

2.
Book your collection online or with our friendly team.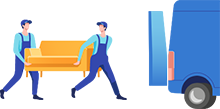 3.
We collect your waste and leave your area clean and tidy.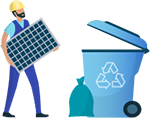 4.
Over 90% of the waste we collect is kept out of landfill.