Superior Waste Collection in Covent Garden
When it comes to waste collection, we're the leaders in Covent Garden and the industry as a whole. Don't settle for mediocre rubbish removal that doesn't quite meet all of your needs, try out our comprehensive and fully-flexible service – you won't regret it.
Covent Garden is known for its shopping districts, tourist sites and the Royal Opera House. The beauty of the area is paired with a fun nature which makes it a must-see place in London. Residents will be able to attest to the charming character of the location which makes thorough recycling and waste removal even more important.
Call us now to discuss how we will be able to help you and get a no-strings-attached quote. Whether you're looking for a large-scale clearance or just have a few too many bags for your bin, we'll have a plan that suits you.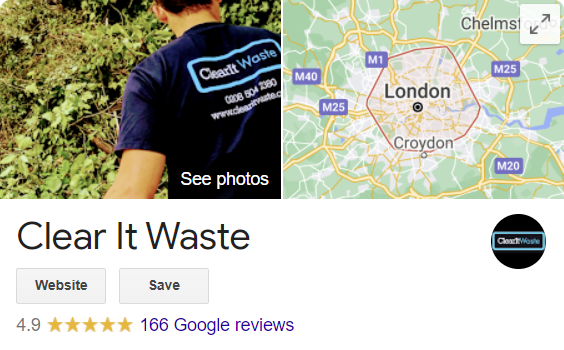 Why Clear It Waste Is the Right Choice
We've said we're the right choice for London waste collection, but let's show you exactly why we're comfortable in making that statement.
We will be able to offer you a pricing quote that doesn't have any catches and is based on the volume of waste that needs removing. As well as this, we're proud of our transparency when it comes to the final bill. You won't have to worry about any hidden extras and will know exactly what you're paying for.
That's not the only reason why, Clear It Waste is also renowned for:
Our Environmental Pledge – Our approach to waste removal always has the environment at the forefront. We will recycle as many items as we can during a collection and will dispose of all rubbish in the most eco-friendly manner possible. We're proud to say that we currently recycle 80% of the things we collect but are always looking to improve this.
Being Local – We are based in London which means that our team will always be close to you. Not only will they know the area well, they will also have an in-depth knowledge of all of the guidelines surrounding the disposal of waste. Our proximity to our customers means that we can usually offer same-day rubbish removal.
Our Flexibility – We're happy to help in numerous circumstances and are open until 6:30pm, 6 days a week. Our fleet of vehicles includes small vans, large vans and up to 7.5 tonne lorries, so be rest assured that we will be able to handle any amount of waste you have.
Our Respect – We pride ourselves on showing respect to our customer's properties and their neighbours. We will always try to carry out the job quietly to avoid disruption. Our team of experts will also be able to remove all rubbish without leaving any damages or mess behind.
Our Covent Garden Waste Services
Garden Rubbish Removal
Garden waste is notoriously difficult to get rid of. You may only be doing a quick tidy of the area but find you accumulate bags of soil, grass clippings, flowers that are past their prime and an assortment of twigs. Knowing what to do with this waste is something many people struggle with – they could take it to their local tip but run the risk of being turned away once they get there because that location doesn't accept garden rubbish or making multiple trips.
Hiring a professional removal team will mean these bags are taken from your property as soon as possible and disposed of in the correct manner, leaving you to enjoy the efforts of your hard work.
Corporate Waste Collection
When you move to a bigger premises, or are looking to get rid of some things from the office, office waste collection can come in handy. Clear It Waste can help you dispose of desks, computers, conference tables, large filing cabinets and other corporate items.
When you book a collection time, you can be sure that it will all be taken care of in one easy trip, eliminating any additional stress that comes with corporate cleaning.
Excess DIY Waste
A big DIY project can leave your looking great, with your renovation dreams being realised. But what many people don't consider is what to do with the waste that is produced from these DIY projects. Building waste usually has a lot of regulations surrounding the disposal and so it can be hard to know what to do with it.
Clear It waste will be able to take all of your household rubbish, no matter the material, and dispose of it in the correct way.
Regular Collections
If you are finding that you regularly have too much rubbish for your bin, you may want to consider organising weekly or monthly collections. This way, you won't have to worry about excess waste not fitting in your bin and instead have a consistent and reliable collection service.
WEEE Disposal
Electronic goods such as computers, laptops, games consoles and televisions cannot be disposed of in the traditional manner. This is because there are strict guidelines surrounding the scrapping of WEEE products due to the potential dangerous results of incorrect disposal.
When you seek the WEEE removal services of a professional team, you don't have to give a second thought to these guidelines as it will be taken care of for you.
Bulky Furniture Removal
Bulky furniture can be a pain to get rid of, especially if you live in a flat or apartment. Knowing how to properly lift the pieces, carrying them to your vehicle and finding a way to strap them in is a tricky process and one that can usually end in injury.
Don't risk getting hurt or damaging other parts of your property and instead organise a clearance team to remove bulky furniture for you.
White Goods Removal
Similarly to bulky furniture, white goods are difficult to dispose of. Fridges, freezers and washing machines are heavy and have an electronic element to them that makes it even more tricky.
Clear It Waste will be able to take these white goods and get rid of them in the most eco-friendly manner possible, rather than simply putting them in a landfill.
Frequently Asked Questions (FAQs)
What rubbish does Westminster Council collect?
Westminster Council regularly collects household waste (food waste, packaging and small household items) through emptying your bins. You can find out your bin collection times using the council's street name searching tool.
For larger amounts of waste, you can look into their bulky waste collection service which costs £30 for up to 6 items.
They also run a commercial waste collection service where you can either organise a regular pick-up or order a one-off bag. For when there is a substantial amount of rubbish, it is best to have a professional team take it away.
Can you fit around my work schedule?
As you are able to book a timeslot yourself, you will find we are able to offer openings to suit a range of work schedules. This includes early morning slots and later in the evening – we even offer flexible weekend slots!
How long does waste collection take?
The time it takes to collect all of your waste solely depends on how much there is. Our professional team is all equipped and knowledgeable of rubbish removal so will be able to carry out the task as quickly as possible – simply point them towards the waste you want them to collect and they will do the rest.
Can you clear my whole house?
We sure can! No matter how big (or small) the job is. Clear It Waste will be able to help you. Our vehicles are big enough to handle a lot of rubbish but we are more than happy to make a couple of trips to and from your property to ensure all the waste has been removed.
How soon can I organise a collection?
We pride ourselves on being local to you so can often organise a same-day collection. Get in touch with a member of the team on 02085042380 and they will be able to tell you the earliest available slot.
Do I need to take the rubbish out of the property?
No! You don't need to take the waste out of your property or leave it at the side of the road as our team is happy to do this for you. Just make sure it is in an accessible place on your property (not in the attic).
What are your opening times? / How can I get a pricing quote?
Our team is available to pick up your rubbish from 7:30am to 6:30pm, 6 days a week. You can organise a time that best suits you through following these steps:
Get in touch through emailing us at [email protected] or calling us on 02085042380.
Our advisors will ask you a few questions about the amount of type of waste you need collecting before providing you with a no-strings-attached quote.
Once you are happy to proceed, just let us know when you're free and arrive right on time, ready to clear your property.
And it's as easy as that to book in your superior waste collection in Covent Garden.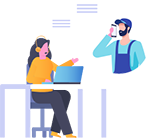 1.
Get in touch for your free, no-obligation quote.

2.
Book your collection online or with our friendly team.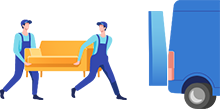 3.
We collect your waste and leave your area clean and tidy.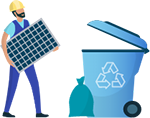 4.
Over 90% of the waste we collect is kept out of landfill.