We Are Surrey's Leading Skip Hire Service.
Whether you're undergoing a home renovation or are looking to clear out your business space, hiring a skip is the perfect way to tackle what is otherwise an overwhelming amount of waste.
Clear It Waste have been delivering skips in and around Surrey for years, allowing residents and businesses alike to manage their waste at their own pace, whilst we provide the skip delivery, collection and waste disposal services for them to do so. Our skip hire is fast, friendly, affordable and professional, making us Surrey's first choice for skip hire.
How Our Skip Hire Services Can Help
Managing large quantities of waste can be a stressful task for individuals, and renting a skip is often the most affordable and simple way to get rid of this waste. However, there are also a few other benefits of hiring a skip:
A skip enables you to complete ongoing projects, such as renovations and construction at your own pace, whilst giving you somewhere to store your waste in the process.
A skip hire allows waste to be loaded as closely and safely as possible to a site. For example, most skips are kept securely on the site of a project or clearance.
There are a wide range of skip sizes available, which means that the cost and service is tailored to your specific needs.
Individuals that hire a skip don't need to worry about disposing of the waste, since this is handled responsibly by professionals who collect the skip.
How Hiring A Skip Works
With Clear It Waste, getting hold of a skip in Surrey has never been easier. All you need to do is let us know what you need and when you need it. We arrange all of the technical aspects, from delivery to collection. You will have the skip for a designated period of time to load your waste, and we just collect it once you're finished!
Why Hire A Skip From Clear It Waste?
We have been serving the people of Surrey for some time with our waste clearance and skip hire services.
However, there are a few reasons why our customers choose us time and time again:
Skips of All Sizes
Whether you are looking to dispose of 20 bags of waste with our mini skip, or clear up after a large scale construction job with our large skip, ClearItWaste has the right skip for you.
Unlike some other providers who have a smaller variety of skip sizes to choose from, we ensure you have a skip size that is suitable for your needs to guarantee you don't waste money or end up with excess waste to get rid of.
When you hire a skip in Surrey with ClearItWaste, you will get the most honest and stress-free service possible.
Free, Fair and Fantastic Quotes
We offer exceptional services at incredible prices. No matter how big or small the skip you're looking to hire is, we offer a competitive price that includes both the drop off, collection and skip itself. In fact, we are so proud of our affordable prices that we offer fixed, free and no-obligation quotes.
After all, great prices are worth shouting about! To secure your quote today, book online or call our team at 02085042380.
Punctual and Professional Delivery and Collection
Another thing that sets our skip hire apart is our fantastic team. Our team is comprehensively trained in delivering, collecting and dropping off your skip in a safe and professional manner. Our team is always on time and works tirelessly to deliver a flawless service.
In fact, our team is often our customers' favourite part of our skip hire service, with many clients recommending us to friends, family and colleagues, or leaving us glowing reviews.
When you hire a skip in Surrey with ClearItWaste, you will get the most honest and stress-free service possible.
Reliable Advice
We make you our priority from the minute you enquire about a skip hire service. We work hard to understand your specific needs. discover what size skip is right for you and support you in arranging permits and placement. Since ClearItWaste are the specialists in skip hire, you can trust our advice and knowledge.
Insured, Licensed and Accredited
We might compromise on price, but we certainly don't compromise when it comes to your safety. Clear It Waste's skip hire services are fully insured, licensed and accredited, giving you peace of mind.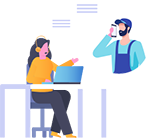 1.
Get in touch for your free, no-obligation quote.

2.
Book your collection online or with our friendly team.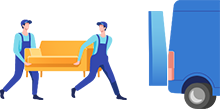 3.
We collect your waste and leave your area clean and tidy.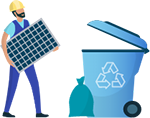 4.
Over 90% of the waste we collect is kept out of landfill.