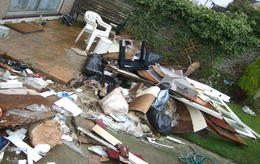 Human civilization has been dumping waste since ancient times, but with the discovery of adverse impact of it on the environment waste clearance has gained importance. Modern cities churn out a lot of discarded material from domestic as well as business premises. The increasing load has been putting pressure on landfills and oceans, contaminating soil as well as underground water levels that is threatening flora and fauna. This widespread threat emanating from garbage has lead to evolution of different methods for its removal. In EC1 Moorgate we are offering all kinds of rubbish clearance methods for the inhabitants. However, the success of waste clearance in EC1 Moorgate depends a lot on your endeavor to bring down rubbish at source since this is the basic step in reducing the load on the environment.
Our services
We offer general waste collection, WEEE collection, house and garden clearances, shop and hotel clearance, removal of hardcore rubbish as well as basement dig outs. We abide by the WEEE directive of recovering the stipulated amount of material from electronic and electrical rubbish. We offer both domestic and commercial garbage removal services in the EC1 Moorgate area. Our waste clearance team is experienced in handling every kind of commercial and domestic rubbish and that gives us an edge over our competitors in the field.
Methods of disposal
Ocean dumping

The method of ocean dumping is inexpensive, convenient and offers nutrients, shelter and a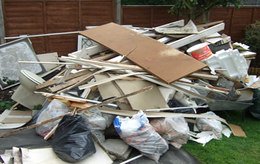 place of breeding to aquatic life. However, it has major disadvantages. The ocean is becoming a large dumping ground that is also threatening the environment. It is also destroying food sources of aquatic flora and fauna and killing zoo planktons. It is now discovered that it is also contributing to desalination of the ocean which can have severe impact on the environment.
Incineration
Some hazardous waste like that coming out of medical establishments and industrial premises need to be incinerated in order to minimise environmental pollution. However, it is a costly affair with involvement of huge amount of energy. However, its advantages like little requirement of land, all weather operation, volume reduction of waste etc outweigh its disadvantages.
Sanitary landfill
This is a good method of disposal since such land areas can be reused for community purposes, but the area needs maintenance, and it requires proper design and planning to carry out such activity.
Open dumping
This method used to be quite inexpensive, but with increasing dumping charges and government discouragement to continue open dumping this is not going to stay so for long. Moreover, it is polluting for the environment and has a lot of health hazard.
Recycling
Recycling is by far the best method of solid waste clearance. This helps in saving natural resources as well as fuel since the amount of fuel required in converting raw materials into useful elements is more than that required in recovering materials from finished items and reusing them. As more and more of solid waste is recycled the impact of garbage clearance on environment is reduced considerably.