The Most Reliable Waste Collection Service In Hackney.
London amasses tonnes of waste each day, and Hackney is not exempt. Hackney hosts popular markets, restaurants and hospitality, inviting thousands of residents and visitors to indulge in the district each day.
However, with this thriving atmosphere comes large quantities of waste, so the area needs a waste collection company they can trust to handle, transport and dispose of Hackney's waste in a professional way.
Fortunately, you can rely on our team to do just that.
Clear It Waste have been delivering fast, efficient and professional Hackney and London waste removal services for years, with many residents and business owners in the area relying on our services again and again.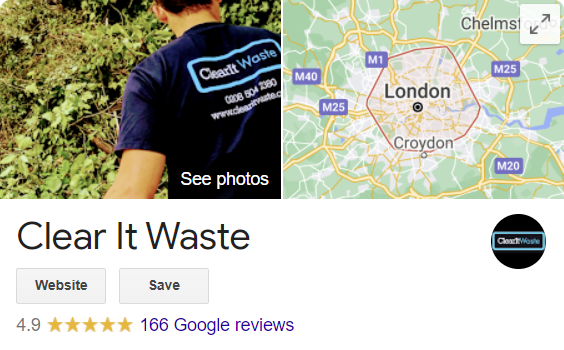 Our Local Waste Collection Services In E8
Are you looking for a hand getting rid of that garden waste? Or do you need a professional team to collect waste from your office each week?
No matter how specific your request, Clear It Waste Hackney are on hand to help. Our most popular waste collection services include:
Commercial waste clearance (like our office clear outs)
Domestic waste clearance
Garage and Garden waste disposal
Confidential document destruction
Routine rubbish removals
Emergency clearances
General waste removal
Hotel Clearance
Food waste collection
There are many ways we can help you manage your waste, so get in touch today to discuss your needs and what we can do for you!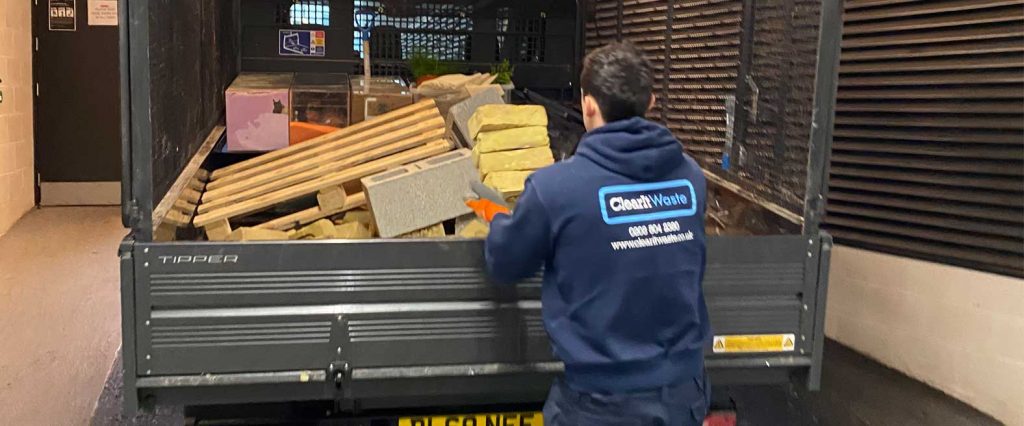 What Sets Us Apart
With various waste management companies operating in the area, you are likely wondering what makes ours the best. Let us explain…
Affordable and Fair Prices
Don't let London prices put you off from hiring a professional waste clearance team.
Our prices are fair, affordable and transparent across all of our services – big and small. We are so proud of our prices that we vow to offer all potential customers a fixed and free quote for our work, all free from obligation!
We charge you for the work we do and nothing more, so you can wave goodbye to surprise surcharges and hidden fees!
Knowledge of The Area
Since we are a local business, we have extensive experience collecting waste in Hackney and surrounding areas.
We know the best routes around the district as well as the best places to get parking, and where to find you, which takes any hassle of being late or lost out of the equation.
Our services are punctual, efficient and professional, just like our people.
Flexible Booking and Appointments
No customer's routine is the same. Whether it's school runs, a shift at work or other commitments, our team are versatile and work flexibly around your routine. That's why we offer weekend and evening appointments for our busier clients.
What's more, we have a wide range of emergency appointments available across all of our services, meaning you can book and receive a service in no time at all. You'll never be waiting around when you hire our hardworking team.
Wide Range Of Services
Unlike many other waste clearance companies who provide general collection and clearances, we specialise across a wide range of waste types and areas. This means that no matter what your waste or need, we can manage it responsibly and confidently.
From construction waste to secure document destruction, our people are fully trained and experienced in it all.
Our Values
It is also our values that make us a popular choice for those seeking to shift their waste in Hackney.
We are honest, hardworking and care about our customers' experiences. We put a huge emphasis on transparency when it comes to our processes, from sharing our recycling targets with you to explaining how each and every bit of your waste will be disposed of.
Insured, Accredited and Certified
Our team and services are fully insured, accredited and certified in what they do.
Your health and safety is our priority, so we will never cut corners like other companies.
Our team benefit from specialist training, years of practical experience and unrivalled industry knowledge.
So when you book a clearance in Hackney with us, you have total peace of mind.
Just Ask Our Existing Clients!
And if those reasons haven't convinced you, just ask our existing clients!
We are proud to be one of the best reviewed rubbish removal companies not only in Hackney, but throughout London! We have consistently been praised for our friendly, fast and thorough services and we can't wait to share them with you.
We Care About The Environment
With pollution, emissions and overflowing landfills posing an increasing risk to our health and future, the need of the hour is to bring down the amount of waste that ends up in landfills and ensure the most eco-friendly disposal possible for the waste we collect.
With household and commercial waste throughout Dalston, London Fields and other areas of Hackney contributing to this danger, we pledge to recycle more and waste less.
Our efficient waste collection service ensures that less and less waste ends up in landfills and incinerators, as we are committed to recycling or reusing up to 80% of the rubbish we collect.
We have partnered with charities to increase the longevity of your old things and invested plenty of time and money into researching the most efficient and eco-conscious means of disposal for all waste types.
On top of this, being a local business allows us to cut down our emissions and transport your waste in the most efficient way possible, so we are doing our bit in every way we can.
Whether it is tackling food waste in the hospitality sector or recycling the masses of paper and cardboard thrown away in retail, you can rely on us to do the right thing for businesses and homes throughout Hackney.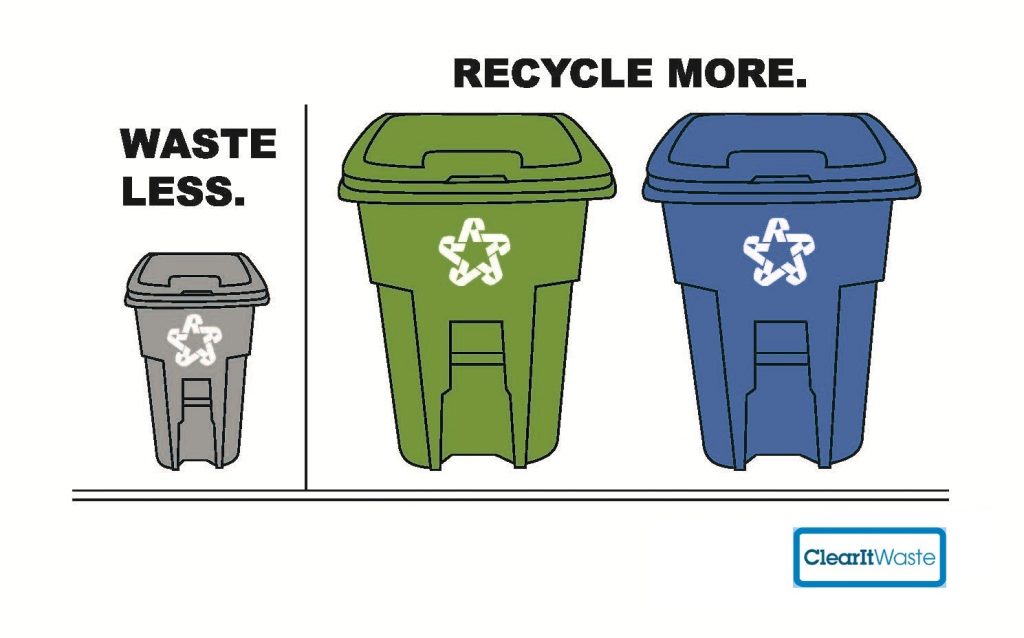 Frequently Asked Questions
Does it matter that my road doesn't have parking?
Absolutely not.
We discuss parking arrangements and difficulties with you prior to booking, however it shouldn't be a problem at all.
Our team have worked in London for many years, so know exactly how to manage waste clearance jobs where parking is not available.
Will Hackney Council collect my waste?
Hackney council provides various bins for recycling and waste for residents which are picked upon a regular basis.
However, for larger quantities of waste or waste that is difficult to handle, we recommend hiring a professional waste management company to collect and dispose of your waste, since the council will not lift or carry bins or bags over stairwells or obstacles, and require waste that they do collect to be presented in a particular way.
If you are looking for a more comprehensive service, booking a rubbish clearance with a private company like ours is the way to go!
Do you need help lifting the waste?
Absolutely not.
Definitely not!
We send a team that is appropriate for the job at hand, so you will never be expected to lift a finger when you book with Clear It Waste.
Are your team fully trained and vetted?
Of course!
We would never send a member of our team that hasn't completed all necessary checks and training.
Please rest assured that our services and teams are fully accredited, certified and insured to manage your waste, and have many years of experience doing so.
Do you have clients in Hackney?
Plenty! We have a wide range of clients throughout Hackney, including both domestic and commercial clients.
What Waste Do You Collect?
We collect all waste. To give you an idea of what we can manage, we regularly collect the following:
Electrical waste such as peripherals, white goods, printers, computers, mobile phones.
Garden waste such as hedge trimmings, grass, broken furniture and paving slabs.
Commercial waste including office equipment, sensitive documents and masses of paper waste.
Construction waste such as rubble, broken glassware and excess materials.
Hotel and restaurant waste which includes food waste, glassware and old mattresses.
Domestic waste such as old furniture, old clothes, general waste and white goods.
Can I arrange to have my waste collected regularly?
Absolutely. It would be no problem at all! In fact, many of our commercial and domestic clients opt for a routine collection service since it allows them to keep on top of their waste output.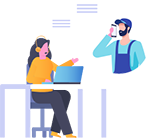 1.
Get in touch for your free, no-obligation quote.

2.
Book your collection online or with our friendly team.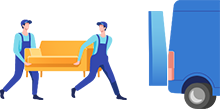 3.
We collect your waste and leave your area clean and tidy.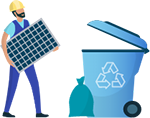 4.
Over 90% of the waste we collect is kept out of landfill.