The Best Rubbish Removal Service In Marylebone
Having operated in Marylebone for many years and working alongside many clients in this time, it is no surprise that we are Marylebone's preferred waste collection and clearance service.
We have a reputation for dealing with Marylebone's waste in a professional, reliable and eco-friendly manner, and we refuse to cut corners or waste your time and money. So, if you are looking for a first class service at a competitive price, you are in the right place – as many of our existing customers will tell you!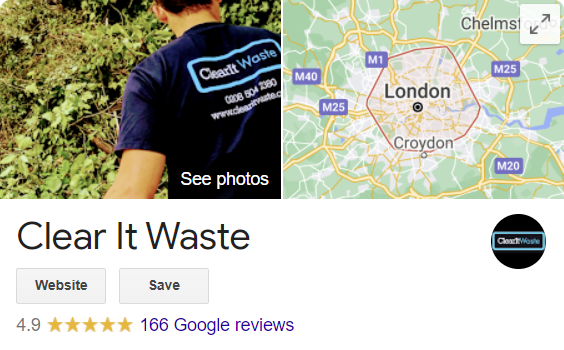 We Are Proud To Offer These Waste Removal Services Throughout The Marylebone Area:
Domestic waste clearance
Construction waste clearance
Routine waste collection
Emergency rubbish removal
Furniture clearances
Commercial property clearances
Garden and garage waste clearance
WEEE disposal
White goods collection and disposal
General Waste Recycling
Office rubbish removal
As you can see, we cover virtually every waste removal need, all thanks to our team's expertise and versatility. However, if you have a more specific need, please don't hesitate to get in touch with our friendly team who can discuss what we can do for you.
Your Local Area
Marylebone is a stunning area, boasting large open spaces, cultural landmarks, Michelin starred restaurants and a large community of both families and professionals. It is also home to an array of picturesque period buildings, flaunting a serene vibe. Although the area also hosts masses of fashionable stores and boutiques along with reliable transport links and plenty of history.
But our favourite part of Marylebone are the friendly people we serve, and we are proud to operate in and around Marylebone.
5 Reasons To Choose Clear It Waste For Your Next Waste Clearance
1. Our Services Are Highly Reviewed Throughout Marylebone
If you don't believe what we have to say about ourselves, just take a look at our reviews from existing clients across Marylebone. We pride ourselves on our integrity, enthusiasm and professionalism, but what makes us most proud is the high levels of customer satisfaction we consistently receive. In fact, our clients are so impressed with our waste clearance services that they recommend us to friends, family and colleagues all the time!
If you'd like to find out what it's like to work with one of the best reviewed rubbish removal companies in London, get in touch with our friendly advisors today.
2. We Offer Appointments To Suit Your Busy Schedule

Life in Marylebone can be hectic, and we understand that your routine can be too. That's why we operate throughout evenings and weekends, so you can book an appointment that best suits you.
Our team works flexibly to ensure the most convenient experience for you, whether that means a last minute emergency clearance or delivering our ever popular weekly waste collection services. If you need it, we can arrange it.
3. We Give Quotes For Prices You Can't Refuse
Whilst our services are premium, our prices are not. We think our clients deserve exceptional quality rubbish removal services at exceptional prices. From the biggest jobs to the most novel ones, we are committed to providing fixed, free and no-obligation quotes for our Marylebone customers.
So, you can forget sneaky surcharges and hidden fees when you book with Clear It Waste, because we believe our prices are worth shouting about.
4. Our Team Have Skills, Experience and Expertise You Won't Find Elsewhere
Our services are only as good as our team, and our team is incredible.
Each and every member of the Clear It Waste rubbish removal team is fully equipped with the tools, knowledge, experience and skills they need to deliver a great service. We put our professionals through training and vetting to ensure you get the service you expect when you book with us.
Our people love working with the people of Marylebone, and you can rest assured that they have pride in everything they do.
5. We Know Marylebone Like The Back Of Our Hand
Having delivered our services throughout Marylebone for some time now, we know everything there is to know about the local area, from how to get around the thriving streets to how to collect the area's waste in a mindful manner.
Our exceptional knowledge of Marylebone has informed our collection and clearance processes, allowing us to ensure our team provides the most considerate service possible to its residents. We keep our noise to a minimum and maintain cleanliness and organisation standards throughout the service to ensure we do not disturb you, or your neighbours in the process.
We Care About The Planet
Delivering fantastic services at even better prices isn't all we care about, though. Clear It Waste are committed to protecting the planet and we reflect this in every aspect of our work:
We operate locally to reduce emissions and make our vehicle use as efficient as possible
We have an ambitious recycling target which we have consistently met year on year, and are looking to improve
We seek the most eco-friendly avenue for all of your waste, from making donations to charities in need to deconstructing your WEEE waste and white goods to make recycling possible
We partner with charities to find homes for your old stuff
We are constantly looking for ways to improve our practices, and welcome suggestions on how to do this.
More About Our Eco-conscious Waste Disposal Processes
We know that London has one of the highest waste outputs in the UK, but also one of the lowest recycling rates in the country. Therefore, it is crucial that we do our bit to dispose of our customers' waste in the most ethical and responsible way possible.
We are proud to share that after investing a great deal of time and money into researching and adapting our disposal processes, we consistently manage to either reuse or recycle over 80% of the waste we collect, thus preventing it from going to landfills and polluting the local area.
Our partnerships with charities and expertise in recycling and deconstruction makes us one of the most eco-conscious and environmentally friendly waste removal companies in the capital.
Now that really is something to shout about.
Frequently Asked Questions (FAQs)
Is there any waste you can't collect?
We collect virtually all kinds of waste, even the tricky kinds! We cover everything from electrical waste to construction waste, so we are confident that whatever waste you have, we can collect it and dispose of it in an eco-friendly fashion! Although, if you have a specific type of waste in mind and want to find out whether we can collect it for you, just drop our friendly advisors a call today!
How quickly can you collect my waste?
As soon as you need us! We understand that things come up and we work flexibly to meet the needs of people in Marylebone In fact, our emergency clearance services mean we can get to your door in as little as an hour! Fancy that!
Do you offer rubbish removal services to shops, restaurants and other hospitality venues?
Absolutely! Many of our existing customers are commercial ones, so we are fully experienced in managing the large loads of waste and health and safety expectations that come with these jobs.
If you are looking to hire a reputable, reliable and professional company for your commercial clearance needs, you're in the right place.
There is a lack of parking on my street, can you still remove my rubbish?
No problem at all! Due to our many years of experience operating throughout the manic streets of London, we are used to clearing waste in busy, or difficult locations. Our team is fully trained to collect your waste and clear it, no matter where you live in Marylebone!
Can I book weekly or monthly waste collection services?
Of course! As well as offering one-off clearances, we have a whole host of clients throughout Marylebone who rely on our services to collect their waste on a weekly or monthly basis. In fact, we work closely with our customers to organise routine rubbish removal on their accord.
How much experience do you have in Marylebone?
Plenty. Since we are a local business, we have been delivering our services to the lovely people of Marylebone for as long as we can remember.
How do I book with Clear It Waste?
It couldn't be easier! Just get in touch with us at 02085042380, or email us at [email protected] to make an appointment, or request a free, no-obligation quote. Once you've decided to book with us, you can sit back and relax knowing your waste is in very capable hands.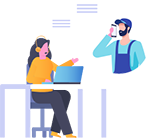 1.
Get in touch for your free, no-obligation quote.

2.
Book your collection online or with our friendly team.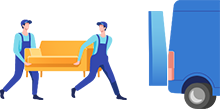 3.
We collect your waste and leave your area clean and tidy.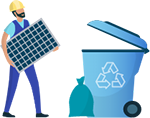 4.
Over 90% of the waste we collect is kept out of landfill.