Complete Waste Collection Services in Soho
Waste collection services in Soho can be difficult due to the lack of open spaces, the flights of stairs you often have to carry the rubbish down and the need for transport with enough space for all of your items to take them to the nearest disposal centre. Instead of having to deal with these problems, you could avoid all hassle by employing a professional clearance team to do the hard work for you.
Don't just use any cleaning team though, use the best. Clear It Waste is one of the leading rubbish collection teams in London and there are a number of good reasons for that, such as: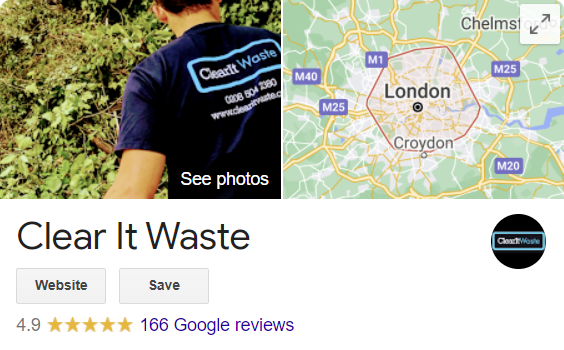 1. We're local
As we have teams based all around London, there's a good chance there'll be one right around the corner from you. Because of this, we are able to offer same-day waste collection, meaning you don't have to deal with the rubbish on your property any longer than you need to.
2. We're flexible
We're happy to fit around your schedule, whatever that may be. If you're only free for two hours on a Tuesday, then we'll organise a collection during that time and stick to it, leaving you with peace of mind.
3. We care about the environment

We have taken a pledge to recycle as much waste as we're able to. Rather than our first stop being a landfill, we take the time to research recycling facilities in the area and what they accept, allowing us to make informed decisions that help to protect your local environment.
4. We're equipped for all waste
However much rubbish you need removing, we'll be able to help. Our fleet of vehicles including small, medium, and large vans, as well as 7.5-ton lorries which means if you have a huge amount of waste following a large-scale renovation, we'll be able to handle it.
Flat Clearance in Soho
Having a large amount of waste in your flat means that you're not able to move around as freely as you'd like because the size of the rubbish takes up valuable space. In a house, you can usually hide it in another world but this is different when it comes to living in a flat. That's why we pride ourselves on being able to provide a quick service that will allow you to get your flat back to normal.
With a large number of people living in flats in Soho, we have invested our time into specially training our team to handle the requirements that come with this type of property. When it comes to collection schemes run by the government or other collection companies, you are usually asked to make sure your waste is put in an accessible place outside where the team can easily take it away.
Rather than putting yourself in potential danger by carrying large amounts of waste or bulky furniture down to the street, Clear It Waste asks you to let our team do it for you. As long as we are able to reach the rubbish, we'll be able to clear it.
Soho Rubbish Removal Services
Rejecting the one-size-fits-all format of waste collection, we offer a range of rubbish removal services to suit different needs. This way, it eliminates the chance of you paying for areas of waste collection that you don't need and wasting your time.
Our specialised services cover all aspects of waste management and just some of them include:
DIY waste removal – Building work and everyday DIY can make the amount of waste build up. Whether you're ripping down wallpaper, knocking down walls or painting your home, you can be sure that your bins will be overflowing. Our team will be able to get rid of this waste and dispose of it according to material guidelines.
Regular collections – You may find that you regularly have too much rubbish for your bins, you fill them up with waste leftover from the previous week and so starts an ongoing vicious cycle that will see you never clearing the ever-growing pile. Regular collections from Clear It Waste will mean that this excess waste is promptly taken care of.
Garden waste – Having a quick tend of the garden, cutting your grass, tidying up bushes or trees and digging up soil can result in a large amount of waste that you may not necessarily be accepted at your nearest recycling centre. Having bags of grass and twigs around is not ideal, so get it quickly sorted by a professional clearance team.
Bulky furniture collection – Carrying and relocating furniture can often result in injuries or damages to your home. If you need to get rid of this large furniture or want to move it to a new property, we will be able to help you.
Corporate clearing – This type of collection can be tricky to do yourself as it often consists of a lot of large furniture such as numerous desks, chairs, and filing cabinets. Trying to transport these to a disposal site is not only time-consuming but also requires a lot of man-power from your company. Clear It Waste will be able to carry out all aspects of corporate clearing within a timely manner to ensure your business is left to run as it should.
Frequently Asked Questions (FAQ)
Are you able to take hazardous materials?
With WEEE waste and other hazardous materials such as some paints and liquids, it can be difficult to know what to do with it. Clear It Waste is able to take care of these materials and dispose of them according to local guidelines. We also aim to do this in a way that causes little to no damage to the environment.
Can you help with moving house?
Yes. If you need some assistance with moving large and bulky furniture to your new property, we will be happy to help you. We carry out these types of jobs while maintaining respect to both of the properties and the items themselves, meaning you don't have to worry about any damages occurring.
How do I organise a collection?
Organising a collection with Clear It Waste cannot be easier. In fact, you can follow two simple steps:
Contact a member of the team by either emailing [email protected] or calling on 02085042380.
A member of our friendly team will be there to answer any queries you have or book you in for a collection. They will also be able to give you a price quote based on the amount and type of waste you have.
To make things even easier, we have introduced an online booking system that will allow you to organise a collection whenever you are free.
Do I need to put the waste outside?
No. We'll take the waste from your home, whatever room it's in. You don't need to worry about organising the rubbish into separate categories either, our team will do it all for you. It's policies like this one that make Clear It Waste the leader of waste collection services in Soho.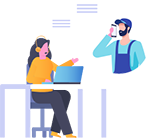 1.
Get in touch for your free, no-obligation quote.

2.
Book your collection online or with our friendly team.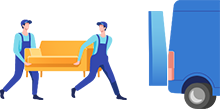 3.
We collect your waste and leave your area clean and tidy.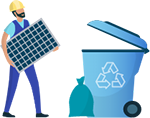 4.
Over 90% of the waste we collect is kept out of landfill.