Searching For A Reputable Waste Collection Service In Victoria?
Clear It Waste have operated in and around the area for some time, so we know exactly what it is that the people of Victoria want and need when it comes to waste collection and clearance – ease, professionalism, experience, friendliness and affordability.
Fortunately, we tick every box.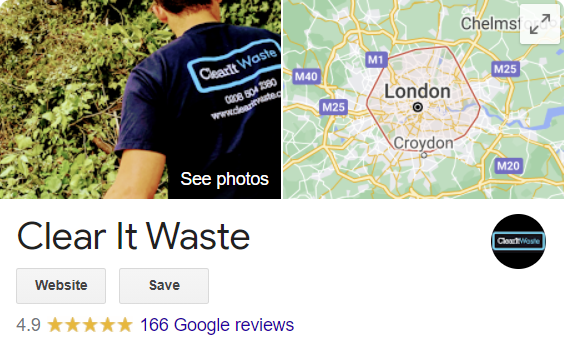 Highly Reviewed Professionals
As one of the best-reviewed rubbish collection services in London and Victoria, we have an unbeaten reputation for providing high quality services that leave our customers satisfied each and every time.
We pride ourselves on the integrity, efficiency, flexibility and affordability of our services, so customers can be confident when they hire us for their rubbish removal job.
In fact, we have many customers who continue to book with us, and are keen to shout about how great both our services and people are.
What We Love About London Victoria
Victoria is one of the most incredible areas in central London, boasting fantastic transport links, a thriving theatrical vibe and plenty of fascinating historic landmarks, such as the Houses of Parliament, Westminster Abbey and the Guards Museum. Not to mention it is little more than 10 minutes away from royalty, with Buckingham Palace Darby.
However, it is not the great choice of retail or luxurious bars and restaurants we love most about Victoria, it is the people.
Having worked the area for a long time, we have met some incredible customers, and we are proud to serve the people of Victoria.
Our Waste Collection Services in Victoria
Due to our wide range of expertise and experience, our team are prepared for rubbish removals and recycling of all kinds.
Here are a few of the most popular services on offer:
Commercial and office waste clearance
Domestic rubbish removal
Garage clearances
Routine rubbish removal
Emergency waste removal
Recycling services
Furniture clearance
Restaurant and shop waste removal
Food waste removal
White goods clearance
If you are looking for a specific waste removal service, don't hesitate to get in touch with our friendly team to discuss how Clear It Waste can help you today.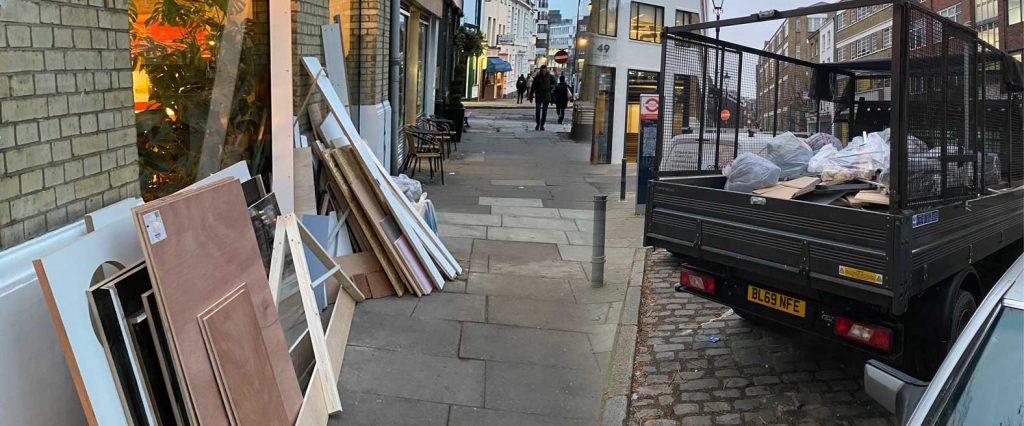 What Makes Us Victoria's Leading Junk Disposal Company
Our Team
As with most services, the quality of the service depends on the quality of the team delivering it.
We have invested time and money to ensure our team is the best in the business, from comprehensive training through to hiring only the most experienced and enthusiastic people for our jobs.
When you book with Clear It Waste, you have peace of mind that every job will be carried out with the highest level of care and skill, and that we will deliver an exceptional service each and every time – no matter how big or small the job is.
Our Knowledge
We have impeccable knowledge of all things rubbish removal and recycling related, particularly in and around Victoria, which is why its residents and business people choose us time and time again for their clearances.
We know that the area can be busy, offer a lack of parking and that the exquisite properties we attend require extra care. To meet these demands, we have tailored our collection processes to suit the area, meaning we can provide the perfect service for you.
Our Prices
Clear It Waste also offers competitive prices for our services, because we believe that you don't have to pay a small fortune for a first class service. That's why for jobs both big and small, we offer fixed and free quotes with no obligation to book. That's how confident we are in our fees.
What's more, when you book with us you can say goodbye to last minute surcharges and hidden costs, because all of our prices are transparent – just like our services.
Our Flexibility
Life in Victoria can be hectic, so we are available throughout evenings and weekends too to ensure you can always get an appointment that suits you.
We offer flexible appointments and services, covering everything from an emergency clearance to a regular rubbish removal to make your life that bit easier.
To discover more about how we can work around your particular schedule, get in touch today.
Our Exceptional Levels of Customer Satisfaction
When you offer services like ours, your reviews speak for themselves.
We are proud to share that we are amongst the top-reviewed waste clearance services in London, having received plenty of kind words and praise from both regular and new customers in the area. In fact, many of our new customers are referrals, since the people we work for are so pleased with our results that they recommend us to everyone they know!
We don't blame them!
Our Values
Our values are at the forefront of everything we do. At Clear It Waste we value integrity, care and transparency before anything else.
We are honest with our prices and our services, but also with our waste disposal processes. We do everything we can to protect the environment and keep our customers smiling – and that's what makes us special.
Looking Out For The Environment
London produces masses of waste each and every day, but has one of the poorest recycling rates in the country, so it is important that we do everything we can to ensure Victoria's waste is disposed of ethically and responsibly.
To do our bit, we follow these pledges:
We partner with charities to find new homes for your old waste. By doing this, we are improving the longevity of your waste and preventing it from ending up in a landfill.
We have trained all of our staff in how to deconstruct WEEE waste and white goods, since this enables us to take apart even the most complex of waste and ensure as much of the materials used can be recycled as possible.
We have fine tuned and researched each and every one of our disposal processes to ensure we consistently meet our ambitious recycling targets. At present, we are committed to reusing or recycling over 80% of all of the waste we collect.
We are always looking to improve, and welcome any suggestions from our customers on how to do so.
Book With Us Today
So, if you are looking for an eco-friendly, professional, flexible and high quality clearance service in and around Victoria, we are the team for you.
Get in touch with our friendly customer service advisors who can discuss availability, your expectations and quotes – all free of charge!
Frequently Asked Questions (FAQs)
I live in a peaceful area, how considerate are your waste recycling services?
Very considerate.
Whilst Victoria is a lively area, we understand that some residential spaces are more peaceful, which is why we have trained our team to collect waste in a mindful manner.
This means we will keep noise to a minimum, conduct ourselves in an orderly fashion and keep out of your way as much as possible.
Can you still collect my waste if there is no parking on my road?
Yes!
You need not worry if there is a lack of parking on your street.
Our lengthy experience delivering these services throughout the busy and often narrow streets of London means we are experienced in getting around these kinds of issues with ease.
What kinds of waste do you collect?
We collect all waste varieties from construction rubble right through to garden waste and everything in between.
Contact us for a more specific list of waste types, or to find out if we will collect your waste and for what price.
Can I hire your team for regular rubbish removal services as well as one-off collections?
Of course.
We offer a wide range of services from emergency one-off collections through to a regular waste collection service on your accord. This can be anything from weekly to monthly, or even daily if you operate a commercial space.
Let us know what you need, and we can tell you how we can help.
Do you provide services for local businesses?
Absolutely.
We have a wide array of services, some of which are specifically tailored to the needs of businesses or commercial spaces, such as more frequent collection arrangements or managing larger loads of waste.
Chat to us today to find out more.
How long have you been working around Victoria?
As a local business, we have been operating in Victoria since the business began, which means we have a great deal of experience in these ends.
What other methods of disposal are there aside from recycling?
We offer a recycling service since this is by far the best way to dispose of your waste.
Alternatives include ocean dumping, open dumping and incineration, both of which are deeply damaging to the environment either due to the amount of energy required to do this, or the way it contributes to a build-up of waste and causes pollution.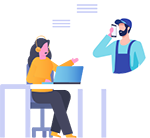 1.
Get in touch for your free, no-obligation quote.

2.
Book your collection online or with our friendly team.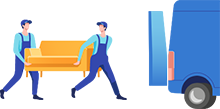 3.
We collect your waste and leave your area clean and tidy.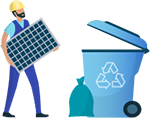 4.
Over 90% of the waste we collect is kept out of landfill.