Top Waste Collection in Bethnal Green.
Waste collection is paramount in maintaining a clean environment.
Without it, many households would be overrun with excess items from their renovation projects, spring cleans or moving plans.
Council collections usually do not include larger items and, without taking multiple trips to your local disposal centre, they can be almost impossible to get rid of on your own.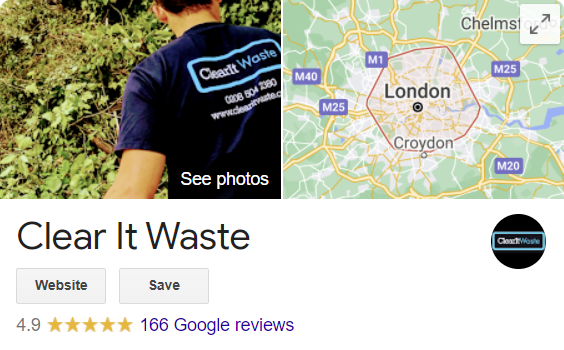 Due to our vast experience and extensive training, we're able to offer a range of services to suit every household and waste, just a few of them include:
Bulky furniture (sofas, tables, wardrobes and beds)
White goods (fridges, freezers, washing machines, tumble dryers and dishwashers)
General household (excess food waste, packaging, bedding and clothing)
Electrical items (kettles, microwaves, games consoles, computers and radios)
Garden waste and furniture (sheds, benches, grass trimmings, twigs and bushes)
DIY rubbish (rubble, bricks, flooring and wallpaper)
Regular collections for when you consistently have too much rubbish for your bins
It's not just our extensive range of services that make us the best choice for waste collection, it is our fair pricing, commitment to protecting the environment, flexibility and knowledge.
When you hire Clear It Waste you'll know that you will be happy with the service and be left with a clean and tidy environment.
Waste Collection for Bethnal Green Businesses
Waste that comes from businesses consists of a variety of materials, depending on the nature of the company. Offices mainly discard piles of waste paper, boxes and some electronic items such as computers or printers.
Whereas, food establishments often end up with a lot of leftover food, vegetable peelings, plastic containers and tins.
At Clear It Waste, we can carry out all kinds of waste removal for businesses and recycle as much of it as possible.
Simply get in touch with a member of our team who will be able to talk you through the services we provide and help to set up a regular collection of your company waste.
Corporate Clearing
When moving your business to a new place, or clearing the offices completely, it is difficult to arrange.
Old or broken chairs, electronics, cabinets and tables are all bulky pieces of furniture that are hard to move, even harder when you're in a rush.
Take the stress out of clearing your corporate building and instead hire a professional team to do it for you, that way you can focus on more important things in regard to your business.
Recycling in Bethnal Green

Recycling plays a very important role in bringing down the amount of waste that ends up in landfills and oceans. It also helps in reducing the amount of raw material and energy needed to run our everyday lives, thereby helping to save these important natural resources.
As well as this, less consumption of energy and resources also means less pollution. Some items that we are able to recycle are various plastics, tin, glass, paper boxes, cartons, bottles and cardboard. We are even able to have some components of batteries to produce metals and acids.
When we carry out a waste collection, we always try to recycle as much of the waste as possible. At the moment, we are able to recycle 80% of the rubbish we take away from our customer's houses but are looking to improve this to lessen the impact on your local environment even further.
How to Book a Collection Service
Booking waste collection with Clear It Waste couldn't be any easier. In fact, you can do it in just three simple steps:
Get in touch with a member of the team to make an initial enquiry by emailing [email protected] or calling 0208 504 2380. They'll be happy to answer any questions you may have and give you a price quotation based on the amount of waste you have. If you'd rather keep it all online or are in a rush, you can use our online booking tool to secure your appointment.
Tell them what days you're free and what time best suits you. We may even be able to offer you a same-day collection if that is what you need.
Sit tight and wait for our experienced team to arrive. They always aim to be right on time but will contact you if they encounter any unforeseen circumstances such as traffic.
Frequently Asked Questions (FAQ)
Can you give me a price beforehand?
During the initial consultation, we will give you a quotation based on how much waste you tell us. We may then ask for pictures of the rubbish so we can give you a more exact price.
Our prices are fixed so the only way they will change is if you have more or less waste than originally stated. You don't need to worry about hidden charges when you get your bill.
Are your quotes no obligation?
Yes! You are not required to book a collection once you've had a quote. However, we're confident you'll find our prices to be some of the best in the industry and will want our extensive knowledge on your waste removal project.
When can I have a collection?
Our team works from 7:30am to 6:30pm, 6 days a week so you will be able to book a collection between these times. We always try to be as flexible as possible and fit around your busy schedule.
How big are your vehicles?
We have four different sizes of vehicle so you don't need to worry about us fitting everything in. Once we know how much waste you need removing, we will bring the appropriate sized vehicle with enough room for it all plus a little wriggle room.
Are you licensed to clear waste?
Yes, Clear It Waste is fully licensed to remove your waste. This way, you can be sure that the services we provide are up to standard and will be carried out to the highest standard. That's why we're one of the top waste collection companies in Bethnal Green.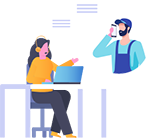 1.
Get in touch for your free, no-obligation quote.

2.
Book your collection online or with our friendly team.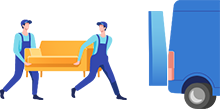 3.
We collect your waste and leave your area clean and tidy.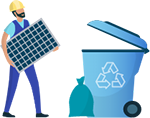 4.
Over 90% of the waste we collect is kept out of landfill.