Hire the Best Waste Collection Team in Islington.
Knowing what to do with large amounts of waste can be difficult. You don't want to have to organise it all and then make multiple trips to a disposal centre that may not even accept all of the materials. Why spend your time doing this when you could have someone else do it for you? Make sure you hire the best waste collection team in Islington and get rid of the rubbish once and for all.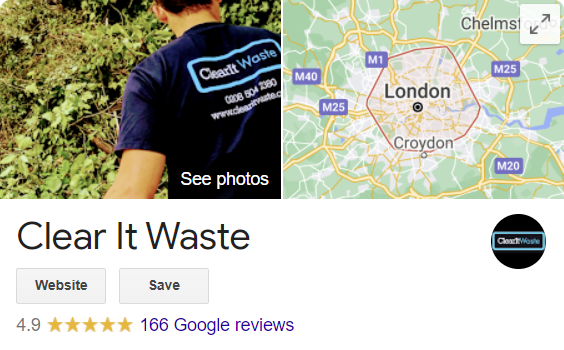 How Clear It Waste Can Help You
We carry out all manner of recyclable and non-recyclable waste removal and dispose of your items in the most cost-effective and environmentally-friendly way possible. We also do garden and DIY clearance, corporate removals, and basement dig outs as well as collection of electrical and electronic items (WEEE).
Having a large amount of rubbish in your house can cause a whole host of problems. Depending on the type of waste, it can start to smell, take up a lot of room and even become potentially dangerous so it is best to get it sorted as soon as possible.
Clear It Waste will be able to help you with:
White goods removal
Regular collections
DIY rubbish removal
We Have a Recycling Pledge
When we carry out a collection, we always look to recycling as much waste as possible. This means we meticulously research your local recycling centres and plan the best course of action when it comes to disposal. This way, you can be sure that your rubbish isn't going to be taken to fill up a landfill and further damage the environment.
In fact, we are currently recycling about 80% of the waste we collect and carry out thorough checks on any company that recycles on our behalf.
We Respect Your Property
Our team has been trained to carry out waste collection in a manner that will never damage your property. Our respectful nature also extends to your neighbours as well, we will try to be as quiet as possible to ensure they are not disturbed.
You'll be surprised at how clean and tidy we leave your property.
We Can Help in Almost Every Circumstance
Our specialist training and in-depth knowledge mean that we will be able to assist you with almost every waste collection service. This includes collecting DIY and garden rubbish, general household items, bulky furniture and electrical goods.
Our team is available 7:30am to 6:30pm, 6 days a week and we currently are collecting from about 50 properties each day.
Our Prices Are Fair
When you book to have a collection with Clear It Waste, you will be provided with a personalised quotation. You don't need to worry that when the final bill comes they'll be a number of hidden charges and extras.
You're welcome to shop around too, but you'll soon find that our prices are affordable and competitive.
Our Service is Quick
We have teams all around London, including in Islington, so we are able to operate a quick service. In a lot of cases, we are even able to conduct same-day waste collection to swiftly rid our customers of pesky rubbish.
If you're looking for a speedy pick-up or want scheduled and regular collections, we will be there on time.
We're Experienced
Our team is made up of individuals who have a great amount of experience in waste collection. This means they'll know exactly what to do with all types of materials to avoid any danger. As well as this, they know the area well so are aware of the best places to take the rubbish once they've collected it.
Our Customer Service is Unparalleled
We're not afraid to say that our customer service is above the rest. To test this yourself, get in touch with us by emailing [email protected] or calling 02085042380.
Here you can ask as many questions as you want and a member of the team will be happy to answer, including queries on pricing, specific services and recycling.
Frequently Asked Questions (FAQ)
Is same-day collection available?
We have teams based throughout London and around Islington to make sure we're around when you need us most – that's why we can usually offer same-day collections. However, we cannot always guarantee this as some days we are incredibly busy and all of our teams get booked up. To save any disappointment, make sure you book in advance.
How long will it take?
The length of time a collection will take depends entirely on the amount of waste and where it is located, if you are on the third floor then it will take longer to carry out the full collection than if you were located on the ground floor. However, we always try to move as quickly as we can whilst still carrying out the job to the highest standard possible.
What can't you remove?
We aim to remove all manner of waste, but if it contains asbestos or other chemicals that would be harmful to our team then we cannot take them away. This is to protect the safety of our team members and customers.
Are there any hidden charges?
We try to be as transparent as possible so will never try to hide any extra charges from you. The final bill will be the same as the quotations assuming that no extra waste had been added since the initial consultation.
What should I look for in a waste collection company?
If you are looking to hire a professional team, you need to have a few points of evaluation to ensure you make the correct decision, such as:
Value for money
Flexibility
Experience and equipment
Specialties (DIY, WEE or bulky items)
To find out more about these areas, you can jump online and read a few reviews from their previous customers or contact them directly to find out whether they are the best company for your waste collection.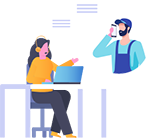 1.
Get in touch for your free, no-obligation quote.

2.
Book your collection online or with our friendly team.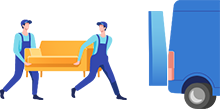 3.
We collect your waste and leave your area clean and tidy.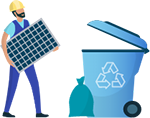 4.
Over 90% of the waste we collect is kept out of landfill.