High-Quality Waste Collection Throughout Westminster.
Westminster is known as the home to many important sites and recognisable landmarks – all of which would be ruined if covered in excess rubbish and waste.
We believe it's important to keep our local environment clean and presentable, both inside and outside. That's why we are committed to carrying out high-quality waste collection throughout Westminster.
As a rubbish management company, Clear it Waste has multiple objectives. We strive to reduce the amount of waste ending up in landfills so that, in turn, the damage to our local environment is lessened.
We have a pledge in action that sees us recycling as much waste we collect from homes as possible, currently operating at about an 80% recycling rate.
Our team is looking for ways to increase this even further so if you have any idea, we'd love to hear them!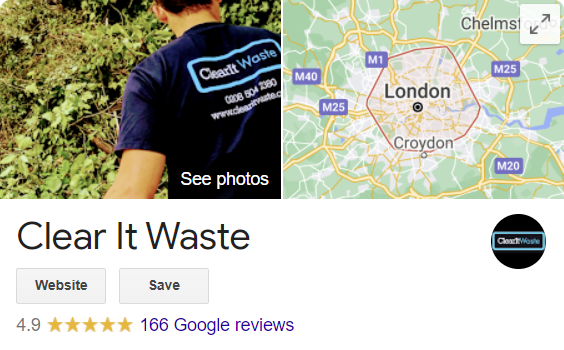 Waste Electrical and Electronic Equipment (WEEE) Collection
WEEE products are one of the hardest to dispose of due to the strict guidelines surrounding them. Due to the electrical components, chemicals often encased within them and batteries, they have the potential to become hazardous if handled incorrectly. WEEE disposal guidelines are in place to avoid this happening.
Failure to follow these guidelines can result in hefty fines so don't take the risk and allow a professional team to do the disposal of WEEE items for you. Clear It Waste has the knowledge and experience of dealing with this type of rubbish to be able to stick to the rules in place.
Get Clear It Waste to Remove Your Items
For a price as low as £50, you can book a visit from Clear It Waste today. With same-day slots often available, we're sure we'll be able to come at a time that suits you.
Use our online booking form or call us now on 0208 504 2380 to secure your collection time. You can even email us at [email protected] if you have any questions.
Why You Should Choose Clear It Waste
Deciding on the right waste collection service is instrumental in being satisfied with the end result.
Other companies often have lower standards of cleanliness and efficiency, resulting in them delivering a sub-par job.
With Clear It Waste, you can always be sure that we'll take away all waste necessary and leave you in a tidy environment, not to mention the speed of our service is what makes us stand out.
Not convinced yet? Let's run through some of the other areas we excel at:
Speed
When you book a collection, you'll get a solid timeslot.
Our team does their best to stick within this time frame and carry out the work as quickly as possible, leaving you able to get on with more important aspects of your day.
This is especially helpful if you would have otherwise had to have taken whole days off work or cancelled any hobbies in order to wait in for rubbish collectors – instead, you can simply be there for the time slot and go out after.
We are even able to carry out collections when you are not home, as long as you leave the waste you want taking away in an accessible place.
We do ask that you be contactable during this time in case of any questions our team may have.
Respect
The nature of our services don't just centre around being quick though – all members of our team view respect as one of the most important aspects of customer service.
This extends to our customers, their properties and their neighbours, meaning Clear It Waste will do the job quietly and without any damages.
Lessened Environmental Impact
Our respectful nature does not just cover people, it also includes respecting our local environment.
A lot of other removal companies will take rubbish from their customer's houses and take it straight to the closest landfill. We're not like that.
We do thorough research into the best disposal methods for different types of waste and will take the time to see that these are carried out.
That sometimes means going to a few different recycling sites and manually organising the waste we collect into different categories. At the moment, we are able to recycle 80% of the waste we are taking.
Price
We are proud to say that all of our pricing is fully transparent, without any hidden charges waiting to pop out when you get the final bill.
You'll know exactly what you're paying for and will have already received a cost quotation prior to the visit, so you'll always be in the know.
As well as being transparent, you'll find that our pricing is competitive and fair, as well as very affordable.
Five Star Service
We train every member of our team to carry out their waste collection service to the highest standard possible. We do this to ensure that you're getting five star service whether you're having a small and regular pick-up or a large-scale removal.
Don't just take our word for it, you can read customer reviews from people we've previously helped. Here you'll find them talking about team members going above and beyond, working quickly and carrying out an efficient job.
When should I pay you?
You can either pay the full bill prior to the visit or when our team arrives. This is up to you and the price can even be split, paying half in advance and the rest in person.
If you want to discuss payment options, then get in touch with a member of our team and they'll be happy to set up a plan that suits you.
Are you licensed and insured?
Yes! We are fully insured and hold a full waste carriers licence, meaning we are prepared and able to take away all of your waste.
Can you take waste from businesses?
Again, yes! We are able to help with corporate cleaning and will be able to take waste from your business away. This includes bulky office furniture, waste paper, electronic items and general business rubbish.
Do I need to carry the waste myself?
Definitely not.
Our highly trained team of waste disposal experts will do all of the heavy lifting so you don't need to do it yourself.
The only time we would ever ask you to carry the waste yourself is if you're not going to be home during the collection, as it needs to be in an accessible place outside so our team can reach it.
It can be difficult to find such space in Westminster that does not block a path or road, so we recommend keeping it on your front drive or back garden with the gate open, ready for your waste collection.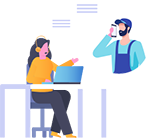 1.
Get in touch for your free, no-obligation quote.

2.
Book your collection online or with our friendly team.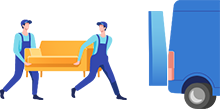 3.
We collect your waste and leave your area clean and tidy.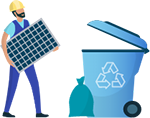 4.
Over 90% of the waste we collect is kept out of landfill.