Croydon's Number One Waste Removal Company.
Here at Clear It Waste, we are able to carry out all manners of waste removal in Croydon.
We offer our services in DIY rubbish clearance, general waste collection, WEEE collection for electronic and electrical waste such as television sets, game consoles, and mobile phones, as well as garden rubbish removal.
We train across the board, so whatever the service you book, you'll know that the team member will be knowledgeable about all areas of London waste clearance.
We also pay special attention to delivering good customer service, so we're certain you'll find your experience with us efficient and enjoyable.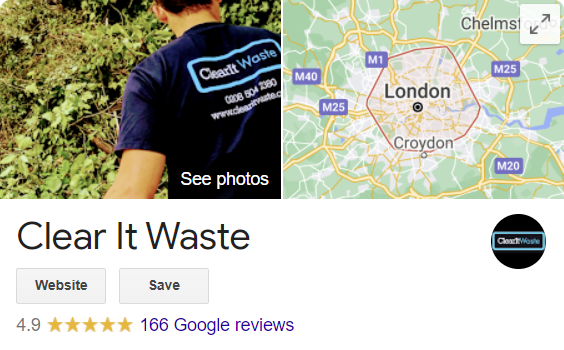 Business Waste Collection in Croydon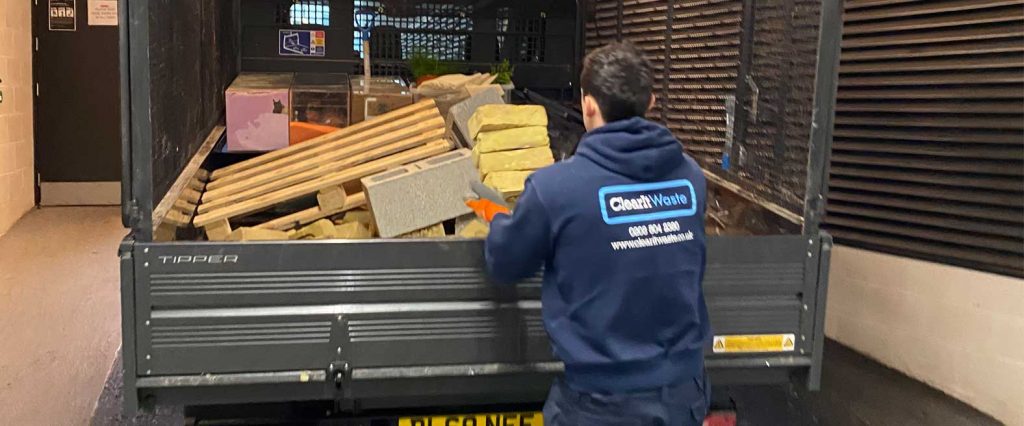 Finding the right business waste collection company can be difficult. You need people you can trust to do a speedy but structured removal, whether it is a full clear-out or a simple and regular pick-up.
Clear It Waste are able to provide this service for a number of industries and waste types, just a few of them include:
Offices
The main bulk of waste we see from offices include waste paper or unwanted bulky furniture like tables, desks and chairs.
Regular office collections can be especially helpful to this type of business as it allows the area to stay clear of any rubbish that could potentially be a hazard if left too long.
Electronic items are often a large part of office waste and they come with strict guidelines in terms of disposal. Failure to do so can result in hefty fines, and with the amount of electrical items in an office, these will add up. Let a professional team get rid of these unwanted goods and do the hard work for you.
When carrying out an office clearance in Croydon, Clear It Waste will be able to come in and take care of all the things you're leaving behind, allowing you to focus on the more important aspects of the big move.
Hotels, Shops, Restaurants and Pubs
Hotels, restaurants, shops and pubs produce a lot of waste food and scraps such as vegetable peelings, uneaten meals and food packaging. This type of rubbish needs to be collected quickly otherwise it will start to decay and will cause an unpleasant smell around the building, putting off potential customers.
We are able to take waste from these establishments and find the best place to recycle it, therefore lessening the impact on your local environment.
Hospitals and Nursing Homes
Hospitals and nursing homes generate a huge amount of the toxic and hazardous biomedical waste. Such items need to be disposed of in a safe manner that does not cause damage to the environment and hazards to others.
Alongside this, cleaning, bed sheets, and food waste make up the rest of the waste from these types of buildings. We'll be able to help by taking these away and leaving these important businesses to run optimally.
Industrial Establishments
By far most of the toxic and hazardous rubbish are generated in the variety of industrial establishments across Croydon, and in a huge amount too.
Getting rid of this is very important in terms of the running of these industrial establishments and the effect of the local environment.
Types of Waste Collection
Not all types of waste collection will be suitable for your specific needs.
That's why we offer so many, looking to help our customers in whatever way they need. Take a look at the list below to figure out which service is best for you.
Man with a Van – Perhaps one of the simplest areas of waste collection. As the name suggests, a person comes with a van to take away your waste. The specific service varies depending on the company in terms of loading, for some you load the rubbish yourself whereas with others the team member will do it for you.
Regular Collections – When you have too much rubbish for your bins every week, it's time to do something about it. Regular collections will allow you to get rid of this overflow and is a great option for businesses.
WEEE Removal – Computers, televisions and lighting are all examples of WEEE items. These are notoriously difficult to get rid of due to the guidelines surrounding the disposal so it's best to hire a professional team to do it for you.
Garden Waste – This includes collecting grass cuttings, dead plants, bushes and garden furniture. Having someone come to your home to take it all away is much easier than making multiple trips to the disposal centre.
DIY or Building Rubbish – After a renovation, you'll usually be left with a lot of rubble, flooring, wallpaper and wires that you don't know what to do with. There are often regulations for the disposal of this type of waste so don't be caught out and potentially face fines.
Commercial Clearing – As outlined above, commercial clearing helps businesses of all varieties maintain a safe and tidy work environment. This type of waste collection can include handling many different materials.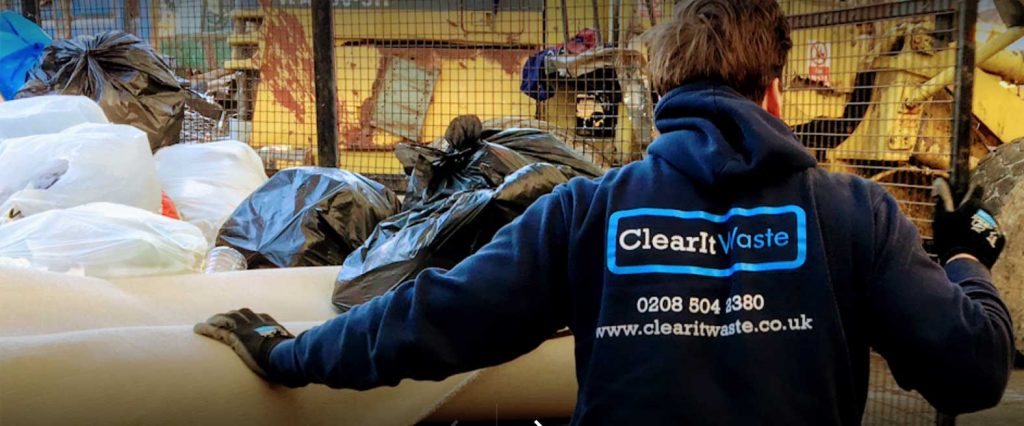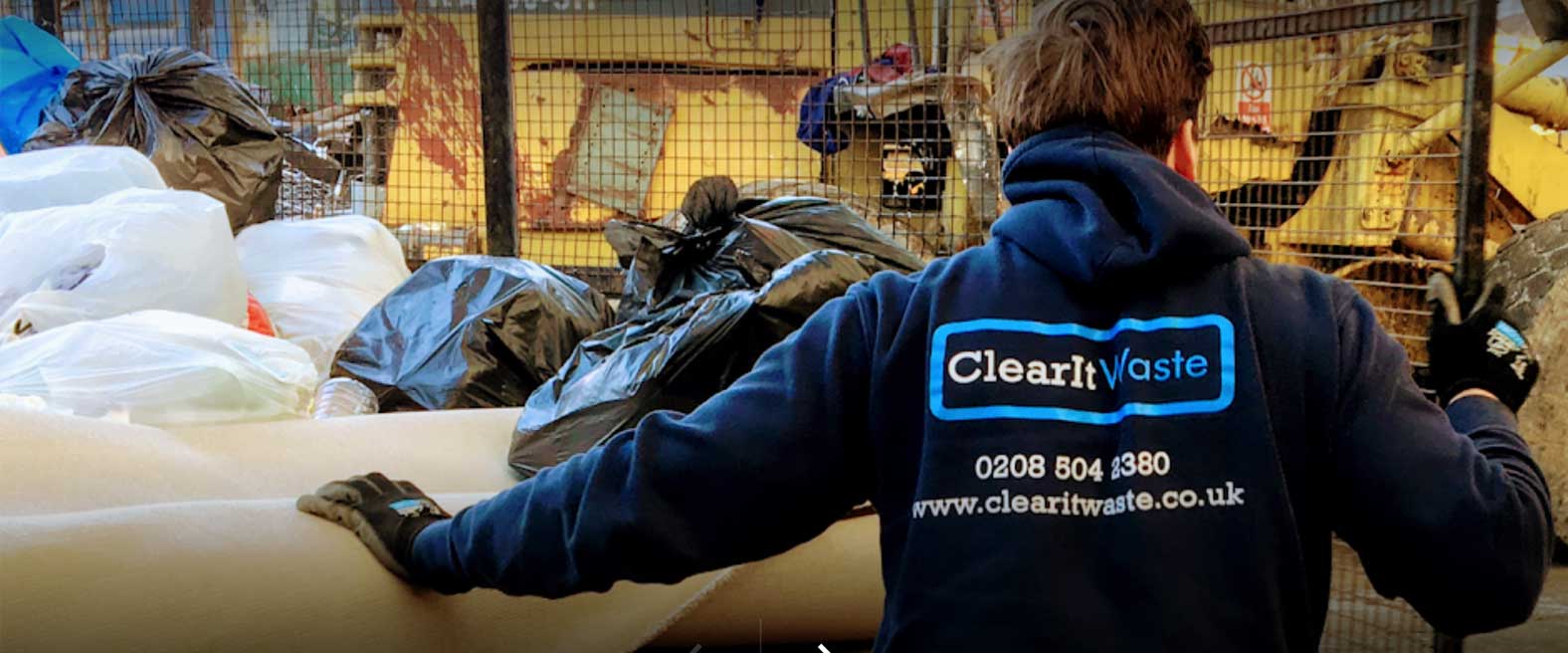 Croydon Waste Clearance FAQ
Will you give me a time slot?
Yes!
When you book, we will give you a time slot of when to expect our clearance team. We can organise this time to fit around your schedule, making the waste collection as convenient as possible.
How can I book a waste collection?
Booking a collection with Clear It Waste is very easy. You can either give us a call or use our online booking tool.
Here you will detail the type and amount of waste you have. A member of our team will be able to give you a price quotation and, if you're happy with the cost, will then get you booked in for your collection. That's it!
Can I have my waste collected if I live on a busy road?
We understand that waste removal in Croydon can be tricky due to the number of busy roads and lack of good parking facilities.
We take the safety of our team members very seriously so if you live on a very busy road and there is nowhere to park their vehicle, then we will not be able to carry out the collection.
However, if there is a space to park off-road, then we will be happy to do so.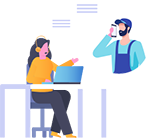 1.
Get in touch for your free, no-obligation quote.

2.
Book your collection online or with our friendly team.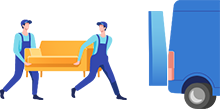 3.
We collect your waste and leave your area clean and tidy.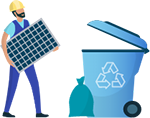 4.
Over 90% of the waste we collect is kept out of landfill.