Since the opening of the Elizabeth Line, Farringdon has boomed as an office location for both big and small companies. Where you're looking to upsize, or having a general clearout, Clear It Waste can help you whatever your needs.
We offer office clearance and office furniture removal at an affordable price. Our team of dedicated waste removal specialists will help you clear out your office space in Farringdon quickly and efficiently. At least 80% of items we collect will be reused, repurposed or recycled to ensure we are doing our part in looking after the planet.
Clear It Waste: Your Number One Choice For Office Clearance in Farringdon
There are a number of reasons why you should hire a waste removal company for your office clearance in Farringdon. Here's why Clear It Waste should be your top choice.
Disposing of Waste Ethically
We have an environmentally friendly approach to office waste management and looking after the planet is of utmost importance to us. At the very least, 80% of the waste we collect is recycled, but we strive to get this figure closer to 92%. We also donate to Plant A Tree to help play our part in keeping the planet clean and healthy.
Trusted and Certified Professionals
Our trusted and certified professionals will take care of all the paperwork to ensure that your waste is handled properly. We hold a full waste carriers licence and will complete a junk collection audit upon completion of the job.
Book Online 24/7
Finding time to book an office clearance during working hours isn't always easy. With Clear It Waste you can now use our online booking form to schedule an office clearance. All you need to do is tell us how much waste needs collecting, how accessible the office is and when you'd like us to come. We'll then get back to you with a free quote.
Evening and Weekend Appointments
In order to minimise the disturbance to your employees, you may prefer to arrange an out-of-hours office clearance. We offer evening and weekend appointments to help you work around your busy schedule.
Free Quotes
Once you've provided us with details of your office clearance (volume of waste, accessibility, parking) we will offer you a free, no obligation quote. This is a fixed quote, so there will be no hidden fees or surprise price increases.
Excellent Reviews
We have a 4.9 star rating and over 280 reviews from happy customers on Google Reviews. We are also registered on Trustpilot, with a 4.7 star rating. If you'd like to validate our company's reviews yourself, we'd also be happy to provide references for our previous customers.
Office Clearance Prices in Farringdon
Arranging an office clearance in Farringdon shouldn't cost an arm and a leg. We offer affordable, competitive prices at excellent value for money. Our waste removal services start from as little as £50 and quotes are based on your individual requirements.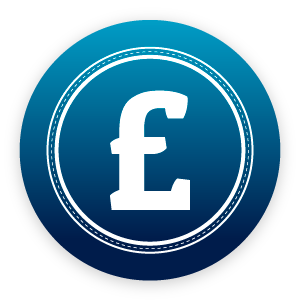 Get in touch for a bespoke office clearance quote today
What Our Professional Office Clearance Includes
Management of waste transfer notes
A full junk audit report
Same-day waste collections
Ethical disposal of waste
Collection of all types of waste including WEEE items, office furniture, and paper/plastic/cardboard
Benefits of Office Clearances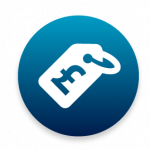 Affordable
Our services are offered at an affordable price. Prices are tailored to each of our customer's individual requirements to ensure you get the best price and avoid overpaying. There will be no hidden charges, what you see is what you get.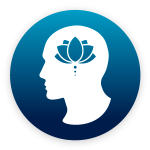 Stress Free
Once you've booked your office clearance, we'll take care of the rest. You won't need to lift a finger. Our team of dedicated office clearance professionals will handle all the loading and transporting of the waste, leaving the office clean and tidy. All you need to do is make sure we have access to the area.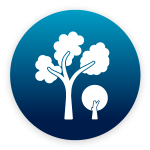 Environmentally friendly
As easy as it would be to simply put the waste we collect in the landfill, that's not what we do. We are familiar with all the local recycling facilities and hold the appropriate licences to deal with waste in an ethical and sustainable manner with the environment at the forefront of our minds.

How To Book an Office Clearance in Farringdon?
If you're looking to book an office clearance in Farringdon, get in touch with a member of our friendly team today by telephone on 0208 504 2380. Alternatively, you can email us at [email protected] or contact us via online booking form.
How Our Office Clearance Service Works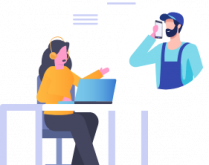 Contact us to receive a free, no-obligation quote for your office clearance.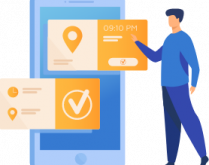 Let us know which time and day works best for you. Or, you can book online today to secure your appointment.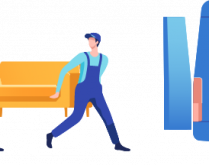 Our certified team will take care of your office clearance, leaving the space neat and tidy.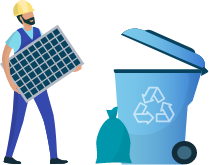 We recycle over 80% of the waste we collect, so you don't have to worry about what happens when we leave your office.
Office Clearance in Farringdon FAQ
What is office waste?
Office waste can be anything in the office from plastics, paper and cardboard to office furniture and waste electrical and electronic equipment. Each of these items is disposed of in different ways, so it is vital to ensure that they are handled and recycled properly.
How long does an office clearance take?
The time it takes to clear office waste depends on a number of factors, including how much waste there is, where it is located, and whether there is parking nearby. To get a clearer idea of how long your office waste removal will take, get in touch with a member of our friendly team today.
Do you offer weekend and evening office clearances in Farringdon?
Absolutely! We understand that conducting an office clearance during working hours isn't always going to be convenient for businesses. That's why we offer office clearances in Farringdon on weekday evenings and Saturdays.
Do you cover all areas within London?
Yes we do. We cover office clearances all across London and parts of Essex. Here is a comprehensive list of the areas we cover.
What makes Clear It Waste different from other office clearance companies in Farringdon?
There are plenty of office clearance companies in and around Farringdon. What makes Clear It Waste different is our exceptional levels of client satisfaction, competitive prices, and our unrivalled commitment to recycling.
If you'd like to find out more about what makes us stand out from the crowd, call our team today on 0208 504 2380.
Ready to book your office clearance?