Dealing with WEEE waste and its regulations is a large part of any office clearance. It can be tricky if you're asking "what does WEEE mean?". To help you understand the requirements and offer you advice on electronic item removal, Clear It Waste has put together this handy guide.
What does WEEE mean?
WEEE stands for Waste Electrical and Electronic Equipment. To simplify this, WEEE can be defined as any products that need a battery or plug to work. The legislation surrounding the disposal of these items is incredibly strict as it looks to increase sustainable production and consumption.
If you have a business or office that uses computers, printers, fax machines, scanners, or any other electronic items, you need to take note of the WEEE regulations. As an alternative, you can hire one of the WEEE recycling companies in your area to dispose of your electronics for you.
WEEE categories
Knowing how to deal with and dispose of WEEE will benefit from knowing which items it actually covers. This way, when you're clearing out your office, you can be sure you're disposing of everything in the correct manner and avoid any fines in the process.
The 10 main WEEE categories are:
Toys, leisure and sports equipment
Lighting equipment
Electrical and electronic tools
Automatic dispensers
Consumer equipment
IT and telecommunications equipment
Large household appliances
Small household appliances
Monitoring and control instruments
Medical devices
To make the process easier, look for a disposal company who can dispose of WEEE in a safe, legal and environmentally-friendly manner as well as has a good understanding of the WEEE categories.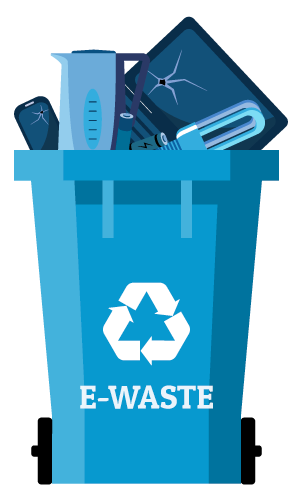 WEEE regulations for businesses
You are required to return and recycle waste electrical and electronic equipment under the WEEE regulations for businesses (first introduced in 2006).
Therefore, your business must comply with two main requirements if it uses electrical or electronic equipment (EEE). You need to:
Keep and store WEEE separate from other waste, as well as processing, recycling, and disposal.
Keep evidence that WEEE was managed and disposed of sustainably by an authorised waste management company.
The legislation seeks to reduce the amount of WEEE in landfills and instead have it adequately recycled by placing the responsibility for WEEE disposal primarily on the businesses. If you want to do WEEE disposal properly, seek the services of the WEEE recycling companies in your area.
How to get rid of WEEE
You should never throw away old electronic items by placing them directly into your bin with your other waste. If you do this, your old electronics could leak hazardous chemicals into the soil, contaminating the food chain and eventually affecting us (humans). To prevent this, it is crucial to dispose of electronics properly.
If your electronic item is not broken, but you are still looking to get rid of it, you have many options available. Perhaps you are upgrading your office equipment to better suit the needs of your business, but the old items could still be used.
You could:
Donate to a charity
Sell on social media (e.g. Facebook Marketplace, Instagram, Depop, etc.)
Find trade-in services online or offline
You can repurpose it
Give it to your friends or family
Use eBay, Gumtree, or Shpock to sell it online
Why you should let Clear It Waste deal with your WEEE
Know you know the answer to what does WEEE mean, you can choose the best way to dispose of it. Clear It Waste is one of the few WEEE recycling companies highly experienced in this specialist part of the waste and recycling industry. We have dealt with different WEEE categories for years and have the necessary skills, knowledge, and certification needed to dispose of electronics correctly.
We are the best choice for office removals. Why? Take a look:
Our same-day waste removal and rubbish collection services are available across London.
Whether it is single electrical items or full-scale office clearance, we can collect and recycle it all.
To prevent waste from going to landfills, over 80% of it is recycled.
If you have any questions or want to find out more about our services, get in touch with our friendly team, who will be happy to answer any queries. You can use our simple online booking system if you're ready to book your office clearance.
FAQs about WEEE waste
Which parts of WEEE items can usually be recycled?
Many people may not consider splitting up an electronic device to recycle the individual parts. However, at Clear It Waste, we try to recycle as much of the product as possible, so we put in the extra time.
Here are some examples of the parts that many WEEE recycling companies take to be recycled:
– Memory chips – Devices with memory chips can be valuable. It is possible to extract mercury, lead, iron, silver, and gold from these chips.
– Bezel – Typically, a device's bezel refers to the part of the exterior that isn't covered with glass, such as metal, plastic, or other materials. By recycling, you do your part in being environmentally friendly.
– Batteries – Lithium-ion batteries are commonly found in electronic items. During the recycling process, they are separated into their major components: concrete, stainless steel, copper, aluminium, and plastic.
– PCB boards (main boards) – These are the electronic components with wires and buttons that are re-usable if the materials can be extracted properly.
What is the process for recycling WEEE?
Various local recycling centres and disposal companies recycle WEEE in different ways according to the various WEEE categories, so it's best to talk to whichever company you choose to find out.
However, at Clear It Waste, these steps are always followed:
Picking up – We will pick up your old electronics after you've agreed on a price at a time that suits you.
Shredding – To allow for a more precise separation of components, your electronic devices are shredded into smaller pieces.
Separation and sorting – An electromagnetic field can separate any valuable materials from waste streams on a conveyor, allowing the resources to be resold and reused.
Can you do large-scale WEEE removal?
Yes! If you have an office you want clearing and all the electronic items taken care of, we can do that.
With minimal disruption to your day-to-day working routine, we specialise in clearing offices of all sizes and can also help you move your office from one location to another. We offer flexible out-of-hour scheduling and careful planning to ensure that our office removal service runs as smoothly as possible.
Can I take a computer to my local recycling centre?
Many recycling centres are not equipped to handle electronic waste and therefore will not accept it. Check local recycling centres if you're looking for options to dispose of electronic waste such as computer monitors and other electric items. You need to find a recycling centre that accepts general WEEE waste and has the certification and permits required to do so.
Because of all the difficulties associated with taking your computer to the tip, it is better to let the professionals handle it. Clear It Waste has experience handling all kinds of WEEE items and can ensure that they are disposed of in an environmentally-friendly and legal manner.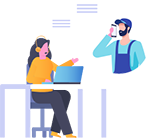 1.
Get in touch for your free, no-obligation quote.

2.
Book your collection online or with our friendly team.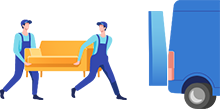 3.
We collect your waste and leave your area clean and tidy.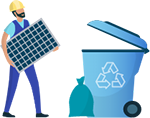 4.
Over 90% of the waste we collect is kept out of landfill.