Every business generates waste, and creating that waste costs money (about 4% of a business' turnover). It is important for all businesses to know how to save money in the office, starting with knowing the cost of commercial office waste removal.
The current financial climate has led to many businesses reassessing their spending in pursuit of trying to save money where possible, without it having a detrimental effect on productivity and output. By finding ways to reduce waste, your company could become more profitable. But sometimes that is not always possible, so how can you save money if it is not always possible or practical to reduce your waste production?
Here at Clear It Waste, we understand the importance to your company of having an effective, efficient and reliable waste management system that does not put a strain on your financial resources. To help, we have put together some of our top tips for how to save you money in the office with the commercial removal of your office waste, and guarantee you more cash in your pocket afterwards.
What are the different ways of saving money with commercial removals of office waste?
If you're wondering how to save money in the office, there are lots of things you can do to try and reduce the amount you spend on office waste removal services.
1. Utilise your office space better
All too often, we see companies who are not making the most of the space that they have got available in their premises. One way you can save money is to make sure that your onsite provisions are fit for purpose.
Therefore, it is advised you complete an audit of your current practice to assess what you currently have in place, how much waste you are producing and how often it is being emptied.
Look at where these facilities are located – are they accessible to the people who use it? Simply moving them into more convenient locations might mean that people change the way they use them to increase efficiency.
Finally, consider whether you have the right amount of bins on site. For example, rather than having one bin that is emptied five times a week, it would be far more economical to have five bins that were collected once a week. By increasing the amount of bins, this will reduce the frequency in which they need to be collected, which can save you up to 20% on your disposal costs straight away.
2. Make sure you have the right size bins on site
A common mistake by businesses is that their bins are not the appropriate size for the amount of waste being produced. If you're looking how to save money in the office, then addressing your bin size is a good place to start.
Too small and the bins get filled up too quickly, resulting in untidy environments and more frequent collections needed, which is more expensive.
Too big and the bins hardly get filled up, resulting in the build up of waste, which can then create odours in the workplace if it starts to decompose. This is particularly an issue with food waste.
Again, the workplace audit of your current waste systems will help with this process to identify what you need.
If your waste is already sorted into different types of office waste, then this will make it easier for waste collection services. It also means that you avoid the expensive cost of hiring a skip for your workplace in order to dispose of it.
It will also allow you to see what items can be recycled, repurposed, sold or disposed of completely, so that nothing ends up in the wrong pile.
This will allow you to find the cheapest and most efficient way of disposing each type of office waste rather than needlessly filling a skip.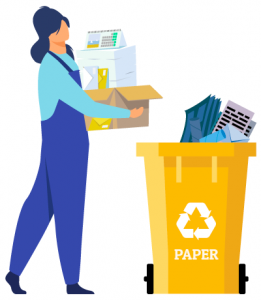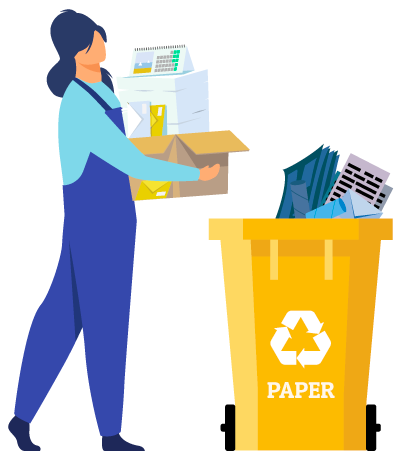 4. Ensure you hire the right company for the job
When deciding how to save money in the office, the best solution for your company will involve working in a partnership with a waste removal company, like us at Clear It Waste.
We can advise you on the best way to manage your office waste. We have years of experience in dealing with removing office waste, from weekly collections to large scale office clearances and furniture removal.
By taking into account what you have to recycle and how much of it there is, we can help find the most cost-effective solution for you and your business to save you time and money in the long run.
This may sound like an obvious example. However, if you do not dispose of your office waste in the appropriate way, you may receive a criminal prosecution and a fine.
There are some strict regulations for the disposal of waste and businesses have a legal and moral responsibility to ensure that this is done responsibly.
For example, there are rules surrounding the disposal of waste from electrical and electronic equipment (WEEE) and come with harsh punishments if companies do not adhere to them.
One way of avoiding fines is to get a professional waste clearance company, like Clear It Waste, to come in and collect your waste for you.
We hold a full waste carriers licence and are fully insured to handle a wide variety of waste, including hazardous waste.
This will take away the stress and hassle of having to do it yourself, and there is no risk of you being fined for inappropriately disposing of your waste. You can also be fined for putting prohibited items in a skip, so it is probably best to avoid the risk and let us handle it for you.
Some of these are small changes that will make a significant difference in terms of keeping your disposal costs down, and as low as possible.
In the short term, there may be some additional expenditure, or changes that need to be made to the way you operate your current waste management system.
However, the long term benefits will be less time and money spent on organising waste collection, and ideally, a self-sufficient system with minimal disruption to your company and its staff.
6. Reduce, reuse, recycle
When it comes to effective waste management systems, improving the amount of waste you recycle is important. You can learn how to save money in the office by simply recycling and reusing certain materials.
At Clear It Waste, we currently recycle about 80% of the waste we collect and our target is to get this number to 92%. So by using us to collect your waste, you will be doing your bit to help the environment and improve your green credentials. This is always an attractive attribute for clients and customers, which could then increase your business potential.
There are also circular economy initiatives out there for businesses who adopt a more sustainable approach to waste management, which will further reduce your costs.
It is also much cheaper for you to recycle your waste, compared to incineration or sending it to landfill.
Even better would be to try and reuse any waste products, such as furniture. If it is in good enough condition, you could sell your old office furniture and recoup some of the money used to buy new ones. Local charities may also accept donations of old furniture and collect it themselves, meaning this will cost you nothing to dispose of it.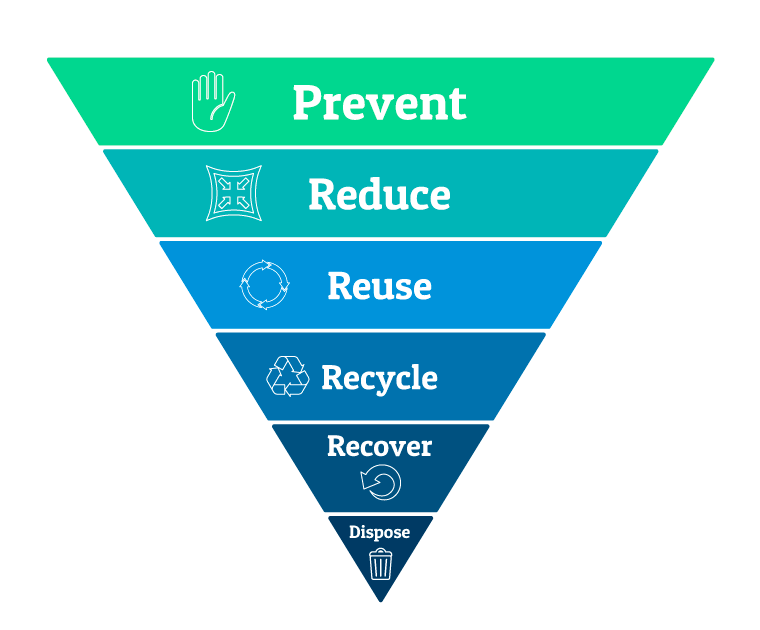 How can Clear It Waste help you to save money on your office waste disposal costs?
If you're look at how to save money in the office, Clear It Waste has got you covered. We offer a quick and hassle free service to dispose of your office waste and unlike other waste disposal companies, it won't cost a fortune.
Our prices are fair, honest and transparent and start from as low as £50, and we don't include any hidden charges or add extra disposal fees; the quote we give you is the price you will pay for disposing of those items.
Our team of experts are on hand to help with your waste management needs and recycling across London, regardless of the size of your collection. Whether you have a few items, or you are doing a complete office clearance, our team of professionals will come and collect your waste whenever is convenient to you.
We are available six days a week, from 7.30 am until 6.30 pm. We even offer same-day delivery, and bank holiday collections, at no extra cost to you.
There are a number of ways in which you can contact us for a free no obligation quote. Our easy to use online booking system is also available if this is more convenient for you.
We are committed to be cheaper than our competitors by up to 25% and still provide the same high-quality service that our customers come to expect from us. Our work is always done with the customer's needs in mind, so you can be assured of a tailored service that specifically matches the requirements of your business.
Be sure to get in touch today to see how we can help you with your office waste disposal needs.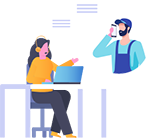 1.
Get in touch for your free, no-obligation quote.

2.
Book your collection online or with our friendly team.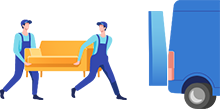 3.
We collect your waste and leave your area clean and tidy.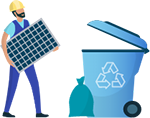 4.
Over 90% of the waste we collect is kept out of landfill.