Knowing what WEEE is and how to handle it is key to making sure you follow the government guidelines when it comes to disposing of it. So, if you have an old computer, printer or PC accessory hanging about your office and you're wondering what a WEEE recycling UK plan is, take a look at this guide.
What is WEEE?
Waste electrical and electronic equipment is also known as WEEE and covers most battery or plug-powered products. WEEE recycling in the UK is heavily regulated and comes with hefty fines if the correct procedures are not followed.
WEEE includes equipment that is:
a device that is powered by electric currents or electromagnetic fields
designed for use with alternating current voltages of 1,000 volts or less and direct current voltages of 1,500 volts or less
That means the regulations around WEEE recycling in the UK will apply to the following:
Large white goods – washing machines, dishwashers, refrigerators, cookers and freezers
Small goods – vacuums, irons, kettles and toasters
Consumer equipment – radios, musical instruments and cameras
Telecommunications and IT equipment – PCs, laptops and telephones
Equipment for monitoring and controlling – thermostats, carbon monoxide detectors and smoke detectors
Entertainment equipment – TVs and monitors
Gas discharge lamps
Lighting equipment
Electrical tools
Toys, leisure and sports equipment
Medical equipment
PV solar panels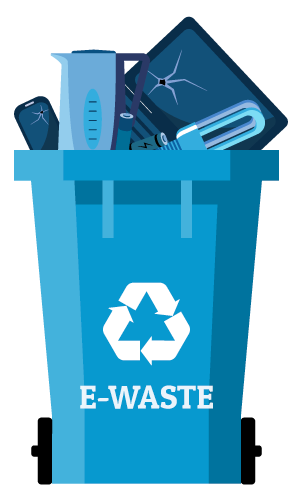 If you're still unsure whether your item counts as WEEE, look out for a symbol with a crossed-out wheelie bin.
What is WEEE recycling in the UK?
WEEE recycling is a rapidly growing industry aimed at reducing the number of harmful waste products dumped in landfills and ultimately harming the environment.
Making sure we recycle as much WEEE as possible is vital, as over 2 million tonnes of electrical items are discarded from domestic and commercial houses across the UK every year, which could end up in landfills if not treated properly.
Electrical waste is so hazardous to the environment because most items contain a mix of chemicals. Over time, if these products start to fill up landfills, they decay and leak toxins into the earth and our waterways. This means that these toxins can enter our food supply and, ultimately, enter us.
Why you should get the professionals to do WEEE recycling
In an effort to protect the environment, electrical waste must be disposed of in the correct manner according to EU legislation, and failure to do so can result in a hefty fine or even imprisonment.
Because of the possible ramifications, it is very important to be confident in your WEEE recycling in the UK or, even better, hire a professional WEEE disposal team to do all of the hard work for you. At Clear It Waste, we're committed to reducing the number of harmful substances in the environment by safely disposing of or recycling as much hazardous waste as possible.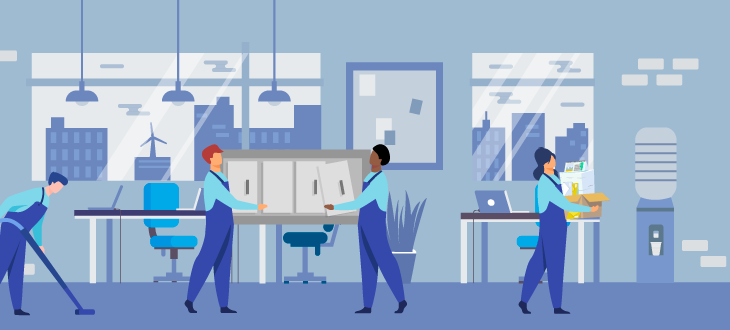 The benefits of good WEEE disposal
You shouldn't think of getting rid of WEEE as just a chore as it can have many advantages. The proper disposal of WEEE protects the environment and benefits your business at the same time.
By taking WEEE disposal into account during your office clearance, you can save money and time.
Avoiding violating waste disposal regulations – This is the obvious benefit of good WEEE disposal. But making sure your business abides by the guidelines set out by the government will save a lot of hassle and potential trouble.
Saving money – The fines for not getting rid of WEEE in the correct way are very high, so hiring professionals who know what they're doing will save you money in the long run.
Making your workspace more spacious by getting rid of old, faulty, or redundant equipment – No one wants to work in a place that is cluttered with old equipment so give your property a new lease of life by removing the electronic items you don't need anymore.
Include a policy for disposing of old office and electronic equipment in your general environmental management plan, whether this is doing it yourself or getting a professional team to take care of it. You'll soon see how beneficial it can be.
Read more: WEEE regulations for businesses
The benefits of using Clear It Waste to dispose of WEEE
We have a team of specialists with a wealth of experience in electronics and computers. Safe and secure disposal of hazardous WEEE waste is one of our specialities.
We operate throughout London. Clear It Waste is a local company ready to assist you at any time.
We're environmentally friendly. Environmental protection is a priority for us, and we strive to make our services as eco-friendly as possible. We currently can recycle 80% of the waste we collect, but we are constantly striving to improve.
We focus on good customer service. Our focus is also on providing excellent customer service so that you can relax during the whole experience of removing WEEE.
We have fair prices. We believe the right solution for your business shouldn't be expensive. The pricing at Clear It Waste is transparent, competitive, and fair.
Get in touch with Clear It Waste for an appointment to remove unwanted WEEE items. Book an appointment with us by calling, emailing, or using our online booking system!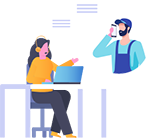 1.
Get in touch for your free, no-obligation quote.

2.
Book your collection online or with our friendly team.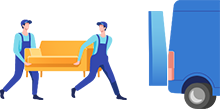 3.
We collect your waste and leave your area clean and tidy.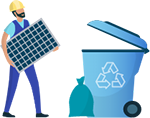 4.
Over 90% of the waste we collect is kept out of landfill.