Office premises accumulate a surprising amount of waste, from everyday recyclables (such as cardboard and paper) to industry-specific, non-recyclables (low-grade plastics and polystyrene).
There is also the waste generated through having an office refurb. For example, old furniture, electrical items and white goods all require removal from offices when no longer in use.
Waste removal from offices needs to be managed in a way that is environmentally sensitive, sustainable and in compliance with the law. Therefore, regardless of whether you are managing the daily waste produced within your premises or you are organising an office clearout, you need to make sure you dispose of your office waste correctly.
Clear It Waste offers free office furniture pick up for companies based in and around London. Here are some expert tips on how to safely and responsibly remove office waste from your premises.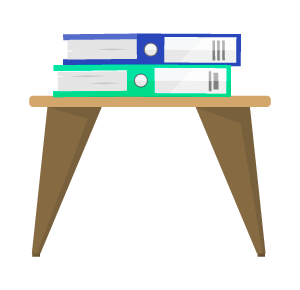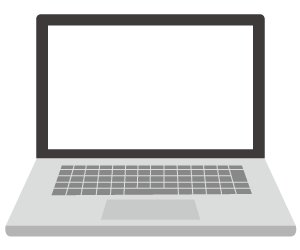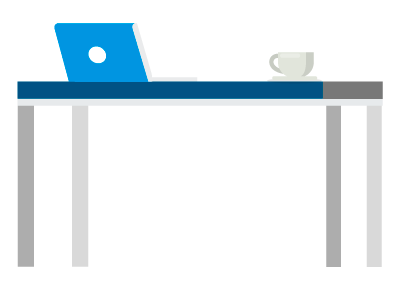 What are the different types of office furniture that you may want to get rid of?
Office furniture (such as chairs, desks and cabinets) often defines the office space in which we work. Office furniture can function to support the work of employees as well as improve the aesthetics and comfort of a workspace, creating a pleasing environment for both colleagues and clients.
There will undoubtedly be times, however, when your office furniture will need replacing, whether that's from wear and tear or if your office is given a revamp. In any case, you may need a way of removing old furniture from your office.
So what should you do with your old furniture and how should you dispose of it? Luckily, Clear It Waste offers a free office furniture pick up service and has included expert office waste clearance tips below to help you manage your unwanted office furniture.
There are many different types of office waste and furniture that you might consider getting rid of, including:
1. Desks
These could be an office, director or writer's desk, depending on the type of business you run and the amount of space you have to offer. Obviously, they are an important piece of furniture for your employees, housing the equipment they need to work and giving them a dedicated space to work.
2. Tables
These are normally stored in conference rooms for meetings and other office events involving groups of people. It is important to make sure these spaces are as presentable as possible when entertaining clients or hosting important events with stakeholders.
3. Chairs
Office chairs are one of the most important pieces of office furniture you can invest in. Not only do they enhance the beauty of the office, but they also provide an important piece of comfort for workers and clients. They are ergonomically designed for postural support, so it is essential to have chairs that are appropriate for your workspace and your people.
These items are regarded as general waste, but due to their size, they can often be difficult to store and their removal from offices can also be tricky.
The last thing you want is to use up valuable office space, so the best thing you can do is consider how to get rid of office waste, either by yourself or through free office furniture pick up services, such as the one Clear It Waste offers.
What are the different ways of getting rid of office waste?
There are several different options available to you when it comes to disposing of your unwanted office waste. We've already mentioned free office furniture pick up services, but you can attempt to remove bulky office items yourself. If you are happy to remove office furniture yourself, you have a few options to take.
Your first option is to load your office rubbish into a vehicle and drive it to your local waste disposal facility. However, this is a very time-consuming process and does mean you have to do all the heavy lifting yourself. With free office furniture pick up services, however, the risks of heavy lifting are taken care of.
Another option you have is hiring a skip for your office, which would reduce the need for transportation. You could simply load your waste into the skip and have it collected by a skip company. However, there are some restrictions around what you can and cannot dispose of in a skip, so you may still have to take these to an appropriate facility anyway.
Depending on the type of waste you have, you may want to try and recoup a little bit of money for your business. This could work if you have larger items, like office furniture to sell. This could result in free office furniture pick up, as people would come and collect it for you.
But then you still need to organise the delivery of these items, and if you do not manage to sell all of them, then it still falls on you to dispose of them accordingly.
If this sounds like too much hard work and a bit of a hassle, then your best bet is to hire a professional waste removal company to come in and take care of it for you.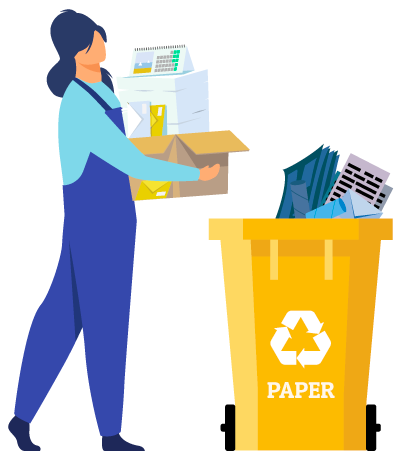 What are the benefits of using a waste removal company to collect your office waste?
There are many benefits of using a waste removal company, such as Clear It Waste, to remove your office waste for you. Alongside free office furniture pick up services, here are a few more reasons to consider hiring Clear It Waste:
Flexible service
We offer incredible flexibility when it comes to office furniture removal, including same-day delivery across the whole of London. The beauty is that we can come and collect all of your junk, whether it is one item or an entire office clearance.
Our fleet of small, medium and large vehicles means that no job is too big or too small for us; simply tell us what you need collecting, and we will sort the rest out for you. We even have a 7.5-tonne lorry for those extremely large removal jobs, so there is no need to hire any vehicles yourself.
Whether you need a one-off collection or would like to use a regular office waste collection service, we are on hand to meet your needs.
Environmental credibility
Our environmental credentials are second to none in the waste removal industry – we recycle 80% of the waste that we collect, ensuring that your waste will be disposed of in the most sustainable and environmentally friendly way possible.
We offer recycling services in London for a wide range of office materials, including office paper waste, metal, cardboard, glass, plastic and electronics, in an attempt to reduce the environmental impact of disposing of waste.
We hold a full waste carrier licence and are fully insured; therefore, you do not need to worry about the legal disposal of your waste – we have got it all sorted for you.
Unlike your local council waste collection service, we can handle and remove any type of waste, including sensitive and hazardous materials. It is much more convenient to let us come and collect it all in one go, rather than using multiple services to have it removed.
Convenience
Waste removal from office spaces can be a laborious and time-consuming task. But here at Clear It Wate, we will collect, lift and transport all of the waste from your premises for you, so you and your employees do not need to lift a finger.
As long as we know where the waste is and that it is accessible, we will do all of the hard work for you, meaning you can spend your time running other parts of your business.
Our work is always completed to the highest standard, so you can be safe in the knowledge that your office waste will be disposed of properly and safely.
Contact us today for your free, no-obligation quote. Try our easy online booking system for even more added convenience.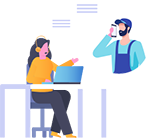 1.
Get in touch for your free, no-obligation quote.

2.
Book your collection online or with our friendly team.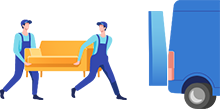 3.
We collect your waste and leave your area clean and tidy.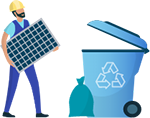 4.
Over 90% of the waste we collect is kept out of landfill.