What are the benefits of hiring a skip to dispose of general office waste?
Office waste tends to build up over time and can clog up space, which could be used more effectively, such as another workspace or for storage of more important items.
General office waste also looks unsightly to workers, clients, and customers and poses a significant risk in terms of workplace accidents, fire hazards, and structural damage to buildings.
Therefore, by getting rid of your office waste, you are creating a better working environment for your employees, which will boost morale and productivity. An office devoid of clutter and waste is cleaner as rubbish tends to be a breeding ground for dust and bacteria. A cleaner office will result in a healthier workforce.
It will also give you a much more professional vibe to your company. Taking pride in your working environment is a sign to current and potential clients that you will adopt the same approach to them, which will improve your business prospects.
The option of hiring a skip means you can dispose of a large amount of waste in one go, reducing the need for multiple trips to a local waste disposal centre. They often come with locks, which means any waste materials stored overnight are unlikely to be stolen or vandalised.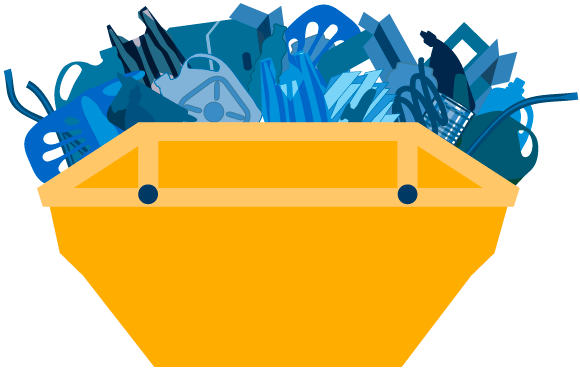 What things do you need to consider for office skip bin hire?
Turning to an office skip hire service is not as straightforward as you might think. There are a lot of practical, financial and logistical considerations to make before hiring a skip for your office. A lot of it will depend on what you are disposing of, how much of it there is, and the size of the items in question.
Businesses have a legal and moral obligation to dispose of their waste appropriately. The last thing you need, as a company, is to be embroiled in a legal battle or face prosecution and fines for improperly disposing of your waste.
There are also many different types of office waste, some with restrictions as rules about their disposal. Here are some things you will need to consider before making a decision on whether office skip bin hire is the right step for you in disposing of your general office waste.
What can be disposed of in an office skip?
Most items can be disposed of in a skip when clearing out an office space of unwanted items and waste.
This will include a lot of general office waste items from larger office furniture removal items (such as chairs, desks and cabinets) as well as general, day-to-day rubbish (such as office paper waste, cardboard and packaging).
You can also dispose of a range of materials, including plastic, metal, wood and ceramic, as well as non-recyclable items such as polystyrene. However, it is worth noting that throwing items in a skip is not a good method of recycling office waste as it will end up in landfill.
What cannot be disposed of in an office skip?
For practical and legal reasons, electrical equipment cannot be disposed of in a skip and must be disposed of appropriately in line with the Waste Electrical and Electronic Equipment (WEEE) regulations set out by the government. Failure to do so could result in you being prosecuted and receiving a fine.
This is where we come in. At Clear It Waste, we hold a full waste carriers licence. We are fully insured to remove waste of any kind, including dealing with WEEE, so you can be safe in the knowledge that your WEEE disposal is carried out in accordance with the law by a team of professionals who know what they are doing.
We understand the legal requirements and the environmental considerations when disposing of waste. We recycle at least 80% of the waste we collect, making us one of the most sustainable waste collection companies around.
You can also not dispose of the following items due to health and safety or legal reasons:
Fluorescent bulbs
Batteries
Asbestos
Plasterboard
Clinical or medical waste
Gas canisters or bottles
Hazardous and toxic chemicals
Oil, petrol and diesel
Paint and cans of paint
Tyres
It is worth noting that if any of these items end up in your skip, you are likely to be charged and the items returned to you. You are fully responsible for the waste that is in there. If your office skip is located in a public place and someone else throws any of these items in your skip, then you are still liable for them. So if you do decide to opt for an office skip hire service, you are advised to keep an eye on it.
Under GDPR compliance laws, you must be extra cautious about separating confidential items relating to people's personal information and, if you are disposing of them, do this in an appropriate way. This may include confidential waste disposal techniques such as shredding, incineration, or permanently wiping it from electrical equipment.
Therefore, simply throwing them into a skip would not be permitted and could result in penalisations for you and your company.
What type of office skip do you need?
There are so many different sizes of skip available. Therefore, if you go down this avenue to dispose of your general office waste, it is important for you to select the right one for your needs.
– Size
You do not want to invest time and effort in organising a skip and then run out of space and have to hire another one. Or you can run the risk of being penalised for overfilling it.
Likewise, you do not want to over-order and then not be able to fill it; otherwise, you will be paying for extra space you don't need.
A small or mini skip will likely suffice if you are only having a small clearout. They usually are about three yards and can typically hold between 25-35 sacks of rubbish.
If you are doing a larger clearout, a larger skip is probably on the cards. A 12-yard skip can hold most large pieces of office furniture and about 100 bags of waste. But it might be advised to try and sell your office furniture first, in order to make more space in the skip for other items.
– Skip permits
You also need to make sure you have space and permission to fit a skip near your office premises. You need about 2.4 metres in width for a standard six-yard skip, which should be located on your property. If this is not possible, you may need to apply for a skip permit to have it located outside the front of your premises.
You should also be aware that most councils do not allow skips larger than eight yards on public highways, so it is definitely advised to check the restrictions in your local area first.
How much can I expect to pay for an office skip for my general office waste?
The price of an office skip varies substantially due to a range of factors, including:
Size of the skip (larger ones do cost more)
Location (typically, the south of the UK is more expensive due to the higher disposal and operation costs)
Whether you require a skip permit
The type of material you are disposing of (disposal fees are based on weight, not volume)
Hiring a skip will typically cost about 25% higher than a professional waste removal company like us. This is because we would only need to visit your site once in order to remove the waste materials, whereas a skip lorry will need to visit twice – once to drop the skip off and once to pick it up again.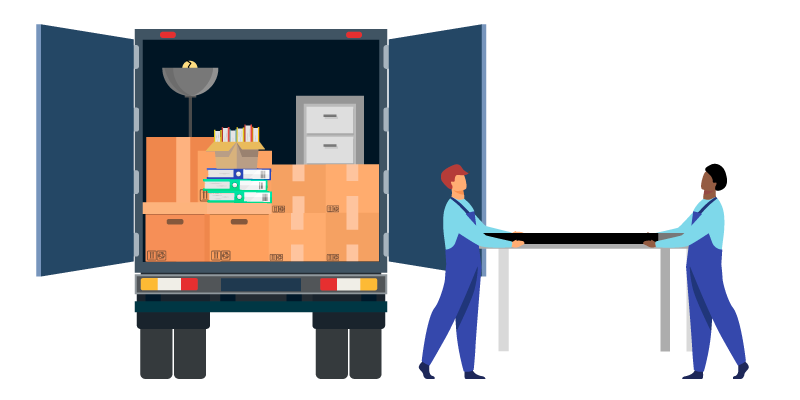 Why should you use Clear It Waste instead of hiring an office skip?
If this is all sounding like too much hassle and hard work to organise yourself, then why not let us deal with the disposal of your general office waste.
We have a reputation for being one of the best, offering cheap office waste removal and outstanding office clearance in London for hundreds of businesses.
We have a fleet of small, medium and large vehicles, as well as a 7.5-tonne lorry for those larger clearance jobs. No job is too big or small for us when it comes to general office waste clearance.
We are a London based company operating across the capital. The fact that we collect recycling across London means that we are on hand to meet your needs, whatever they may be, whether that is a same day collection service or a regular office waste collection service.
Our five-star approach to customer service is one of the reasons why our customers keep coming back for more. With over 230 satisfied customer reviews across London, we continue to provide a consistently high level of customer service when it comes to removing your waste.
Unlike many other waste removal companies, our services are affordable and completely transparent. Our prices start from as low as £50 with no hidden waste disposal costs; what we quote you is what you will pay.
There really is no better feeling than seeing your previously cluttered office environment transformed into a workable, tidy space, and the great news is, we will do all of the hard work for you.
Save money on office waste removals today simply by letting us do the work for you. All you need to do is contact us for your free no-obligation quote. Alternatively, you can use our simple, straightforward online booking system to arrange a collection. We can come at a time that is suitable and convenient to you, operating six days a week from 7.30 am until 6.30 pm.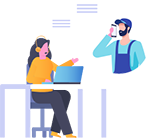 1.
Get in touch for your free, no-obligation quote.

2.
Book your collection online or with our friendly team.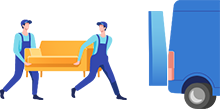 3.
We collect your waste and leave your area clean and tidy.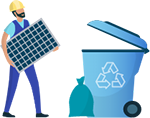 4.
Over 90% of the waste we collect is kept out of landfill.