The need to protect the environment has never been more publicised, with everything from the government's climate policy to the recycling habits of an individual under increased scrutiny. While a global effort is undoubtedly required to reverse environmental damage, there are office waste reduction tips you can implement to reduce waste production in your workplace.
Reducing waste production in your office can have numerous positive benefits, both environmentally and financially. Not only will having a more efficient office space help in the battle against climate change, but it will also help reduce the cost of energy and water bills while decreasing the amount you spend on resources like paper.
How Can I become Zero Waste in the Office?
While becoming zero waste in the office may seem unrealistic when factoring in the daily demands of your working life, there are many steps you can take to significantly reduce your office waste.
In this guide, we'll offer some key office waste reduction tips to help you minimise your waste production at work.
1. Maximise Your Recycling
It goes without saying that good recycling habits are pivotal to the reduction of office waste. While the modern-day emphasis on recycling means that you're likely to already have some practices implemented in the office, you can make many small changes to enhance your recycling efficiency.
Although the increased developments in technology have seen many places go paperless, there are still many instances where paper remains an essential component of office life. For offices with heavy paper use, it's vital that you look to recycle as much paper and cardboard as possible.
Any surplus paper from cardboard boxes, junk mail, draft writing paper, or any other kind of paper waste should be something you look to recycle. With the amount of paper used in a standard office, this one practice alone can significantly reduce your waste output.
Although paper makes up a significant proportion of the waste in more offices, it's equally important that you apply the same vigilance to other heavily used materials like plastic and metal.
2. Clearly Labelled Office Waste Bins
To get compliance from everyone in the office, it's important that recycling is made as easy as possible. Having a series of clearly labelled office waste bins for different appliances like cans, plastic bottles, general waste, and mixed recycling makes the recycling process convenient for everyone.
As well as having clearly labelled bins, it's equally important that you have enough bin space to match the size of your office. While one container for each material type may be enough for a smaller office, a larger office may require multiple bins.
Having enough bins to accommodate the office will reduce overfilling and ensure everyone can fully contribute to the recycling process.

Reducing paper use can significantly benefit your waste output and your expenditure. While the benefits of recycling paper cannot be overstated, the advent of modern technology has made it possible for many businesses to go entirely paperless.
Regardless of how feasible it is for your office to go paperless, there are still many things you can do to reduce your paper use substantially.
Below, we'll cover a few key office waste reduction tips for reducing paper use.
Dispose of Old Furniture and Electrical Items Responsibly
Whether you're moving premises or simply updating your current workspace, there comes a time when every office will need to replace old furniture and equipment. When updating your office, any piece of furniture or electrical item must be removed in a safe, non-hazardous way.
With numerous aspects to consider, from removing confidential data from computers to safely disposing environmentally hazardous items, clearing your office can be an overwhelming experience. While it is possible to undertake these tasks yourself with enough preparation, some companies offer specialised office removal services.
Clear it Waste is a company that offers a range of specialised office clearance services. As a licenced entity, they have a separate arrangement for removing toxic junk. This means that they can take care of all the furniture and other items in your office and dispose of or recycle them in a way that adheres to government guidelines.
As well as furniture clearance, Clear It Waste are also experts in Waste Electrical and Electronic Equipment (WEEE) recycling, meaning they are fully trained in the practice of removing and recycling electronic equipment. As part of their offering, the company also provides data clearing services to remove sensitive information from computers and hard drives permanently.
Take Paperless Notes
For many office workers, note-taking is an essential part of their working life. Whether you're planning your workload, summarising key training points, or setting reminders, writing down notes is something many workers simply can't do without.
While the traditional image of workplace note-taking is that of a busy employee sitting with a dozen post-it notes stuck to their desk, it is now easier to digitise the note-taking process. Apps like Microsoft OneNote allow you to write quick and efficient notes, but they also allow you to arrange your notes into separate, colour-coded sections.
While the transition may take a little while to get used to, going paperless with your notes will have numerous working benefits. Not only will you be reducing your paper use, but the online storage will eliminate the risk of losing or misplacing important information.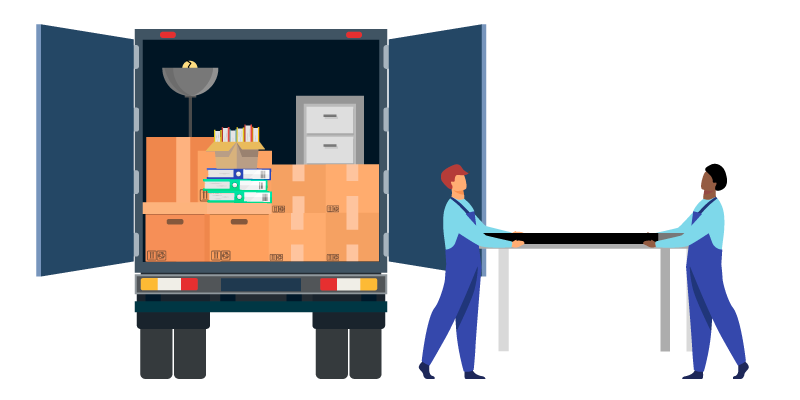 Why Choose Clear it Waste for My Office Equipment Removals?
We hope the office waste reduction tips in this guide have provided you with information you need to help reduce your waste at work.
Clear it Waste are a company of specially trained removal experts who offer multiple services to ensure your furniture and equipment are removed in a resourceful, eco-friendly, and cost-effective fashion.
You should use our services because:
We offer same-day waste removal and rubbish collections anywhere in London
We can collect and recycle all your junk, from single items to an entire office waste clearance
We have small, medium, and large vans available, as well as 7.5-ton lorries to accommodate offices of all sizes
If you're based in London and seek help removing furniture or electrical equipment from your office, book online or call our expert team.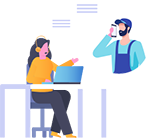 1.
Get in touch for your free, no-obligation quote.

2.
Book your collection online or with our friendly team.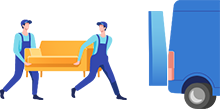 3.
We collect your waste and leave your area clean and tidy.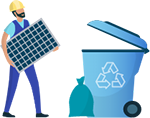 4.
Over 90% of the waste we collect is kept out of landfill.