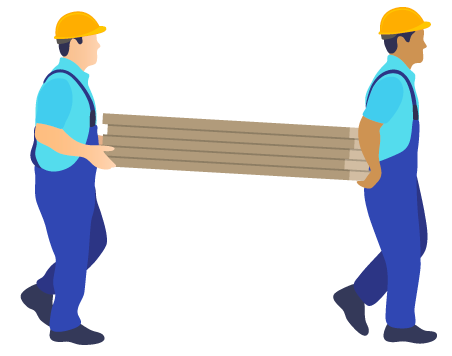 What size skip will I need?
Skips come in all different shapes and sizes, and understanding the volume and dimensions of each skip will help you determine the exact skip you need. The larger skips offer better value for money, providing you have enough waste to fill it up.
Skips are measured in cubic yards, a measure of internal volume. One cubic yard measures 3 feet high x 3 feet wide x 3 feet deep and is roughly about 7-10 bin bags.
| | | | |
| --- | --- | --- | --- |
| Skip Size | Volume | Dimensions | No. of bin bags |
| Mini Skip | 2 cubic yards | 4 x 3 x 3 feet | 15-20 |
| Midi Skip | 4 cubic yards | 6 x 4 x 3 feet | 25-35 |
| Small Builders' Skip | 6 cubic yards | 10 x 4 x 4 feet | 40-55 |
| Large Builders' Skip | 8 cubic yards | 12 x 6 x 4 feet | 60-75 |
| Large Maxi Skip | 12 cubic yards | 13 x 6 x 6 feet | 90-110 |
Mini skip (2 yards)
A mini skip is the smallest skip on offer and is most suited to small domestic jobs with a capacity of about 20 bin bags full of rubbish.
Midi skip (4 yards)
The midi skip, or 4-yard skip, is perfect for a small garage clear-out or bathroom refurbs but is unsuitable for most construction site jobs.
The small builders skip (6 yards)
As the name suggests, the small builders' skips are great for the smaller building projects or home renovation and have a capacity of around 40-55 bin bags.
Large Builders' Skip (8 yards)
Otherwise known as a 6-yard skip, the large builders skip offers a generous size and can accommodate roughly 50 bin bags full of rubbish. This size skip is most popular and suited to domestic and commercial or construction sites.
Large Maxi skip (12 yards)
The 12-yard or a large maxi skip is one of the largest skips on offer and, similarly to the large builder skip, is best suited for much larger projects found on construction sites, industrial or office environments.

What can or can't I put in my skip?
Before you go ahead and pile up your waste for a skip, you need to know what you can and can't put into a skip, and some hazardous materials need to be disposed of separately for legal reasons.
Can
Wood
Tiles
Plaster
Furniture
Paper and cardboard
Garden waste
Clothes
Bricks
Concrete
Metals
Pottery and clay
Rubble and stones
Can't
Asbestos
Gas cylinders
Animal waste
Explosives
Batteries
Oil
Chemicals
Paint and glue
Televisions
Computers/laptops
Phones
Lighting
Electrical equipment
Tyres
Although a lot of hazardous waste cannot be put into skips, experts at Clear It Waste offer additional waste clearance services to ensure all your waste is disposed of safely and ethically.
If you have hazardous waste, you must not mix this waste with any other, hazardous or non-hazardous, and doing so is illegal. We have written about what hazardous waste is in our blog 'what is considered hazardous waste?'
Things to consider before ordering your skip
The size of the skip you need
It might seem obvious, but knowing how much waste you have to clear will determine the size of skip you get. If you are unsure how much waste you will accumulate, it is better to play it safe and go for a larger skip.
What type of skip, mixed or inert?
A mixed skip is for mixed waste and materials, usually the go-to skip for residential properties. On the other hand, the inert skip takes materials that do not decompose, such as rubble, soil, sand and cement, and thus, tends to be used mainly on construction sites.
Do I need a skip permit?
A skip permit is only required if the skip is placed in a public area such as the roadside. However, If you plan to have the skip placed on private property, on the drive of your home, for example, no permit is required. If a license is needed, they are inexpensive and easy to acquire. In most cases, one of our helpful experts at Clear It Waste can get you the permit on your behalf if requested.
Will I need a CPZ suspension?
A controlled parking zone (CPZ) is an area where you are only allowed to park for specific periods or only on certain parts of the road. A permit will be required if you require a skip to be parked in a CPZ zone. Again, speaking to one of our Clear It Waste advisors will assist you further with this if needed.
Local safety rules regarding skips
There are specific safety requirements for skips that cannot be ignored. Depending on where you are in the UK and the skip's location, you may need to inform your local council and use the requisite cones and lights on the skip displayed.
Usually, such requirements are needed for those planning to place their skip on public property, such as roads. But, again, our professional team at Clear It Waste can handle any of these requirements, making your skip hire as easy as possible.
Consider pick up and drop off for your skip
The delivery of your skip will turn up using a large haulage truck so check there is enough room for delivery. If there are any narrow passages near to where you want the skip placed or are unsure about access restriction, please mention this to one of the Clear It Waste team when you order.
Cost
Another thing to consider before getting your skip is the cost or budget you have to clear your waste. Prices can vary due to the different sizes and various options on offer. Clear It Waste, however, will ensure you get the right skip for your needs at the most competitive price on the market.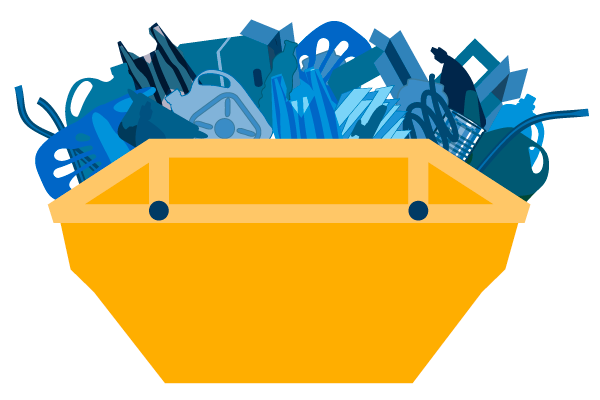 How high can I fill my skip up?

Filling up your skip too high is considered dangerous due to falling hazards that may injure others when transported. If your skip is too high, most skip hire companies will refuse collection until the load level is at the correct height of the skip. All our skips at Clear It Waste come with load level markings so it is easier to find and stick to the right load levels.
Why Choose Clear It Waste
Ordering your skip with Clear It Waste could not be easier and it will help aid the many benefits proper construction waste management can have on your business and the environment.
We have professional staff on hand to answer all your skip hire queries ensuring you get the right skip for your project. Just choose the skip you want, arrange a date for delivery and we will do all the rest.
The skips we have are suitable for all purposes and property types, including homes, offices and construction sites. We work flexibly around your needs and can provide you with a skip for a few days or a few weeks.
If you have waste to get rid of that cannot go into a skip or you require labour to fill your skip, we can provide these additional services should you need them. Give us a call on 02085 042380 today to speak with a waste clearance expert to get your waste cleared efficiently and professionally.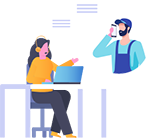 1.
Get in touch for your free, no-obligation quote.

2.
Book your collection online or with our friendly team.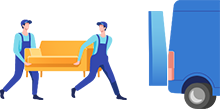 3.
We collect your waste and leave your area clean and tidy.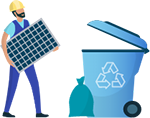 4.
Over 90% of the waste we collect is kept out of landfill.