If your team is moving to a new location, working from home more or simply revamping the office, it's likely that you'll be looking to carry out an office clearance. However, when it comes to office furniture clearance, disposing of that old office chair or rusty filing cabinet can be tricky without professional help from somewhere like Clear It Waste.
As well as the time and effort it will take your team to dispose of large items correctly and safely, you'll also have to contend with the issue of ensuring that office furniture clearance is carried out according to waste disposal directives in order to avoid a fine.
Why is it important to carry out office furniture clearance correctly?
Unfortunately, getting rid of bulky office furniture isn't quite as easy as simply throwing it in the bin. Sorting things like office chair clearance or desk disposal isn't just logistically tricky because of the size of the items, it can also be tricky to know exactly what to do with your bulky office waste.
There are three main things to consider when it comes to the correct disposal of office furniture:
Legality
Incorrectly disposing of waste can result in a hefty fine or even jail time. Therefore, it is imperative to ensure that your office furniture clearance is carried out in accordance with government guidelines. This includes abiding by rules you may not be aware of, for example, sending office kitchen furniture such as fridges and freezers (known as 'white goods') to dedicated WEEE centres.
This can be difficult if you have different types of furniture to get rid of. It will likely mean numerous trips to dedicated waste centres, landfills and recycling centres. It may also include hiring skips or vans, which can be expensive and difficult to get hold of.
If you decide that you and your team are unable to do this yourselves, instead opting to arrange a council pick-up, be aware that this will mean paying a fee, filling out the forms, and then waiting for potentially weeks for the furniture to be removed.
Environment
With the overall UK recycling rate being only 39%, those responsible for running offices must do their part in preventing more waste from going to landfill.
Disposing of waste in landfills has a huge environmental impact. This includes:
– Production of methane gas which contributes to global warming
– Pollutants released by decomposing waste
– Energy and raw materials being wasted
– Plastic pollution impacting wildlife and human health
While lots of office furniture can be recycled instead of being sent to landfill, it is important to carefully sort through each item to determine if and how it can be recycled. Unfortunately, accidentally sending items that cannot be recycled to a recycling centre, or misunderstanding the type of recyclable material you are dealing with, can contaminate recyclable waste, meaning that they will all have to go to landfill.
Thankfully, the Clear It Waste team are experts in sorting and recycling all kinds of waste, with 80% of what we take now being correctly recycled instead of being sent to landfill.
Safety
Every office manager knows the importance of ensuring the safety of their staff. Sadly, disposing of office furniture yourself, or asking your staff to do so, can come with serious health and safety risks.
It is hugely important to implement the proper lifting techniques when it comes to lifting and moving bulky items. If heavy items are lifted incorrectly, staff can face issues such as muscle strain, broken fingers or toes, or painful bruises. In some instances, repeated lifting can even cause long-lasting health problems like musculoskeletal disorders.
It is therefore always recommended to use lifting equipment and PPE whenever appropriate.
Types of office furniture that we can remove
At Clear It Waste, our team has a proven track record of carrying out waste disposal of all kinds. Our team is highly trained in dealing with even the most difficult types of waste removal, transportation and disposal.
Plus, they'll bring specialised vehicles and equipment for every client to ensure the job is done as quickly and safely as possible, depending on the exact type of office waste you need to remove. This means that even the largest and bulkiest items of office waste are no match for our waste disposal experts.
The types of bulky office furniture we are able to dispose of include:
Office Chairs
No matter what your chairs are made of, their condition or how large they are, our team can recycle parts that can be recycled and safely transport others to landfill, meaning your office chair clearance can be carried out in an eco-friendly way. When it comes to old office chair disposal, we are the pros.
Desks and tables
Often made from metal, wood or plastic, there are many materials making up your office desks and tables that our team can recycle.
Kitchen furniture such as fridges and microwaves
As well as being difficult to move and transport, many items used in office kitchens will be classified as WEEE waste. As well as filling out the relevant waste disposal forms, we take all WEEE waste to dedicated centres.
Cabinets, lockers and cupboards
Cabinets, especially those containing paper waste, can be very difficult to lift and safely place in a vehicle. Clear It Waste teams have specialised tools and vehicles to do this safely and efficiently.
Electronics such as computers and printers
Also classed as WEEE waste, we abide by all government regulations to ensure that old laptops, computers and printers are disposed of safely.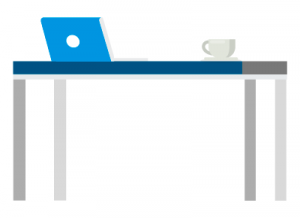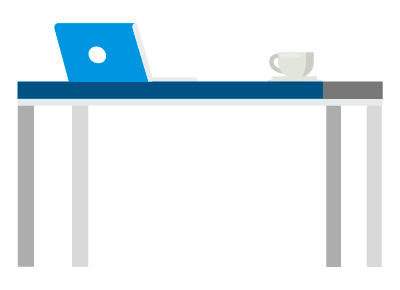 Why choose Clear It Waste to dispose of your office furniture?
Our team of highly trained waste experts will take the hassle out of office furniture clearance, meaning that you and your busy team won't be spending time and effort lifting and transporting bulky items. The Clear It Waste team know exactly how to lift and move heavy items safely, using their specialised equipment if needed, so you can rest assured that you won't be risking strain or injury to you and your staff by doing things yourself.
We know that offices can be fast-paced environments, where maintaining a tidy, presentable, and safe environment is a must. That's why we offer a same-day removal service, including bank holidays and weekends. We also provide no-obligation quotes, plus fair and transparent prices starting at just £50.
As well as priding ourselves on the amount of waste we recycle, whatever can't be recycled is disposed of safely, in accordance with waste disposal guidelines. We will sort your waste for you and fill out all relevant forms. We also hold a full waste carrier licence and are fully insured for your peace of mind.
To find out more, get a quote or arrange a waste removal, get in touch.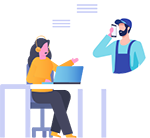 1.
Get in touch for your free, no-obligation quote.

2.
Book your collection online or with our friendly team.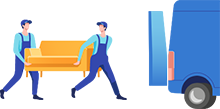 3.
We collect your waste and leave your area clean and tidy.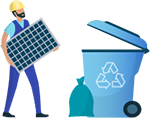 4.
Over 90% of the waste we collect is kept out of landfill.