With the average UK office employee using around 10,000 sheets of paper per year, waste paper makes up a considerable amount of office waste in the UK. Despite the fact that nearly all UK offices will now have a recycling bin, unfortunately, only 7.5% of office waste paper reaches a recycling plant.
The impact paper production has on the environment may be more significant than you think, with paper production thought to account for around 7% of global carbon emissions. That's why correctly recycling paper, as well as other types of office waste, is hugely important. At Clear It Waste, we take our commitment to the environment very seriously and are super proud that 80% of the waste we collect is recycled.
It's not just the environmental impact of waste paper that's important to consider. It's also essential to sort your waste paper correctly and dispose of it in accordance with waste disposal guidelines to avoid a fine. Although, this is easier said than done when faced with mountains of paper!
That's why we're going to run through the different types of paper you might find in your office, what is and isn't recyclable, and the right way to go about waste paper disposal.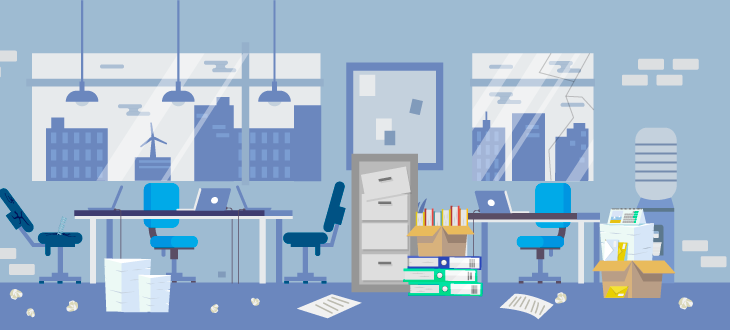 Common types of recyclable paper waste
Cardboard
Take a few minutes to look around your office, and you'll likely spot more and more cardboard peeking out at you from cabinets and cupboards. From corrugated cardboard used for packaging to egg cartons and cereal boxes, you'll find it all over workspaces and office kitchens.
When cardboard breaks down in a landfill, it can produce methane gas as it decomposes, contributing to global warming. This is why it's always better to recycle cardboard, where it can be used to make materials such as tissues, cereal boxes or new paper. More often than not, cardboard can be recycled along with paper.
Printer paper
It's pretty self-explanatory – printer paper is what you print on in the office. Whether it's been printed on or not, printer paper can be taken to recycling plants, where it can be turned into brand new printer paper.
Leaflets, magazines and newspapers
Whether posted through your office letterbox, brought in by staff to read on a lunch break, or left in the reception for guests to look through, you'd be hard-pressed to find an office without the odd magazine, leaflet or newspaper lying around.
Given that the texture of these is very different to ordinary printer paper, you may be wondering whether these are recyclable. The answer to that is – yes, they can be recycled along with ordinary paper. Magazines and leaflets can be recycled into newsprint, tissue and even stationary, while old newspapers can be repurposed into new ones.
Confidential papers
Although not strictly a paper type, papers containing confidential information will need to be treated differently than other types of paper. In order to prevent sensitive information from getting into the wrong hands, it's recommended that paper containing confidential info be destroyed using a paper shredder.
At this point, you may be asking yourself, "what about recycling shredded paper?"
Frustratingly, this can be a little tricky. You may have to contact your local recycling centre to ask about whether or not they take shredded paper. Or, if you book a collection with us, we can save you the headache and sort that all out for you.
Envelopes
Anyone who works in an office will know that the odd envelope is bound to crop up here and there.
You'd be forgiven for thinking that envelopes are non-recyclable because of the plastic window or adhesive gum. However, this isn't the case. Once envelopes are sent to a recycling plant, the adhesive gum can be dissolved and the plastic window removed.
The only exception to this is padded envelopes, which cannot be recycled without first removing the padding, which you may be able to recycle separately.
Non-recyclable paper waste
Though most of the paper types above can be recycled, sadly, some types of paper waste can't. This is why it is so important to sort your paper waste before getting rid of it. The types of paper that can't be recycled include:
– Any paper or card that has been contaminated with paint, food or liquids (this does not include paper that has been printed or drawn on, as printer or pen ink does not affect the recycling process or the end result)
– Napkins
– Tissues
– Kitchen roll
– Receipts
– Any paper with a wax covering
– Laminated paper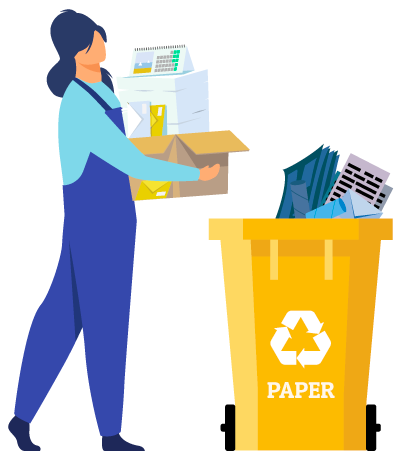 Waste paper disposal
Arranging regular waste collection
It goes without saying that the simplest way for employees to dispose of office paper waste is to put it in either the paper or general waste bin in the office, but how can a business ensure that this rubbish is collected?
Unfortunately, businesses are not entitled to free rubbish collection the same way residential homeowners are. If you're responsible for waste collection at your office, you will have to get in touch with a company like ours to arrange regular rubbish pick-up. As you will be charged for this, it's important to ensure that your chosen rubbish removal service is transparent about their pricing – the last thing you want is a nasty surprise when it comes to payment.
It's also important to note that any waste produced in an office will be classed as commercial waste, or business waste. This means that you are legally required to ensure that specific criteria are met in order to legally dispose of the waste. This includes:
– Keeping waste to a minimum by reducing, reusing and recycling
– Sorting and storing waste correctly
– Filling in waste transfer notes for every load of waste collected
– Ensuring that your waste carrier is registered to carry waste and is disposing of it correctly
Carrying out waste paper disposal yourself
You may decide that you want to get rid of your waste paper yourself, which can be a bit of a hassle. Even if you are simply transporting paper waste to a recycling centre or landfill, you will need to register as a waste carrier or risk facing a fine of up to £5000. You may also need to apply for a waste permit.
In addition to this, you will also have to ensure your paper waste is correctly sorted into recyclable and non-recyclable material before taking it to either landfill or the recycling centre.
Why choose us to get rid of your office paper?
We wouldn't blame you for feeling a little overwhelmed at this point, as waste paper disposal can be more complicated than people might think. Not to mention the added headache of complying with the regulations put in place for business waste.
That's where we come in. Our waste experts can sort through and dispose of your paper waste quickly and efficiently while also ensuring that relevant forms and procedures are carried out correctly – a big relief for anyone who may be worried about receiving a fine. We also hold a full waste carrier licence and are fully insured.
In a professional environment such as a busy office, we know how important it is to keep things clutter-free. Waiting endlessly for a rubbish collection in a messy workspace is not how any employee wants to spend their time, not to mention how unprofessional those overflowing bins will look to guests and visitors.
To help you avoid situations like this, we offer a same-day removal service, including bank holidays and weekends. We also offer no-obligation quotes, as well as fair and transparent prices starting at just £50.
Plus, you can rest assured that your paper waste won't be decomposing in a landfill once we've taken it away. We're proud that we recycle 80% of the rubbish we remove, meaning that you can rest assured that you are making the right choice for the planet as well as your business.
To find out more, get a quote or arrange a waste removal, get in touch.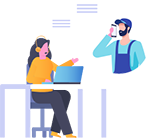 1.
Get in touch for your free, no-obligation quote.

2.
Book your collection online or with our friendly team.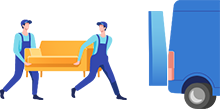 3.
We collect your waste and leave your area clean and tidy.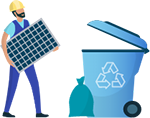 4.
Over 90% of the waste we collect is kept out of landfill.