Construction and demolition waste (C&D) generation continues to grow in the UK, and although there is separation technology that is well-developed and so, huge scope for recycling these materials, the sustainable management of demolition waste presents challenges for businesses that don't fully understand the complex requirements.
To break it down, a business that produces the waste must first establish that the material is actually construction waste, according to government guidelines. After this, the next stage is to consider whether the material can be reused, after cleaning or repairing, or recycled. These steps must all be carried out before the material is even considered for disposal (e.g. sent to landfill).
Remember that it is your responsibility to source a reputable and licensed waste carrier to dispose of your demolition waste, so if you're unsure of what to do with the waste your business produces, we can help you!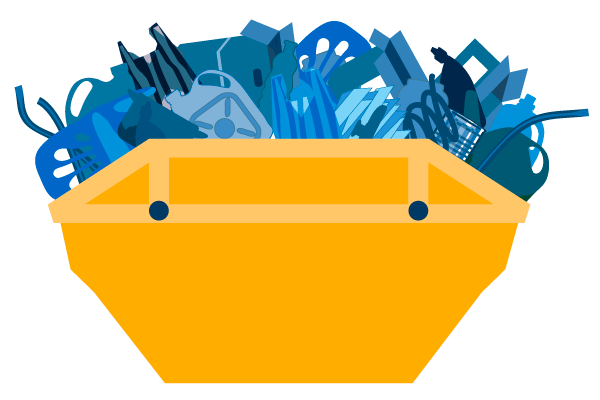 Waste materials from demolition sites contain mostly non-hazardous materials like plastic packaging, but these sites might also produce hazardous substances, such as adhesive sealants.
So, before sending waste for disposal, it must be sorted and classified to allow waste contractors to manage it effectively, and ensure that hazardous waste is handled properly.
This classification of waste is one of the most critical stages of waste management, as the materials are treated as separate waste streams, and must not be mixed.
Furthermore, the classification process requires a description of the materials, which should include information such as:
The waste classification code or the List of Waste Code (LoW) code.
If it is hazardous or not.
The type of location and site where it was produced.
The process that produced the waste.
1. Collecting the waste
First, the demolition waste contractor must safely and compliantly collect and remove the waste from the location, as well as provide the necessary paperwork.
Clear it Waste will provide a demolition waste collection service that can be tailored to your precise needs, greatly improving the efficient management of waste on your sites. With years of experience under our belt, we're equipped to clear waste from sites that are more difficult to reach and present challenges for other waste removal companies.
2. Transporting it to a facility
Transporting the waste for onward transmission to a licensed facility for proper processing, storage or disposal.
As a registered demolition waste carrier, Clear It Waste will manage the safe transportation of your waste, including hazardous wastes. Our team of professional and fully-trained drivers will ensure your waste is handled in line with the law and will sign to certify that we have presented the correct paperwork for the type of waste to be transported.
3. Separating the materials
All the waste received and collected is sorted and separated in a fully licensed waste facility, in line with environmental legislation, before being transferred on for further treatment and recycling – all with the aim to reduce the use of landfill.
If your business produces demolition waste, you have a duty of care to ensure the material is correctly handled, transported, and disposed of. If your business has also produced hazardous waste, we can take all the stress of removing and disposing of it, while making sure you remain compliant throughout.
4. Recycling the materials
Recycling or reusing the waste, such as concrete, bricks, and uncontaminated plasterboard, in efforts to save precious space in landfills.
At Clear It Waste, we understand that demolition waste is notoriously difficult to manage, and we are aware of the additional legal issues that it can cause when ensuring that your waste is disposed of in an ethical and responsible manner. We take pride in maintaining an outstanding record of protecting the environment. Our aim is to recycle at least 80% of all construction and demolition waste that we deal with.
5. Disposing of the materials
Disposing of any materials that are not useful, having identified any hazardous wastes, which have different requirements.
As demolition waste materials require legal and safe disposal, you need to source a credible and licensed waste collection company.
Clear It Waste is a reputable, fully licensed and insured company providing waste collection services for construction businesses across London, and we can manage the disposal of your waste.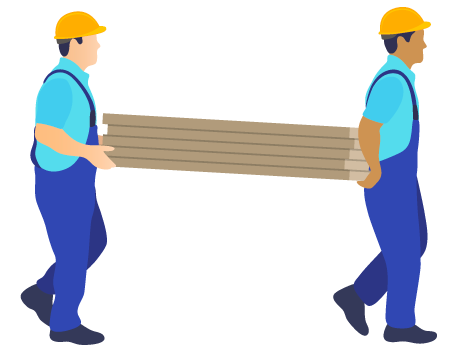 What are the advantages of proper waste management?
Compliance: Under the Waste (England and Wales) Regulations 2011, it is a legal requirement for businesses to control their waste.
Reducing costs: Landfill tax is £96.70/tonne and with demolition debris weighing a significant amount, it pays to be environmentally conscious. Hiring an experienced waste management company will help you avoid unnecessary disposal costs.
Maintaining high standards of health and safety: Proper waste management will protect not only workers, but also passers-by from accidents.
Corporate social responsibility: Handling your waste will help you limit how much you generate and dispose of, as well as ensure it's properly processed once cleared from your site. Ultimately, this will help to conserve the planet's natural resources and minimise the energy required to transport and reprocess waste.
Protecting the environment: Reducing air-borne pollutants generated from the unloading activities of waste. Decreasing the possibility of heavy metals and hazardous material within the waste stream that could contaminate soil and underground water.
Enhanced reputation: Companies that demonstrate environmentally conscious practices will build a good reputation – this improves their relationship with customers.
Building company-wide consciousness: when workers carry out sustainable waste management practices at work, this could also encourage sustainable practices in their personal lives.
Managing demolition waste materials must be done responsibly, legally and safely. It's a legal requirement to hire a credible and licensed waste collection company.
With our waste management experience, Clear It Waste can advise you on the best way to deal with the waste you produce as part of your operations.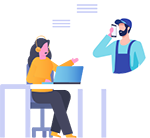 1.
Get in touch for your free, no-obligation quote.

2.
Book your collection online or with our friendly team.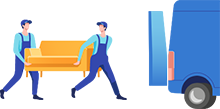 3.
We collect your waste and leave your area clean and tidy.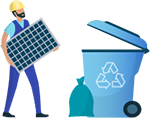 4.
Over 90% of the waste we collect is kept out of landfill.