The waste hierarchy that we abide by here at Clear it Waste is referred to across the UK and Europe and outlines best practices for dealing with waste in a way that is legal and environmentally friendly. The further up the hierarchy you go, the more highly recommended each section is.
While safe removal of construction site waste by an expert company like us is definitely recommended, it's a good idea to try and reduce construction waste altogether where possible. Here, we will outline the various ways in which you can lessen the amount of rubbish generated at your construction site.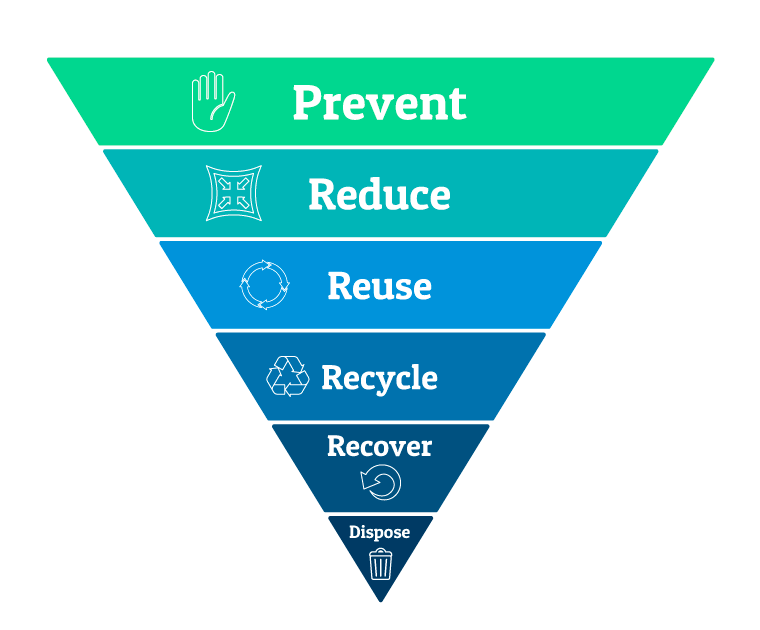 Planning Ahead
Planning for waste when you're starting a construction job is considered waste prevention, and can be very beneficial.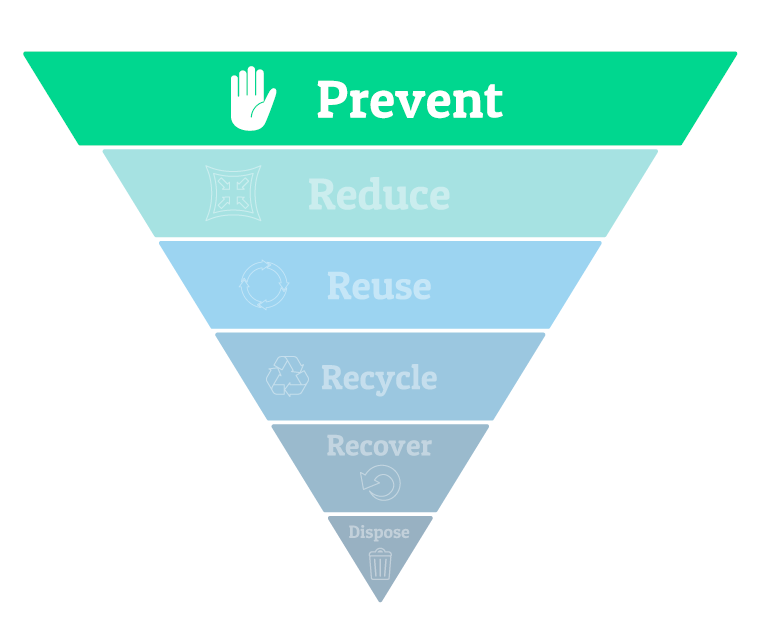 A large part of the planning process involves creating an SWMP, or Site Waste Management Plan. The SWMP will outline how waste will be controlled and resources managed during the entire lifecycle of a construction project. More specifically, it should set out:
Who is responsible for which materials and resources.
What type and how much waste is expected to be produced.
How unavoidable waste is going to be managed, ensuring that rubbish is disposed of legally and ethically.
How to measure and monitor the amount of waste being produced as accurately as possible. This will also help with predicting how much waste future projects will generate.
Additionally, planning things like deliveries ensures that there will be less damage to items that could degrade and be disposed of due to improper storage or exposure to the elements. Ordering materials in alignment with stages of the construction project will help ensure that they aren't stored on-site for longer than necessary, where they could be damaged.
Ensuring that particular team members are on-site who are able to properly handle certain deliveries will further reduce the risk of damaging and having to dispose of items.
However, part of the planning process will involve deciding on how to dispose of unavoidable waste efficiently and legally. Clear it Waste's team of vetted and highly trained professionals can ensure that your construction waste, no matter how much or how little, can be attended to within hours of your call, ethically and responsibly.
This means that when it comes to planning ahead for disposal, Clear it Waste has it covered. Our team of experts that are trained in waste management will already have a plan in mind for how to dispose of the builder's junk specific to your site, so planning for disposal of any kind of construction waste won't be something you're responsible for. We frequently collect materials such as:
Plasterboard
Tiles
Paint
Tins
Concrete
Timber
Mixed woods
Rubber
Brick
Metal
Glass
Avoiding Excess Materials

Avoiding excess materials also comes under the umbrella of waste prevention. While ordering extra materials can be helpful in ensuring that mistakes are easy to rectify, making sure that amounts of items ordered are reasonable will not only save you money, but will likely prevent large amounts of avoidable rubbish.
To help with preventing excess stocking of materials, it's important to find a supplier with a flexible approach to supplying small quantities of materials when necessary.
Hiring a competent quantity surveyor can be invaluable when it comes to estimating the number of materials required when ordering for your construction project. They will be able to fairly accurately work out how much of each material you will need to order, saving you money and preventing waste.
Eliminating Excess Plastic and Packaging
It's estimated that around 50,000 tonnes of plastic packaging waste are being produced by the UK construction industry each year, with the industry being the second-largest consumer of plastic in the UK. Thankfully, there are numerous ways that packaging can be reduced on your construction site:
Choose suppliers that have a good recycling and sustainability record.
Ensure that suppliers are using recyclable materials for packaging.
Consider using biodegradable plastic where possible.
Provide workforce with materials such as reusable mugs instead of single-use plastic cups.
Educate the workforce on maintaining a plastic-free site.
Conduct a Life Cycle Analysis (LCA) on the plastics and packaging used on the construction site.
Consider the life cycle of non-sustainable materials throughout the design, specification, procurement, and construction phases to avoid disposing of waste into landfill.
Use plastic packaging alternatives such as biodegradable foam chips or paper void fill.
Of course, some packaging is unavoidable in construction. Get in touch with us and we'll ensure that the majority of your plastic and paper packaging will be responsibly reused and recycled to create brand new useful materials.
Reducing Damage to Materials
It goes without saying that damaged items cannot be used in construction due to safety and quality concerns, therefore, reducing damage to materials is considered waste reduction.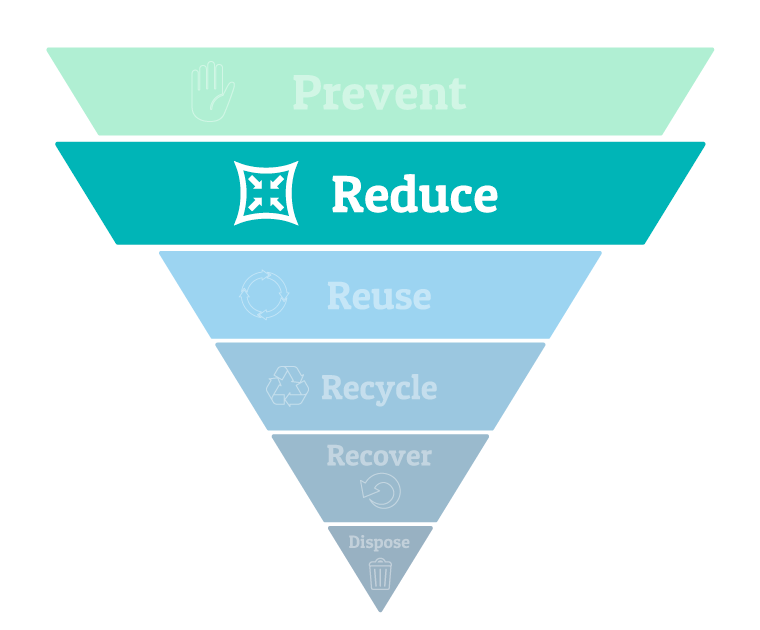 One of the ways in which materials can be damaged is by storing them incorrectly, causing them to be chipped, crushed, or exposed to elements. When factoring in how incorrect storage can damage items, there are numerous things that can be done to prevent this from happening, including:
Not removing an item's packaging until it needs to be used.
Paying attention to weather forecasts and planning ahead for optimal storage of materials in anticipation of heat, wind or rain.
Ensuring that all storage areas are weatherproof and that all items are well secured.
In addition to the unnecessary movement of materials, another huge cause of the loss of items during and after construction is water damage.
Fortunately, there are ways in which water damage risk can be mitigated. The key to preventing water damage is to undertake risk management practices as early on in the construction process as possible. This can be done with minimal impact on the budget, and can potentially prevent thousands of pounds worth of damage.
The steps to take when carrying out risk management for water damage involve:
In the pre-construction phase, carry out a formal Quality Assurance/Quality Control (QA/QC) plan. Evaluate contract documents to ascertain which areas are susceptible to water infiltration susceptibility, and consider how to undergo drainage of water.
Complete a risk assessment considering elements such as loss history, areas of susceptibility and safeguards.
Complete a formal Severe Weather Disaster Plan outlining steps that should be taken in an emergency scenario.
Where possible, install water leak detection units.
Train all team members and subcontractors on quality standards.
Track and monitor issues and repairs, perhaps implementing a weekly checklist.
Fully enclose the structure of the site.
Working on a construction site, however, means that there will always be a risk of damage to materials. The use of bulky and breakable items along with the constant flow of people around the site means that sometimes item damage or destruction will be unavoidable.
So what do you do if things get broken and you need them removed as soon as possible for health and safety reasons, or if the broken items are hazardous or toxic?
Thankfully, the Clear it Waste experts are on-hand with 24/7 booking and free call outs, which can be a big weight off your mind if disposing of waste is urgent. We also safely and responsibly remove both toxic and hazardous materials from your site.
Our fully certified team will separate toxic and hazardous material to be disposed of, or recycled in line with rules and regulations. We adhere to WEEE disposal directives to lessen the environmental impact of disposing of toxic and hazardous materials.
We are also fully insured and will complete all the required paperwork for you, including Waste Transfer Notes.
Salvaging, Reusing and Recycling
When it comes to waste prevention and reduction, there are things you and your team can do on-site to ensure that materials are reused instead of discarded.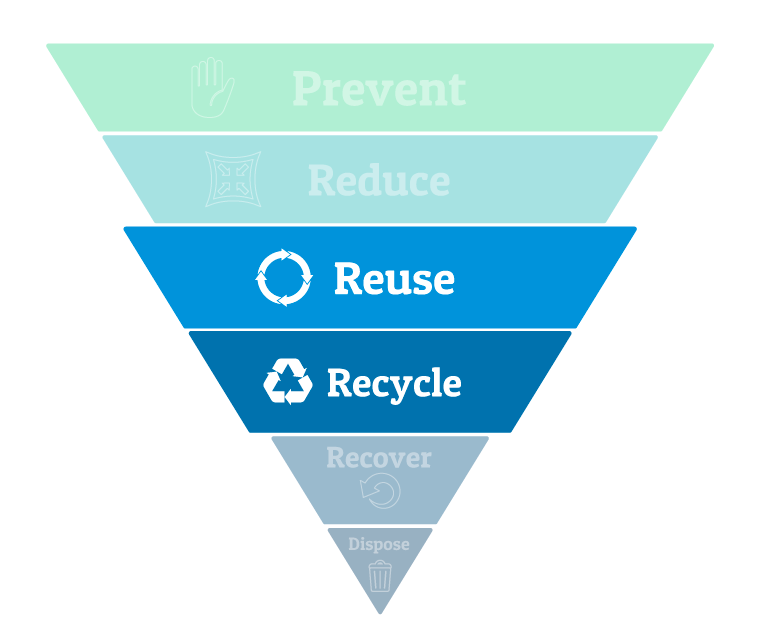 This includes:
Trying to find alternative uses for excess concrete. For example, making concrete blocks for retaining walls/barricades, or using them to create temporary kerb-stones for on-site traffic management.
Using set and crushed excess concrete as aggregate in roads and paths.
Using mortar silos where possible.
Mixing together unused paint to be used as an undercoat for site hoardings.
You can also look into donating materials that you have no use for. To do this, you can search online for local charities or schools that may be able to find a use for your excess items. Your leftover materials could then be used in things like classroom lessons, or landscaping works.
However, you may be surprised to learn that you can reuse and recycle materials by getting in touch with us at Clear it Waste, so there's no need to worry that all of your disposed waste will go to a landfill.
With our understanding of the importance of recycling, and commitment to ensuring that we minimise our environmental impact as much as possible, we're proud that over 80% of the junk we take is reused and recycled. For example:
Metals such as aluminium can be remade into items such as cans and foils.
We are able to recycle any kind of glassware you no longer need. Both white and coloured glass can be made into bright new glassware.
Cardboard and paper that you're likely to find in packaging can be used in producing paraffin, or to generate energy. The paper can be recycled to produce yet more paper which can be used in a variety of ways.
Most of the plastic we receive can be turned into new items such as containers and bottles, furniture, playground equipment and even recycling bins!
If you end up with a lot of excess rubble or miscellaneous bits and pieces and are unsure about what can and can't be recycled, we can sort that out for you too. Don't worry about sifting through everything trying to decide what to do with your different types of junk, that's for us to take care of.
Returning Materials
Returning excess materials to a supplier participating in a 'take back' scheme is a great way to ensure that usable materials do not go to waste, and is considered a part of the recovery stage of the hierarchy.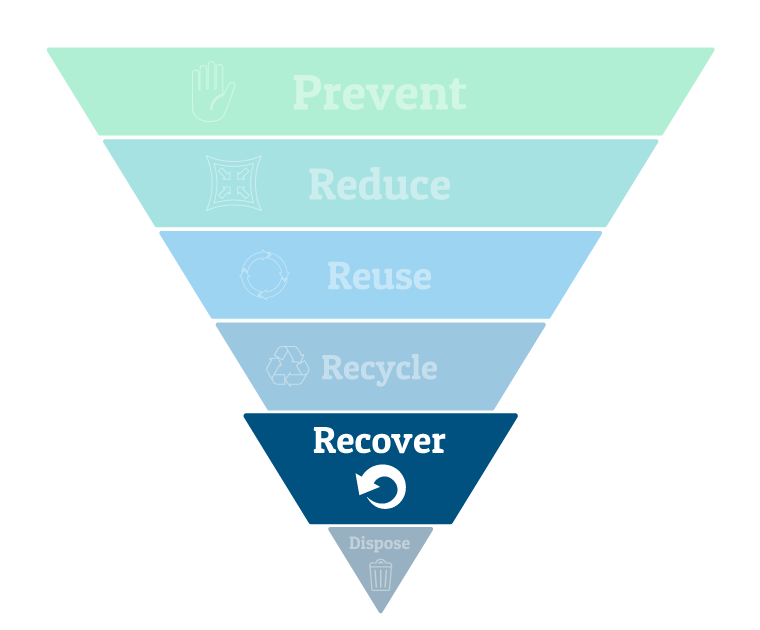 Finding a supplier that is committed to a 'take back' scheme can be well worth the effort, not just because of the environmental benefit, but also because it can save you money.
When a supplier participates in a 'take back' program, this means that they are willing to take or buy back excess materials that were not needed for the project. Items can therefore be reused in other construction projects, and you won't have the responsibility of disposing of them.
It's not just purchased items that you can look into returning, you should also be able to return excess packaging items including:
Oversized packaging
Oversized void fillers
Unnecessary transport protection and strapping
If this can't be managed, however, and you find yourself stuck with items of packaging that are clogging up the areas of your construction site and causing problems, Clear it Waste is available to contact online or by phone 7 days a week, 365 days a year, including over weekends and holidays.
We know that health and safety is at the heart of any construction site, and we understand that the presence of waste creating potential hazards must be resolved as soon as possible. It's exactly for situations like this that we offer same-day call-outs.
Dealing with Hazardous Waste Safely
As anyone in the construction industry knows, waste production can never be totally avoided. Therefore, when waste can't be prevented or reduced, safely and legally disposing of builder's rubbish must be prioritised, especially when this waste is toxic or hazardous.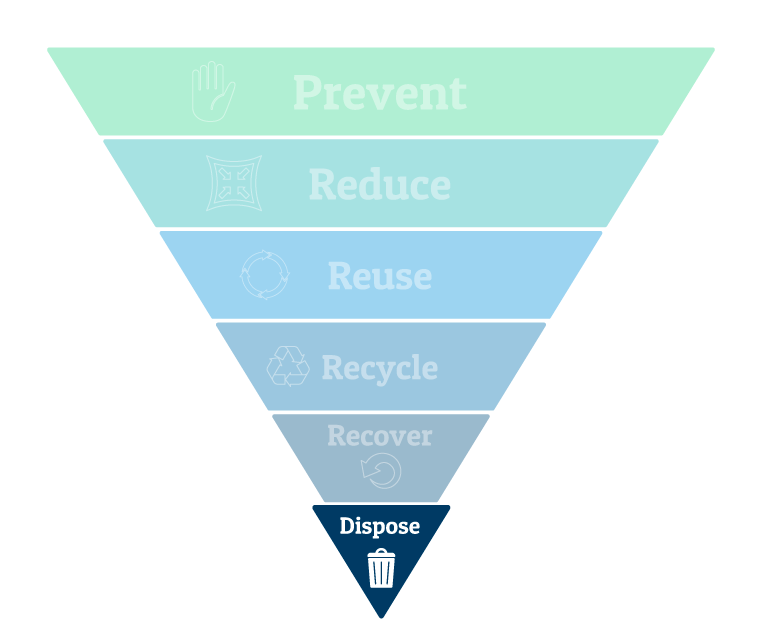 This is why our team is fully trained in separating toxic and hazardous material using specific equipment and vehicles.
Our team is also trained to ensure adherence to WEEE disposal directives, lessening the environmental impact of disposing of such materials. We are also fully insured to do so, and will complete all the required paperwork for you, including Waste Transfer Notes. So don't panic about how to deal with dangerous waste, leave it to the pros.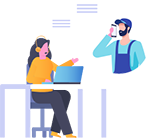 1.
Get in touch for your free, no-obligation quote.

2.
Book your collection online or with our friendly team.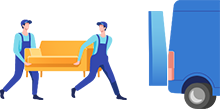 3.
We collect your waste and leave your area clean and tidy.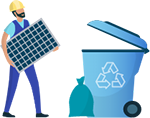 4.
Over 90% of the waste we collect is kept out of landfill.