You may be clearing your office for many different reasons – upsizing, downsizing, refurbishing or relocating. Or you may have just decided enough is enough, and you just need a good declutter and clearout. This is where a cheap office waste collection service comes in.
Whatever the reason, the chances are cost is likely to be a significant factor in getting rid of this unwanted office waste. No one wants to pay more for something than they have to, and the same goes for office waste removal.
Here at Clear It Waste, we ensure that we offer the best prices when it comes to office waste clearance. Hundreds of satisfied customers across London can vouch for the level of service we provide and guarantee that our work is of the highest standard at an affordable cost to you.
What prices do we offer for office clearance?
Unlike some other waste removal companies, our services won't cost you the earth to have your office waste collected.
Our cheap office clearance prices start from as little as £50, and we guarantee to beat our competitors by as much as 25%.
By contacting us today, our friendly, supportive and knowledgeable staff can provide you with a free, no-obligation quote. Or, if you prefer, you can use our online booking system to schedule your removal from today.
What makes Clear It Waste's prices so cheap?
Our cheap office clearance and cheap commercial waste collection services are based upon a transparent pricing system and significant value for money for our customers. What we quote you is the price that we will charge you, with no hidden charges or waste disposal fees.
There are many different types of office waste produced, including furniture (such as chairs, desks and cabinets), e-waste, and general recycling of office waste. The great thing about our prices is that the type of waste does not directly influence the final price.
All quotes are based on the volume and weight of the waste being collected, so you can be safe in the knowledge that your quote is a fair and competitive price.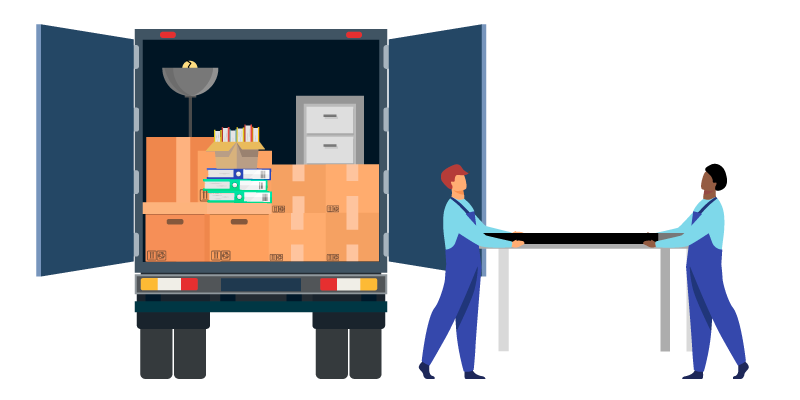 Is it cheaper to have regular collections or one big office waste collection?
We are on hand to help you get rid of your office waste, regardless of the amount or type. We will even come and collect it for you, saving you time and money.
You have two options available regarding how frequently we come and collect your office waste.
Regular office waste collection
Firstly, you have a regular office waste collection service. This can be daily, weekly or monthly, depending on the size of your business and how much waste you are producing. This will be the better option for you financially if you are a medium to large sized company that regularly produces a lot of waste.
Sometimes, you may find that the local waste collection services are not sufficient for your needs, and therefore by calling us, we can come and collect it for you.
One-off collection
Secondly, you may want a one-off collection, which is generally associated with large scale, cheap office clearances or refurbs. If this is the case, it will likely be cheaper for you to have it collected in one go rather than on a regular basis.
However, it does depend on what you are disposing of, as the weight will impact the final waste disposal cost. For example, heavier items are more expensive to transport. It will also depend on how much you want to be removed. Thousands of sheets of office paper waste may equate to more than one item of furniture for removal, so this will also need to be factored in.
Our friendly staff will go through all of your needs with you, once we have established what you need to dispose of and how much of it there is. Contact us today for your free quote.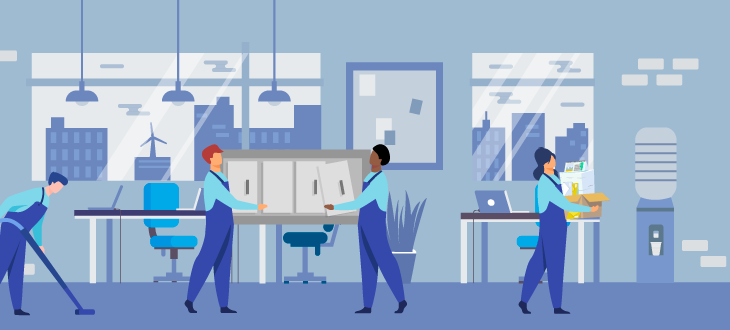 Do we offer tailored office waste removal?
We know how precious time is to a business and the time pressures involved with removing office waste yourself. That's why all of our office waste removal services are organised at a date and time that is convenient to you, with minimal disruption to your business.
We even offer same-day, cheap office clearance, if your needs for office waste disposal are more urgent. Or we can offer a variety of different times and days, depending on your needs, including bank holidays at no extra cost.
If you need us to visit during out-of-office hours, this is not a problem. We operate from 7.30 am to 6.30 pm, six days a week across more than 50 properties a day. If you want us to avoid certain times of the day that are awkward or inconvenient, we can do this for you at no extra cost.
Why choose Clear It Waste to collect your office waste?
Here at Clear It Waste, we offer cheap office clearance and recycling across London that is efficient and affordable. Hiring our service is quick, easy and simple. And much cheaper than alternatives, such as hiring an office skip and doing it yourself.
Simply get in touch, and our team of professional, dedicated staff will answer any questions you may have.
We hold a full waste carrier licence and have full insurance, so you can be guaranteed a safe, responsible, and reliable waste collection service that's fully compliant with the government's rules and regulations for waste disposal.
We deal with all of the associated paperwork and documentation for disposing of waste, saving you time and money. After collection, we will provide you with a report of what was collected in order to make the process 100% transparent.
Our reputation means that we are regarded as one of London's leading waste removal companies.
No job is too big or too small for us. We are experienced and equipped to deal with any type of waste, including sensitive and hazardous waste, so you can be assured that your waste will be disposed of in an environmentally sensitive and appropriate manner.
So, get in contact today and see how you can save money with our office waste removal services.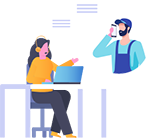 1.
Get in touch for your free, no-obligation quote.

2.
Book your collection online or with our friendly team.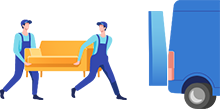 3.
We collect your waste and leave your area clean and tidy.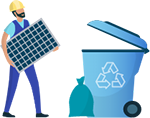 4.
Over 90% of the waste we collect is kept out of landfill.