Having an understanding of what general office waste is will allow you to manage your waste in a more responsible way, ultimately saving you money and time in the long run. It also ensures that you are doing your bit for the environment and not just loading it all into the general office waste to be disposed of in landfill.
Understanding the amount and type of waste your company produces is an integral part of the waste management process.
How much waste is produced in an office?
According to a study by RoadRunner, the average office worker:
Generates 2kg of waste each day
Uses 0.9 kg of paper-based products each day
Uses 156 plastic bottles a year
Uses 10,000 sheets of paper a year
In addition to this, between 20-30% of an average office worker's waste is food. This highlights quite an unsustainable approach to resource management, particularly when it comes to waste production and dealing with that waste.
With sustainability and resource efficiency top of the environmental agenda for offices, it is more important now than ever for us to consider what office waste is being generated and how we can move closer towards a future that centres on zero waste.
Your first strategy should always be to reduce the amount of office waste you produce, but inevitably some waste is unavoidable. So what happens then? Well, that's where we come in. Here at Clear It Waste, we offer a quick, hassle-free service to dispose of any unwanted office waste. We collect office waste and recycling across London, from one item to a complete office clearance.
No job is too big or too small for us! We have small, large and medium vans to cater for all of your office waste needs and can collect rubbish of any kind, including sensitive and hazardous waste.
Whatever your waste management needs might be, we can meet them. Whether it is a one-off pick up of larger items or a regular office waste collection service, our team of experts are on hand to help you out as efficiently and effectively as possible.
But first, it is helpful to know what types of office waste you might be dealing with.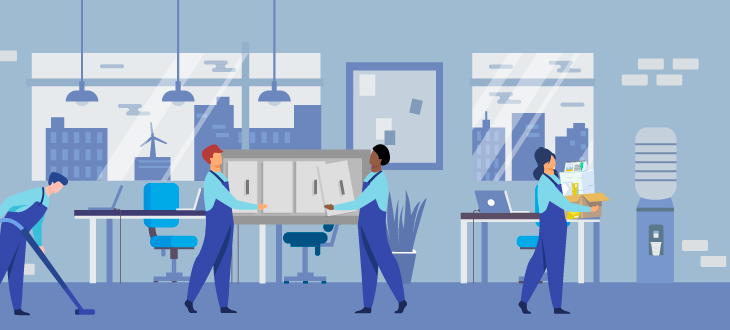 What types of materials are produced in an office?
There are many different types of office waste that we would expect businesses to produce.
The five main culprits for office waste are paper, food, plastic, general office waste and e-waste. The following section highlights the issues, solutions, and how we can help you get rid of your office waste.
1. Paper
Even though the workplace has become more digitised over time, businesses still produce an incredibly large amount of office paper waste. A study from Xerox found that nearly half of all documents are thrown away within 24 hours, and up to 30% are never picked up at all.
And that doesn't include junk mail, handouts from meetings, billing reports, packaging, printing mistakes and mixed paper products, which make up about 70% of office waste.
Providing specific containers for recycling office waste, such as paper, next to photocopiers and people's desks can help with disposal and separation from general office waste.
However, it is worth noting that if you have sensitive documents containing personal information, you are legally obliged to use confidential waste disposal techniques to protect people's data and identity.
2. Food
It is not uncommon to find food waste in the office environment. Habitually, we tend to overbuy the amount of food we need anyway.
According to a 2020 report by the charity Waste and Resources Action Plan (WRAP), the UK produces about 9.5 million tonnes of food waste. Whilst it is not realistic to estimate how much of that comes from offices alone, the fact that people are eating food throughout the working day highlights that there will be a fairly significant amount.
Setting up an office disposal unit for compostable materials would be a positive step forward. Make this available in a communal space, like a kitchen, for workers to dispose of unwanted food items, such as vegetables and fruit, tea bags, food scraps and non-treated cardboard.
3. Plastic
Offices will accumulate a surprising amount of plastics, most of which can probably be recycled or managed better than just chucking them in the general office waste.
Making sure your employees have an appropriate place to dispose of plastic should be your primary aim. For example, next to the water cooler or a communal space where people may discard plastic bottles and packaging. Or in the kitchen area where people can rinse any plastic food packaging before putting it in the appropriate bin.
4. General waste
What is general office waste? Well, unfortunately, not everything used around the office can be recycled. Polystyrene, certain packaging, food tainted items and treated cardboard are common examples that you might find in an office.
Office furniture even comes under this category. If you cannot sell your office furniture, we will come along and collect it for you, whether it is chairs, desks or cabinets.
So you will still need general office waste facilities available for these, so they do not contaminate the other recycling facilities you have in place.
Completing a waste audit of what your office produces will help identify the key areas to focus on as a part of a waste management action plan.
5. E-waste
Offices are rife with technology and electrical equipment, from computers and monitors to printers and photocopiers.
Invariably over time, some of these will break or become obsolete due to upgrades. The question that often remains is: what are you meant to do with the old ones?
Globally, less than a fifth of e-waste is recycled, and this number has the potential to be so much higher. If not disposed of responsibly, e-waste can have huge environmental impacts, including pollution, and poses a significant fire risk.
As a company, you have a legal responsibility to ensure that this waste is stored, managed and disposed of in accordance with the regulations set out by the government. Failure to comply with these laws can result in criminal prosecution and heavy fines.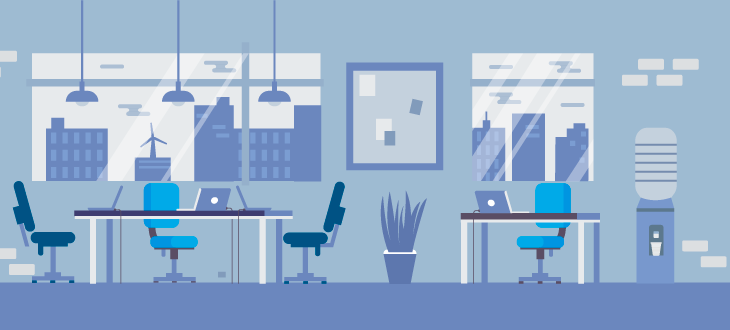 How can we help you to manage your office waste better?
As you can see, a lot of the office waste materials above will require you to put things in place in order to make it more convenient for your employees to recycle them.
But in terms of the disposal, you do not have to lift a finger other than to contact us.
We can save you money
Some companies will think of hiring a skip for the office and disposing of it themselves. However, that is more expensive, inconvenient and a less sustainable option for waste management.
We will offer you a free, no-obligation quote to come and collect your office waste at a time and date that is convenient to you. We are available six days a week from 7.30 am to 6.30 pm, and our online booking system is available 24/7.
And the best thing is that our quote fully incorporates any waste disposal costs, so there are no hidden fees or added charges once we have provided you with your quote.
If you are looking for cheap office waste removal, then don't hesitate; give us a call today, and we will be on hand as soon as we can to take care of all your office waste needs. Our prices start from £50, and we guarantee to beat our competitors by as much as 25%.
We offer convenience
We offer same-day waste collection services across London and can remove any type of rubbish for you, including hazardous waste.
And the best thing about it all is once you have organised a time for us to come and collect it, you do not have to do anything else. Our team of fully-trained and professional waste collectors are on hand to do all the heavy lifting in teams of two.
We are environmentally conscious
Our service is the perfect way to dispose of office waste that is hassle-free yet ensures you are getting rid of your waste in a way that is environmentally considerate and responsible.
We aim to recycle 80% of the waste that we collect, including office waste, and only ensure that we use recycling companies that have been fully vetted for their environmental credentials.
So what are you waiting for? Give us a call today and save yourself some money on office waste removal services with Clear It Waste.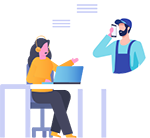 1.
Get in touch for your free, no-obligation quote.

2.
Book your collection online or with our friendly team.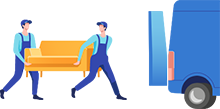 3.
We collect your waste and leave your area clean and tidy.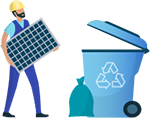 4.
Over 90% of the waste we collect is kept out of landfill.