What do you need to consider when disposing of office waste?
Upon doing your office clearout, you may be surprised to find how much clutter you have accumulated over the years.
For speed and convenience, you may just think about hiring a skip for your office and chucking all office waste in there. However, you must avoid doing so for a number of reasons.
Firstly, there are strict rules and regulations for disposing of certain items, so you need to make sure that these are adhered to or risk heavy fines.
Secondly, there is also the environmental consideration, as quite a lot of office waste can actually be reused or recycled. You may even want to consider selling your office furniture before disposing of it to try and recoup some money for the company.
Either way, aimlessly sending all of your office waste to landfill is irresponsible and adds to a growing environmental concern.
What are the different types of office waste?
There are many different types of office waste that can come in all shapes, sizes and materials. Therefore, it is important to know what you are dealing with before deciding how to dispose of it appropriately.
1. Waste from Electrical and Electronic Equipment (WEEE)
Essentially any electrical equipment (including white goods) cannot be sent to landfill as they are hazardous to the environment and need disposing of appropriately. There are strict business WEEE regulations against the disposal of WEEE products. Failure to comply can result in criminal prosecution and heavy fines.
Printers are considered part of your WEEE waste, however, printer cartridges should be disposed of separately at a dedicated facility to protect the environment.
Here at Clear It Waste, we have extensive experience dealing with WEEE waste. We can come and collect the full range of WEEE waste products from your office. This takes away the added stress and hassle of organising it yourself. Plus, as we are a fully licensed company, we have the authority to take it away using the correct means, which means you stand no chance of being prosecuted for improper disposal.
2. General waste
You can dispose of most general waste, such as food and non-recyclable food packaging, through regular means, like a general waste bin.
Most furniture is also considered general waste, such as chairs, desks and cabinets. Because these items are bulkier, you are probably better off utilising the services of a professional London office waste removal company.
If your tables and chairs are wooden or metallic, they can often be recycled.
3. Plastic
If you have a water cooler in your office, you may find you throw away a lot of plastic cups each day. These can be recycled instead of going to landfill, along with recyclable food packaging.
4. Paper
Offices are renowned for producing huge quantities of office paper waste, and a lot of this can be recycled. If you have any confidential paperwork, this must be shredded appropriately in a sensitive manner. If you are unsure how to do this, we offer confidential waste disposal as one of our many services.
5. Hazardous waste
This might not be an obvious office waste product; however, the most common is old light fittings. Do not put these in the general waste bin as they are hazardous waste items. We can collect these from you and other hazardous waste such as fluorescent tubes and dispose of them safely and accordingly.
As you can see, there are many factors to consider when dealing with office waste. For less stress and headaches, you are best to contact Clear It Waste, who can offer you the best office rubbish clearance in London.
What are the benefits of trying to recycle your office waste?
Recycling office waste is far better than sending it to landfill. It is well documented that landfill sites are quickly filling up, and we are running out of space.
However, your primary aim as a company should be to try and eliminate or reduce office waste initially or at least try to reuse as many resources as possible before looking at recycling or disposal.
Here at Clear It Waste, we aim to provide eco-friendly office rubbish removal in London. More than 80% of the waste we collect is either reused or recycled.
By recycling more of your waste, you are doing your bit for the environment and improving your overall ecological footprint. These green credentials also go down well with clients and customers, so be sure to advertise the good work that you do as part of your marketing.
How to recycle more office waste
There are many things that you can do in your office to recycle more waste, including:
– Looking at where you source materials from and seeing if you can purchase items that are more easily recyclable
– Looking at purchases that only arrive in recyclable materials
– Audit your current recycling activities and come up with an action plan for what could be done better
– Monitor performance over time
– Make recycling facilities widely available across the office for everyone to use
Once you have implemented strategies like these, you can then call upon us to come and collect your waste for you.
We offer the best value for money in terms of office rubbish removal in London, so come and let us handle it for you.
We can collect all of your recycled office waste in one go, such as a one-off office clearance or regular office waste collections over a given time period.
We also have small, medium and large vehicles available, up to and including 7.5-tonne lorries, meaning we have the facilities to deal with all of your office waste needs. No job is too big or too small for our team of trained, experienced and professional experts in recycling London's waste.
What are my legal responsibilities for office waste?
If you produce waste in your business, you have a legal responsibility for managing it. You must ensure that it is stored safely and securely and that it is done in a way that does not cause pollution or harm to others when it comes to disposal.
You are also responsible for segregating any hazardous or special waste and only use fully registered waste carriers, like us.
We hold a full waste carriers licence and are fully insured, so you do not need to worry about anything. We can remove any type of rubbish, including hazardous waste, so you can be safe in the knowledge that we will dispose of your office waste in a sensitive, appropriate manner.
Why should you use us to dispose of your office waste?
Disposing of your office waste can be time consuming, inconvenient and disruptive to your daily routines. So why not let us come and take it away for you?
We offer flexible, same-day collections at a convenient time for you. Our collections are always made by teams of two reliable, professional waste carriers, so there is absolutely no need for you or your colleagues to do any lifting.
Unlike some other waste removal companies, our services are competitively low and still provide the high-quality service you would expect from a professional waste collection service.
We offer a cheap office waste removal service with fair, honest and transparent prices from as low as £50, and guarantee to beat our competitors by as much as 25%. There are no hidden charges or waste disposal fees, so what we quote you is what you will pay.
So, save money on your office waste removal today. Contact us today for a free, no-obligation quote, or simply use our online booking system to get us booked in as soon as you need us.
Our five-star approach to customer service is one of the reasons why our customers keep coming back for more. With over 200 satisfied customer reviews across London, we continue to provide the same level of high-quality service that is now associated with our business.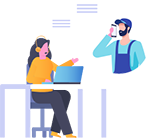 1.
Get in touch for your free, no-obligation quote.

2.
Book your collection online or with our friendly team.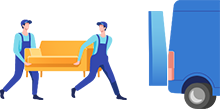 3.
We collect your waste and leave your area clean and tidy.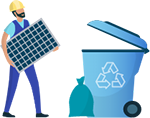 4.
Over 90% of the waste we collect is kept out of landfill.