With increasing awareness around the harm caused to our planet by inappropriate disposal of waste and our dwindling natural resources, recycling has never been more important on the environmental agenda than it is today.
Recycling waste materials is considered to be an essential step forward in rectifying the problem. Yet, with the construction industry notoriously producing large amounts of waste, proper waste management systems need to be addressed.
Construction companies need to take action, not only to counter the negative impacts that construction waste has on the environment, but to also know how to responsibly handle and recycle waste materials.
How much waste is produced by the construction industry?

According to recent figures, the construction industry accounts for the largest amount of waste produced within the European Union (35.9%).
When broken down to a national level, the UK generated 67.8 million tonnes of construction and demolition waste (CDW) in 2018. 10% of this was construction based waste.
From the total amount, 62.6 million tonnes were recovered, representing a recovery rate of 92.3%, which is extremely commendable and does follow an upward trajectory over time. However, it does mean that around 4.3 million tonnes of CDW waste is not being recovered and is instead being dumped in harmful landfills.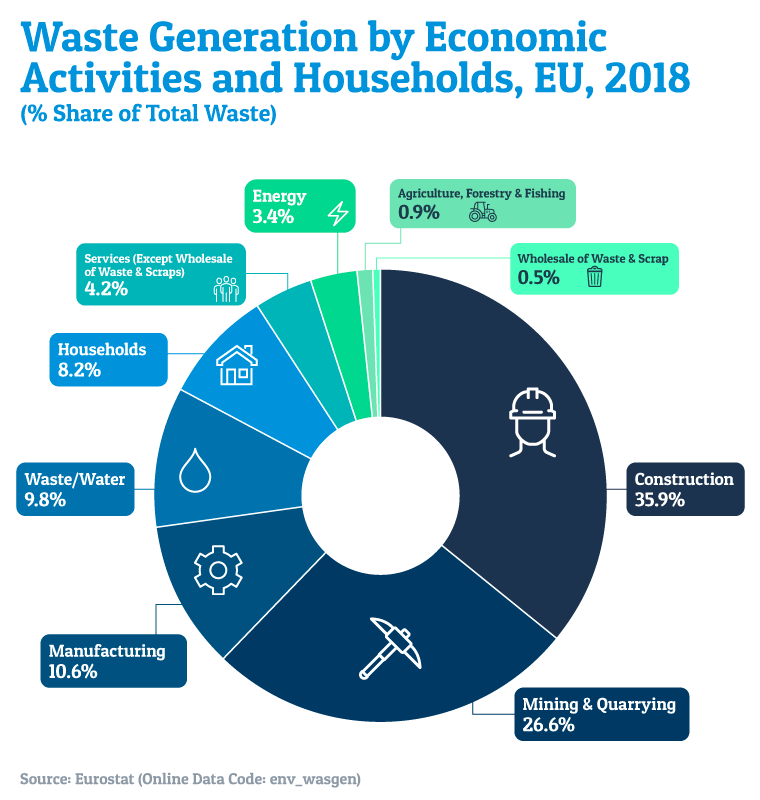 What is my responsibility for recycling construction waste?
As a business owner, you have several responsibilities when it comes to recycling construction waste, including:
Choosing a registered waste carrier who is authorised to collect and recycle your construction waste
Completing a waste transfer note for each load of recycling that you're removing from your premises
Before considering construction waste disposal, you should endeavour to reuse, repurpose, recycle, or indeed, prevent any building rubbish your business produces.
How can I recycle my construction waste?
There are many different types of waste materials produced in the construction industry. Some materials are easier to recycle than others, whereas other waste products are dangerous to handle and can be detrimental to the environment if disposed of incorrectly.
There are many reasons why you need to understand who can recycle your construction waste. But, for the most efficient and safe approach to recycling construction waste, you should seek the help of an authorised waste handler.
Why Choose Clear It Waste
Here at Clear It Waste, we pride ourselves on our outstanding record of protecting the environment. Our aim is to recycle at least 80% of all construction waste that we collect and handle.
There are many benefits of proper construction waste management for your company and Clear It Waste offers expert assistance and services for every step you take.
We understand that construction waste is notoriously difficult to get rid of, and we are aware of the additional legal headache it can cause when ensuring that your construction rubbish is disposed of in an ethically and responsible manner.
As the leading waste disposal company in London, we are able to provide a range of flexible and professional services across all London boroughs to meet your recycling construction waste needs.
We understand the importance of construction waste management and how difficult it can be to process without professional help. Our team of dedicated waste carriers are trained and prepared to help you deal with your waste disposal no matter the size of the project – nothing is too big, too small or too complicated for us to handle.
From relatively straightforward materials such as steel, wood, aluminium and insulation, to more complex rubbish, such as hazardous waste and demolition waste, we have the expertise, equipment and licences to handle and recycle all construction waste for you.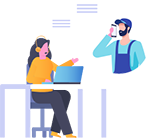 1.
Get in touch for your free, no-obligation quote.

2.
Book your collection online or with our friendly team.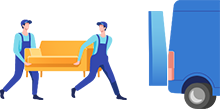 3.
We collect your waste and leave your area clean and tidy.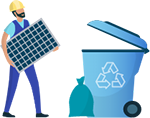 4.
Over 90% of the waste we collect is kept out of landfill.